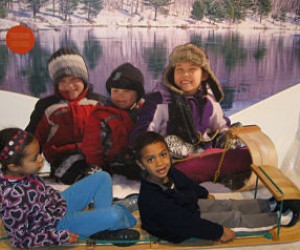 Everything Old is New Again at the Boston Children's Museum
Last week, I took my kids to the Boston Children's Museum for an afternoon. It had been a while, and the kids acted like they were visiting old friends: "Let's go to the beauty parlor in Boston Black. There she is! Oh, it looks like she has lost a lot of hair since we last saw her." "Let's go climb in the Construction Zone! Remember that time we hid from you up in the top?" That was the sort of thing I heard for most of the afternoon, as we hit all our favorites. But we also made some new discoveries, and I think my kids now have some new old friends they would like to go back and see again. There are three new exhibits at the Boston Children's Museum, and they are definitely worth a visit: Big and Little, OddAnimals, and Native Voices.
Big & Little: An exhibit about size, proportion and scale
We did not know about the Big & Little exhibit, and when we happened upon the dollhouses and other assorted items lined up by size, we were happily surprised. The dollhouses are amazingly detailed, and the really fun, interactive part is looking for items that are out of place (flat screen TV in Victorian times?) or the wrong scale. It really makes kids think about proportion and scale in a new way.
There are other things to draw kids to this exhibit, even if they seem to be allergic to dollhouses; Shaq's sneakers, displayed next to a pair of baby shoes, a display of chairs that seems to be making an artistic statement, and a model of Louisa May Alcott's Orchard House that kids can actually go into. There is also an activity with blocks that is a great exercise in understanding scale and giving direction. The best thing about this exhibit is that it has something for everyone, whether they are big or little.
OddAnimals by Jef Czekaj and Friends
On exhibit through June 3, 2012
During a six-month art residency at Children's Hospital Boston, cartoonist, author, illustrator and Somerville resident Jef Czekaj worked with patients and families to create and discover animals no one has ever seen before. They came up with more than a hundred fictional species, which are displayed in the Hall of OddAnimals, a retro-style, imaginary natural history museum. There are worksheets that kids can use to create their own Odd Animals and clip to the wall or put in a special mailbox. The worksheet asks kids to imagine things like the size, diet, habitat and color of their animal. It even asks how the animal is feeling and what it likes to do. My kids had a blast conceptualizing and depicting their animals.
You might also recognize some of Czekaj's other work on display, like pages from his Nickelodeon Magazine comic strip "Grampa and Julie: Shark Hunters" and his children's books Hip and Hop Don't Stop, A Call for a New Alphabet and Cat Secrets. If the whole OddAnimals exhibit looks familiar, it may be because it debuted in the Gallery at Children's in 2011. To learn about the other inspiring exhibits currently gracing the halls of Children's, visit their Art Exhibits page.
Native Voices: New England Tribal Families
On exhibit through September 3, 2012
In the Global Gallery, you and your kids meet people from 5 different Native American communities in New England. They appear on video screens and in life-size picture cut-outs (I kept thinking one of the cut-outs was an actual girl every time I saw her in my peripheral vision). There is a lot of reading involved, so I would say the exhibit is geared toward older children, but there were some things that are always a hit with little tikes. As you go through the exhibit, you feel more and more immersed in the communities. There is a trailer home exterior, complete with lawn chairs, and an interior living room and kitchen. My kids made themselves right at home, cooking up some corn and settling into the comfy chairs to watch a Claymation story called "The Frog Monster". My kids both said that was their favorite part of the exhibit. They also had fun climbing in the toboggan and feeling like they were really tobogganing down a snowy hill with other kids as they watched the screen in front of them.
My son couldn't take his eyes off a video of Pow Wow that shows just how involved the process is of putting on layers of elaborate ceremonial dress. He spent much of his time cooking lobster over the "fire" and bouncing up and down on the cranberry bog-like texturized floor. We practiced U.S. geography by following a family's pow wow journey from New England to Washington State, learned the process of making jewelry (and gave it a try with wooden pieces), and listened to kids count in a Nuweetooun school. My daughter has been learning about the history of New England's native peoples in school, and she says she liked the exhibit because she got to learn more about them and their modern-day lives.
If your family enjoys the Native Voices exhibit, you may want to go back for the Native Arts exhibit in June, where traditional art like beadwork, baskets and paintings get a contemporary treatment from the artists.
Boston Children's Museum
308 Congress Street Boston, MA 02210
Contact: (617) 426-6500
For hours, admission cost, directions, and a calendar of events, visit the Museum's Plan Your Visit page.