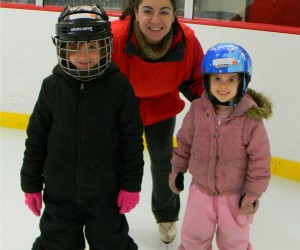 Outdoor Ice Skating Lessons for Children and Families in Greater Boston
Outdoor ice skating rinks are great for some fun, unstructured time, but if your budding skater dreams of forward skating, backward skating, stops, edges, crossovers, turns and Mohawks, some formal instruction may be just the thing. Lessons are offered at most of the outdoor rinks featured in our related post, and three skating schools also provide lessons at indoor rinks in the area. We've highlighted these skating schools and lesson options below; schedules, registration forms and pricing details can be found on the rink or school websites.
The Skating Club of Boston
617-78-SKATE
Outdoor lessons at Boston Common's Frog Pond are provided by The Skating Club of Boston, which offers 6-10 weeks of Basic Skills lessons beginning the first week of December. Prices run from $128 for 6 lessons.
The Skating Club of Boston also offers lessons at rinks in Boston (1240 Soldiers Field Road), Foxboro (10 E. Belcher Road) and Marlborough (121 Donald Lynch Blvd).
---
Bay State Skating School
781-890-8480
Outdoor lessons at the Jack Killare Rink at Larz Anderson Park are provided by Bay State Skating School.
The Bay State Skating School also teaches lessons at indoor rinks in Brookline (Cleveland Circle), Cambridge, Medford, Newton/Brighton, Quincy, Somerville, South Boston, Waltham, West Roxbury, and Weymonth. Classes range from four to 10 sessions and are available for recreational, figure, and ice hockey, depending on location and schedule.
---
Kendall Square Learn to Skate School
Lessons at the Kendall Square Community Rink focus on skating basics. Five-lesson packages cost $120-$130 and are offered starting in December for both adults and children.
---
FMC Ice Sports
888-74-SKATE
For indoor lessons, FMC Ice Sports offers Learn to Skate and Hockey programs at 23 locations in Massachusetts, including 18 DCR rinks. Locations include Simioni Skating Arena (Cambridge), Porrazzo Memorial Rink (East Boston), Cronin Skating Arena (Revere), Burlington Ice Palace (Burlington), and the Chelmsford Forum (Chelmsford).
---
Oh, and parents, why not take a lesson or two yourself? Many of these schools offer adult lessons, too!
Originally published 12/2011; Updated 12/2012, 12/2013, 08/2014