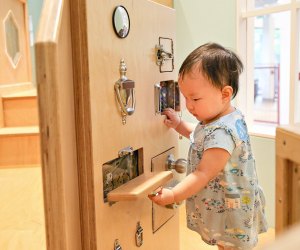 Sensory-Friendly Hours at Museums, Zoos, and Attractions for Kids with Special Needs around Boston
While Boston has many kid-friendly museums and attractions, crowds and noises at these busy spots can sometimes overwhelm children with autism and sensory sensitivities. Many museums, zoos, and aquariums are working to change that, and are developing sensory-friendly hours, exhibit adaptations, and programs for these children. Here are places in the Boston area where highly sensitive or special-needs children can better enjoy enriching nature, science, animals, and the arts. For more inclusive fun, check out a list of special needs kids' classes and our favorite accessible playgrounds.

The Morningstar Program offers early-morning access. Photo by Lex Piccione/Boston Children's Museum
Sensory-Friendly Times at Boston-Area Museums, Zoos, Aquariums
Museum of Science—Boston
The Museum of Science offers monthly Planetarium shows designed to accommodate children (and adults) with special needs. At these shows, the house rules are much looser—meaning you can move around from your seats and talk quietly if needed. The shows also feature raised house lights and lower sound volumes for audience members that have noise and light sensitivities. Check the museum's calendar for show dates and times.
Discovery Museum—Acton
This museum hosts a sensory-friendly afternoon and evening each month. These Especially for Me events are free for families that pre-register. During afternoon times, the museum is open to the public but they avoid scheduling any group visits or birthday parties to keep crowds and noise to a minimum. The evening events—which focus on different needs each time (autism, visual impairments, deafness or hearing impairments)—are closed to the public and have limited spots to keep crowds at a minimum. Check the museum calendar for a list of all upcoming Especially for Me events.
Boston Children's Museum—Boston
The Children's Museum hosts a monthly Morningstar Program where children with special needs and/or medical needs can gain access to the museum before it opens. The program requires pre-registration and there are only 100 people allowed at each event to keep noise levels and crowds low. Families can explore all of the museum exhibits during this time. Occasionally the Morningstar Program is offered in the evening as well. These events are free for members and non-members pay half-price admission.
Museum of Fine Arts—Boston
MFA has multiple programs each month. Beyond the Spectrum is offered to both younger kids and teens with autism on select Saturdays. Kids can explore the gallery and then work on an art project. The museum also offers sensory-friendly MFA Playdates every Monday. This inclusive experience tours the museum, returning to a quiet, low-lit gallery for an art activity after. Artful Adventures, another gallery tour paired with a project, is designed to be customized to meet the needs of each group.
New England Aquarium—Boston
The aquarium offers Sensory Inclusive Access periodically. During these special hours, the aquarium is closed to the general public and families are welcome to explore all levels. Along with the use of soft lighting and limited use of the microphone, the aquarium also loans out sensory bags that include noise-canceling headphones and fidget items.
Zoo New England (Franklin Park Zoo & Stone Zoo)—Boston, Stoneham
Zoo New England partners with KultureCity to create inclusive environments for children with autism and other sensory issues. The zoos give out Sensory Inclusive Bags filled with noise-canceling headphones, cue cards with symbols kids can point too if they need help, and KC banners and necklaces to help the zoo identify those who might need assistance. Both zoos also have designated headphone zone and quiet zone areas where kids can go to take a quiet break.

Boston Pops offer sensory friendly concerts. Photo by Michael Blanchard
More Sensory-Friendly Attractions around Boston
Boston Pops—Boston
The Pops offer sensory-friendly performances, including one for their popular holiday matinees. During these shows, the theater has a non-judgemental policy with relaxed house rules and extra space to move, as well as reduced volume and lighting levels. The Boston Pops also make available noise-reduction headphones, have a designated quiet room and support spaces, and credentialed autism therapist volunteers onsite to help.
Sky Zone—Boston
Every second Sunday of the month, Sky Zone has sensory-friendly hours from 8 am to 10 am. During that time, Sky Zone offers a quieter, toned-down jumping atmosphere for little jumpers. They do warn, the first hour is very low sensory with no music playing, while the second hour will have some music from other programs within the building. You need to call ahead to reserve a spot.
Chuck E. Cheese—Everett, Danvers, Natick
On the first Sunday of each month, Chuck E. Cheese hosts their Sensory Sensitive Sundays. During these special Sunday events, they open their doors two hours early for children with special needs and have onsite trained staff to help guests as needed.
AMC Movies—Burlington, Framingham, Dartmouth, Methuen, Tyngsboro
AMC partners with the Autism Society to offer sensory-friendly films the second and fourth Saturday of each month. Theaters turn the sound down and turn the lights up so you're not in complete darkness. Because it's a more relaxed atmosphere, kids are welcome to get up and move around, and even sing and dance along with the movie.