11 Inclusive and Accessible Playgrounds for Boston Kids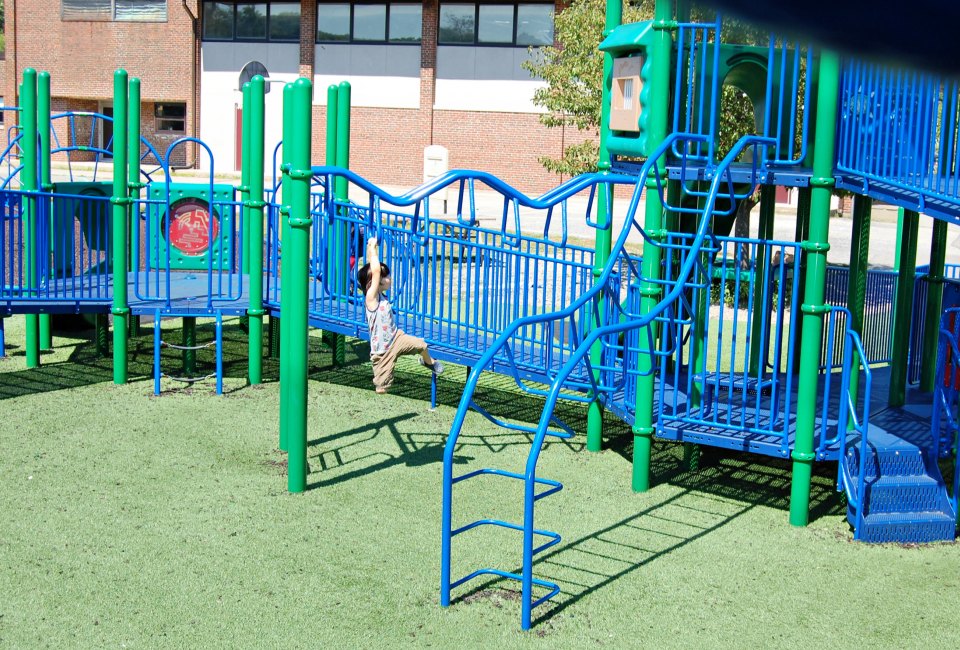 4/21/19
- By
Caitlin Dowling
We all work so hard to teach our children to be kind and inclusive to one other, so why not play somewhere that celebrates many different kinds of ability? A growing number of playgrounds are working to create play structures and activities that are accessible to all kids of all physical capabilities, including Boston's newest playground Martin's Park set to open this June. From ramps to swings to sensory play areas, these 11 playgrounds are designed to make sure all kids have a blast playing outside. And if you're looking for even more outdoor fun, consider a day trip to these brain-boosting playgrounds or hop in the car for a new adventure and visit one of these drive-worthy spots.
1. Harambee Park Boundless Playground—Boston
Harambee Park Boundless Playground was created with the goal of giving all children of all abilities the chance to play side-by-side. Along with high-back swings and accessible ramps, there is also an elevated gazebo in the center where kids with disabilities have the opportunity to be up high, and caregivers can still have a view to watch as they play independently.
3. Fore River Field and Playground—Quincy
Fore Playground features wide walkways, wheelchair ramps, and wheelchair accessible play equipment, including a seesaw. There are also ground-level sensory activities, like chimes. Along with the playground there are also two little league fields, a street hockey court, tennis court, basketball court, and football field.
2. Martin's Park—Boston
Set to open June 15th, 2019, Boston's newest playground on the block is a tribute to the Marathon bombings' youngest victim, Martin Richard. Martin's parents worked with designers to create a space for children of all abilities. Along with a garden splash pad and a super fun marooned ship, kids will find fun nature-inspired play structures, most with multiple ways to reach the top, making sure no one is left behind. There is also a basket swing, interpretive special signage that's simple to follow, and small reflective and sensory pools tucked into gardens and trees.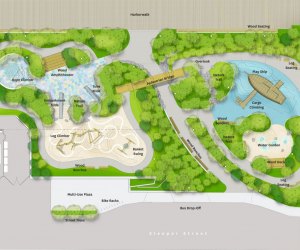 A rendering of Martin's Park courtesy of the City of Boston
4. Thomas M. Menino Park—Charlestown
Thomas M. Menino Park is right next to the Spaulding Rehabilitation Hospital in the Navy Yard and has a great view of Boston's waterfront. The playground was also designed in the wake of the Marathon bombings. The Park has a wheelchair-accessible merry-go-round, a ramped play structure, and embankment slides and climbers. Also notable: access to the hospital's bathrooms, which is always important.
5. Adventures for Angels—Peabody
This playground features rubber matting surface throughout, high back swings, and a ramp system for children in wheelchairs. Adventures for Angels also has slides with rollers for touch stimulation, as well as special panels, including an interactive Braille clock and wind chimes.
6. Rising Star Playground—Beverly
The big draw for Rising Star Playground is it's interactive musical ground components, perfect for kids of all ages to explore together. There are also ramps to access higher structures and a ground level window area for imaginative play. Kids can even visit the Sign Language learning board to learn how to communicate with friends.
7. Ronan McElligott Memorial Playground—Westford
Located at Edwards Beach, the Ronan McElligott Memorial Playground is full of outdoor fun for kids of all abilities. The playground features universally accessible surfacing and pathways for wheelchairs so every child can reach the highest play deck. There are also swings and bouncers with neck and back supports. Along with play structures there is interactive fun for all kids, including metal tubes that make music and a rotating sensory bin.
Touch the Sky Playground features a ramp through the main play structure. Photo courtesy of Marie Saldi AccessibilityInSouthShoreMA.wordpress.com
8. Touch the Sky Playground—Beverly
Located at the Beverly School for the Deaf, Touch the Sky playground is open to the public when school is not in session. This playground has wide ramps and rubber surfaces to accommodate wheelchairs, bucket-seat swings for kids who need extra support, and a slide made out of roller balls designed for children who like touch sensations.
9. Bill Adelson Playground at Haskell Recreation Area—Sudbury
Billed as a toddler playground for younger children, the smooth surfaces and ramps throughout this playground make it super accessible. There are also transfer stations, platforms where children can lift themselves out of their wheelchairs onto play equipment. Multiple sports fields and a concession stand are all on-site.
10. Amelia Grace Place—Rockport
The town of Rockport's public elementary school playground, Amelia Grace Place is open to the public during non-school hours. The playground includes accessible swings, climbing structures that enable a wheelchair to go to the top, and many ground-level activities, including Braille, Sign Language, and English to Spanish learning boards.
11. Mission Hill Spray Deck—Boston
While there is also a playground here, the big attraction is the accessible spray deck, the perfect destination to cool off in the summer. Open from the end of May through the beginning of September, this spray pad even stays open late, lighting up for extra fun on hot summer nights.
Click Here to Sign Up!
i