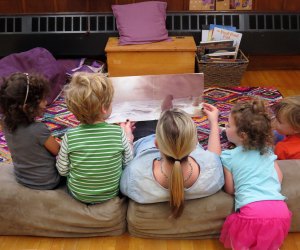 9 Co-op Preschools in Cambridge and Somerville
Choosing a preschool for your young child can be anything but easy. There are so many choices—bilingual or language-immersion, Montessori, cooperatives—that it's hard to know where to begin.
If you're looking for a preschool that allows parents to actively participate with things like helping in the classroom and shaping school policy, then a cooperative preschool may be right for you and your child. Also know as a co-op, these schools' educational philosophies can vary, but one thing remains the same: Parents are an integral part of the running of the school. Recently, we looked at co-op options in the west suburbs. This week, we've rounded up preschool co-ops in Cambridge and Somerville where teachers and parents work together to nurture little learners.
Cambridge
Cambridge Nursery School — Porter Square
The Cambridge Nursery School is a nearly 100-year-old program that has been a parent cooperative since its founding. Parents are still heavily involved in the daily operations of the school, which is now led by four experienced teachers. Cambridge Nursery School has an emphasis on play-based learning and also incorporates activities like story time, yoga, music, and nature education. The program operates five half-days a week in two classrooms: one for 3-year-olds and one for 4-year-olds. Extended day and summer programs are also available. The parent responsibilities include attending the classroom 10 mornings per year per child, a parent job (like photography, yard work or website support), fall and spring parent work days, three to five parent meetings per year, various school events, and an optional parent board.
Dandelion Montessori Co-op — Inman Square
The next preschool on the list combines Montessori principles with a cooperative school environment. Dandelion Montessori Co-op is led by two Heads of School who use the Montessori method. This includes multi-age classrooms with furniture and learning materials tailored to child-directed learning, where the teachers are more like observers. The school is currently accepting students ages 33 months to 4.5-years-old for its half- and full-day programs. Extended day and summer programs are also available. The family commitment at Dandelion includes attending five classroom observations, parent education evenings, an optional Montessori apprentice program, community events like potlucks and coffee meet-ups, and participation in two committees (4 to 8 hours per month).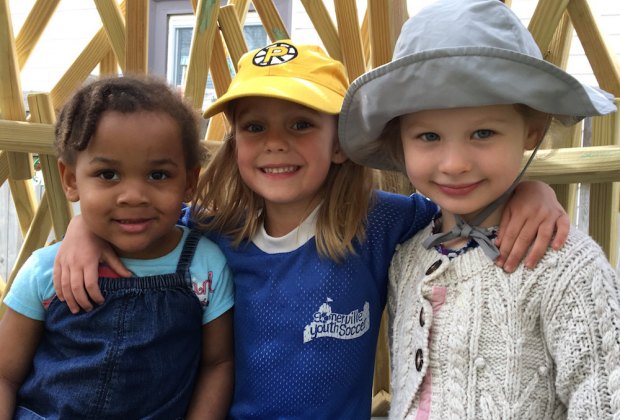 Kids hanging out at Agassiz Preschool in Somerville. Courtesy of Ann Lacey.
Garden Nursery School — Harvard Square
Founded in 1959, Garden Nursery School operates in a media-free and limited technology environment. The school focuses on splitting children's time between self-directed play and structured activities, individually and in groups, that encourage social-emotional development. Classrooms at Garden Nursery School are grouped by age: 3-year-olds meet Tuesday and Thursday mornings and 4-year-olds meet Monday, Wednesday, and Friday mornings. The school operates from September to June and has extended day programs available. Parent responsibilities include parent-teaching in the classroom 5 to 8 times per year, participation in two fundraising endeavors, participation in two school clean-ups, attendance of parent-teacher training and all general meetings, and fulfillment of a cooperative job.
Kids Co-op Cambridge — Davis Square
The Kids Co-op Cambridge doesn't call itself a preschool, preferring the term playgroup, but it's similar enough that we wanted to include it here. The co-op is 100% parent-run, so there are no additional teachers or administrators. There are 15 member families with kids ranging in age from 18 months to 4-years-old running and attending the program. The co-op is open five days a week in the morning. Children are welcome to attend three days per week, two of which they can be dropped off and one when parent stays to act as a caregiver. The co-op encourages kids to play, learn, and socialize with independent and group activities. Parent responsibilities are extensive and include becoming a board member, officer or advocate; acting as the classroom manager, cleaning coordinator, curriculum manager, events coordinator, health and safety coordinator, or webmaster; or doing membership, outreach, purchasing, or recruiting.
Newtowne School — Harvard Square
The Newtowne School is an Reggio Emilia-inspired parent cooperative preschool with a 45-year history of educating young people. In the play-based curriculum, teachers facilitate and guide child-constructed learning in carefully designed classrooms. There is a dedicated art studio that emphasizes the process over the product and extensive, nature-inspired indoor and outdoor play spaces. Newtowne operates age-based, half-day classrooms for children ages 22 months to 5-years-old. There are three- or five-day programs for children ages 22 months to 3.5 years and five-day programs for children ages 3 to 5 years old. Extended day and summer programs are available. Parent responsibilities include having a parent job (like fundraising, classroom management, enrollment), providing classroom help one morning every three weeks, participating in events like the Spring Fair, and attending two work days per year.
Oxford Street Daycare Cooperative — Harvard Square
While the Oxford Street Daycare Cooperative is affiliated with Harvard University and priority is given to Harvard families, the program is open to the general public as well. The co-op accepts children ranging in age from 3 months to 5 years and divides them by age: Infants (3-15 months), Toddlers (12-24 months), Stompers (2-3 years) and Preschoolers (2.9-5 years). The co-op sees children as active learners and works to develop self-esteem and confidence through learning while fostering self-expression through a diverse array of activities. The year-round program operates five days a week in full and half-day schedules. Parent involvement includes a two-hour weekly or bi-weekly classroom shift, a parent job (like serving on a committee or becoming a board member), a monthly classroom meeting, and the division of classroom labor.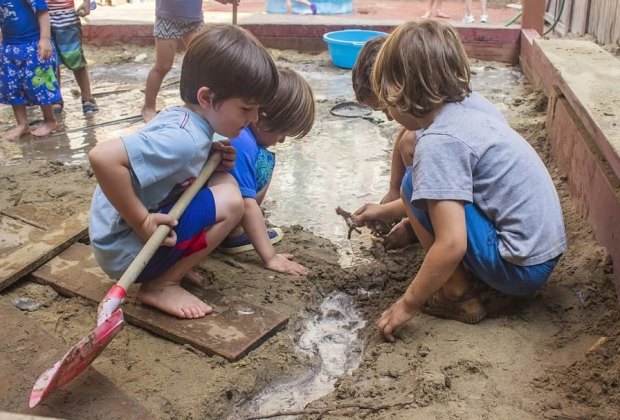 Kids take part in hands-on learning at Newtowne in Cambridge. Courtesy of the school.
Parents Nursery School — Fresh Pond
The 60-year-old Parents Nursery School has been a parent cooperative from the start, though the structure of family involvement has evolved over time. The co-op's day is loosely structured, giving children ample time to engage in self-directed free play. The 3- to 5-year-olds who attend are encouraged to explore their natural world extensively. The program offers four- or five-day attendance in the morning with extended day available. Parent responsibilities include parent helping in the classroom one morning every two to three weeks, a few Saturday work days per year, helping with fundraising events, and joining a parent committee.
Somerville
Agassiz Preschool — Spring Hill
If you live near Agassiz Preschool in Somerville you may have noticed the annual Christmas Tree Sale in December or Yard Sale in May. These two events are just a small part of what makes Agassiz unique. It's run by a professional staff of educators but parents play an important role, too. The school accepts children ages 2- to 5-years-old for its AM Program (8:30 a.m.-12:30 p.m.) and PM Program (8:30 a.m.-2:30 p.m.) and extended day options are available. Agassiz encourages learning through play and focuses a lot on children's social development through individual and group activities that accommodate children at various developmental stages. Parent responsibilities include: joining a parent team (like the capital campaign or communications), parent-help day (a morning or afternoon once every five to six weeks), an annual work day, helping with projects like fundraisers and field trips, and the annual Yard Sale and Christmas Tree Sale.
Bigelow Cooperative Preschool — Union Square
Bigelow Cooperative Preschool is nestled right on the Somerville/Cambridge line, so it's walking distance from Union, Porter, and Harvard Squares. The co-op's curriculum is Reggio Emilia-inspired and treats children as competent, capable learners to foster independence and curiosity. Professional teachers operate the school on a daily basis with four current staff members having worked at Bigelow for 20 years. Bigelow operates five different classrooms: Little Rainbow (3-11 months), Rainbow 1 (12-23 months), Rainbow 2 (24-32 months), Rainbow 3 (33-47 months), Rainbow 4 (4-5 years). Children can attend anywhere from 2 to 5 days per week with extended day available. Parent responsibilities include involvement in the operation and governance of the school, classroom participation (varies based on attendance), belonging to a committee (like food, finance or admissions), and monthly meetings.
---
Top image of a parent reading to kids courtesy of the Newtowne School.