Cooperative Preschools West of Boston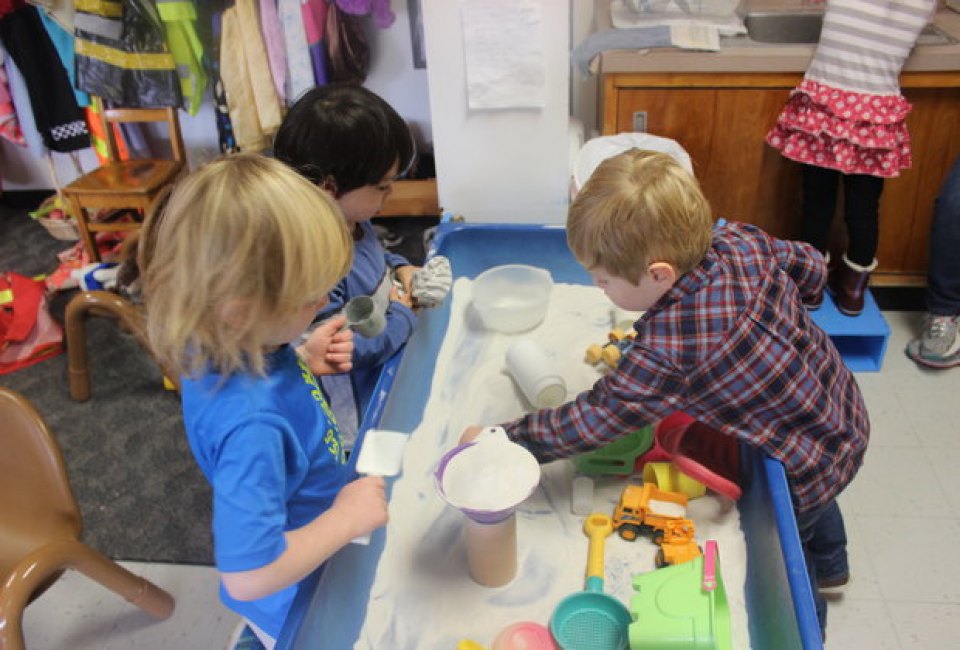 2/20/17
- By
Therese Sison
Montessori, Reggio Emilia, language immersion, public, and private—when it comes to choosing a preschool, parents have a lot of options. If you're interested in a program that allows you to have a high level of participation in your child's education, a cooperative preschool may be the right choice for you. Also known as a co-op, this type of preschool offers parents opportunities to assist in all aspects of running and managing the school, from serving as a board member to participating on school committees to helping regularly in the classroom. Co-ops abound in Boston; we've rounded up several worth exploring in the preschool-rich Metrowest suburbs, in particular.
Belmont Cooperative Nursery School — Belmont
At the Belmont Co-op, emphasis on the process of learning—rather than the "finished product"—is a core value. Children in the school's three- and four-day programs learn through play in a curriculum inspired by Reggio Emilia that incorporates both teacher- and child-directed activities. As part of its enrichment activities, the school partners with a Mass Audubon wildlife sanctuary and education center to provide students in all three programs opportunities to explore nature in indoor and outdoor environments. Additional music and drama activities also are available. Parents assist in the classroom approximately once per month, and participate in school clean-ups, fundraising events, and on the school's board and committees.
Bowen Cooperative Nursery School — Newton
Offering programs for children ages 2.9 to 5 years old, the Bowen Cooperative Nursery School was founded in 1955. Its three-, four-, and five-day programs provide students with opportunities to explore their environment, experiment with a variety of materials, and develop skills in reading, math, science, music, and art—all while guided by teachers and parent helpers in the classroom. A summer camp and optional weekly lunch program also are popular. The expected time commitment for parents to assist in the classroom varies by program, from six times per year for the three-day program to 10 times per year for the five-day program. In addition, parents serve on the board of a number of committees—such as fundraising, hospitality, and social media—and attend fundraising events in the fall and spring.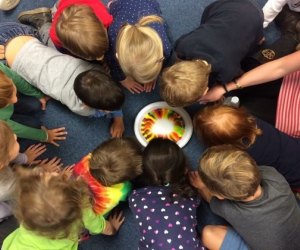 Photo courtesy of Bowen Cooperative Nursery School
Community Nursery School — Lexington
At the Community Nursery School, opportunities for children to explore their individual interests and gain the self-confidence to explore the world around them are built right into the curriculum. Its programs for three-, four-, and five-year-olds each have their own dedicated classroom, where students explore materials, sing songs, participate in special activities, and engage in free play. With a parent in the classroom every day, parents can expect their own classroom time commitment to be approximately one day per month. Options for parent committee membership include maintenance, IT, and community outreach. In addition, parents also participate in Saturday workdays, scheduled three times per year, which help manage the upkeep of the school and can include tasks ranging from raking to painting to light carpentry; past workdays also have included special projects building new play and learning areas, such as the school's stump garden and woodland trails.
Sudbury Cooperative Preschool — Sudbury
Owned and operated by its members, the Sudbury Cooperative Preschool offers students a family-centered learning environment. The play-based curriculum emphasizes social and emotional growth through hands-on activities in literacy, math, science, health, arts, and more. For toddlers, the school offers two- and four-day programs, while preschoolers can take part in three- and five-day classes; four- and five-day options are available for pre-k'ers. Special enrichment opportunities available to all students include family field trips, yoga, multicultural activities, a Spanish program, and visits from a nutritionist. Parents can expect to assist in the classroom for a minimum of five days per year; they also participate in clean-up days and family choice assignments, which are jobs that benefit the school, and typically have a 15-hour per year time commitment.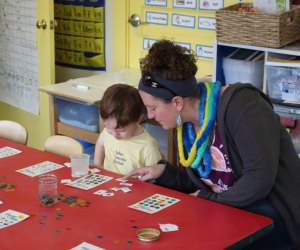 Photo courtesy of Sudbury Cooperative Preschool
The Barn Cooperative Nursery School — Concord
At The Barn Cooperative Nursery School, nurturing all aspects of a child's growth—social, emotional, intellectual, and physical—is paramount. Its play-based curriculum offers plenty of opportunities for both indoor and outdoor exploration, with play areas dedicated to building materials, dramatic play, arts, reading, gross motor play, and music. The school has programs available for children as young as two years old on a two- or three-day schedule; older children ages three to five can enroll in three- or four-day classes. Annual special events provide opportunities for the entire school community to come together; these events include an apple picking field trip, a friendship feast, a museum field trip, a Valentine's Day party, and a lemonade stand. In addition to regular assignments helping in the classroom, parents attend membership meetings held three times per year, assist with maintenance projects once per year, and participate in fundraising events.
The Children's Cooperative Nursery School — Newton
Founded in 1970, the Children's Cooperative Nursery School, or Coop, puts play front and center of the curriculum of its two programs. The four-day program, for younger children, focuses on helping students make the transition from home to school; while the five-day program for older children emphasizes building relationships with others and the group. In either program, children spend equal time engaged in free play and structured projects and lessons. Parents' expected commitment to the school includes one day per month assisting in their child's classroom, five business meetings per year, and serving either on the board or on one of several committees responsible for tasks ranging from grocery buying to fundraising.
---
Top photo courtesy of The Children's Cooperative Nursery School