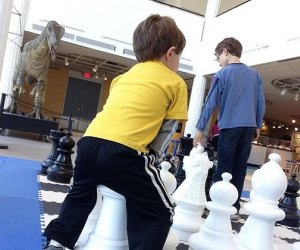 Five Children's Museums Outside of Busy Boston
Sure, the Boston Children's Museum is lots of fun. It can also be crowded and hectic, and parking is a challenge. The good news is that there are a handful of other great children's museums in eastern New England – all within a reasonable drive – for those days when you're looking for something a little more relaxed.
Here's a rundown of five kid-centric museums outside of Boston. If you're a member of the Boston Children's Museum, it's worth checking whether your membership offers free entry into any of these other museums. Local libraries may also make free or discounted passes available.
Discovery Museums
177 Main St. (Route 27), Acton, MA 01720
Open Tuesday through Sunday, hours vary
This spot in Acton actually comprises two attractions: The Science Discovery and Children's Discovery museums. Admission gets you into both sites, which are much smaller than their Boston cousin. Acton's children's museum takes up residency in a 120-year-old Victorian house, with exhibits such as an interactive series of tracks on which golf balls race and a pint-sized diner for kids to "serve" people upstairs. Meanwhile, the science center features a musical sound lab that children get a kick out of (you can even enter a play studio to make some tunes). And here's a nice option: Both museums offer free admission the first Friday night of each month, late June through Labor Day.
Children's Museum in Easton
9 Sullivan Ave. (the Old Fire Station), North Easton, MA 02356
Open Tuesday through Sunday, hours vary
This small-town museum is a nice surprise with its variety of activities. For kids, one of the highlights is a life-sized boat for would-be members of the fishing crew – or pirates. Other hands-on exhibits include a space command module and dinosaur den. And if children ever wanted to slide down a fire station pole, this is the place to try it, particularly given the museum is inside a former station. Outside, the Wild Place offers a gentle play area in warmer weather.
EcoTarium
222 Harrington Way, Worcester, MA 01604
Open Tuesday through Sunday, hours vary
High on a hill deep in Worcester is the EcoTarium, which is a science-themed attraction squarely aimed at kids. On the lower level are a bunch of interactive areas, including a giant-sized chess set on which kids can lift the pieces or makes themselves a real-life rook (see the photo at top). Upstairs, if a real trip up Mount Washington isn't on parental bucket lists, their kids can check out a series of simulated activities at the peak, such as a bouldering wall and a hurricane-force wind tube that people can stand in if they dare. In warmer weather, the EcoTarium has live animal exhibits outdoors, several trails and a bubble play area. Back inside for an extra fee, visitors can check out the planetarium. By the way, the EcoTarium has free parking in its own, large lot, which is a plus in the city.
Providence Children's Museum
100 South St., Providence, RI 02903
Open Tuesday through Sunday, 9 a.m. to 6 p.m. (open Mondays April through August)
About 50 miles southwest of Boston, Providence Children's Museum is a fun spot, with perhaps the most popular attraction actually outdoors: the wacky Underland tunnels, which can be a tight squeeze for adults. Inside the museum, a wet, interactive display lets kids hook up various pipes to water fountains. Meanwhile, in a nod to the city's highway history, an exhibit uses the Interstate 195 relocation project to prompt kids to explore construction and bridge architecture. There is free parking in the museum's lot, but it fills quickly. Metered spots on the street are usually easy to find but only offer one or two hours of parking (meters are not in effect on Sundays).
Children's Museum of New Hampshire
6 Washington St., Dover, NH 03820
Open Tuesday through Sunday, hours vary (open Mondays in summer)
This museum in Dover, NH, is near Portsmouth and about 70 miles north of Boston (and also a short trek from the beaches in York and Ogunquit, ME). Kids can construct foam flying contraptions and then launch them off a tower using a conveyor belt. Elsewhere, a colorful, wall-sized collage of shapes lets kids create sounds by placing their hands various spots. Gamers will enjoy Mindball, in which players put an EEG monitor around their head and attempt to move a ball by relaxing themselves. And while there are no Beatles in the walk-in Yellow Submarine exhibit, kids can find out what it's like to live beneath the waves. Free parking near the museum is easy to come by.
---
Top photo of the EcoTarium by the author.