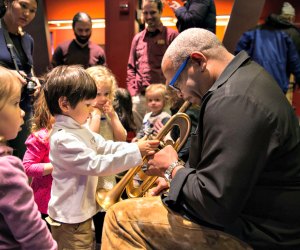 Where to Find Free Classes for Boston Kids
Raising a kid doesn't come cheap. There's childcare, plus the downright shocking amount of diapers, clothing, shoes, and food growing bodies go through; tack on some fancy programs, and costs really hit the roof. But that doesn't mean affordable enrichment classes aren't out there; in fact, there are some great programs in and around Boston where kids can learn and hone new skills, at no cost to you. We've listed some of our freebie faves below; and don't forget to check out our new Deals page for lots of free trial classes in and around town.
KidsJam at Berklee - Boston
This free, weekly early childhood program for preschoolers is another example of Berklee's community spirit: On Mondays, music education students, led by professors, lead kids in singing and sound exploration, movement, instrument introduction, and even creating their own tunes.
Junior Artists at the Museum of Fine Arts - Boston
This new, two-hour drop-in program on Saturday mornings at the MFA is designed for kids ages 5 to 8 and a caregiver. Families leave with an art project, and hopefully a greater appreciation for the works the educators introduce them to. The classes are free with museum admission—which is waived for kids on weekend days (but $25 for an accompanying adult).
YouthSpark Classes at Microsoft Stores - Boston and Burlington
Sign up early for these popular free classes at the Microsoft stores at the Prudential Center and Burlington mall. Kids can become more facile with several different coding programs as well as Microsoft software.
Kids Hour at Apple Stores - Multiple Locations
Open to kids 6 to 12, these workshops introduce children to cool techniques using Apple technology, from the Sphero Robot to GarageBand to iMovie.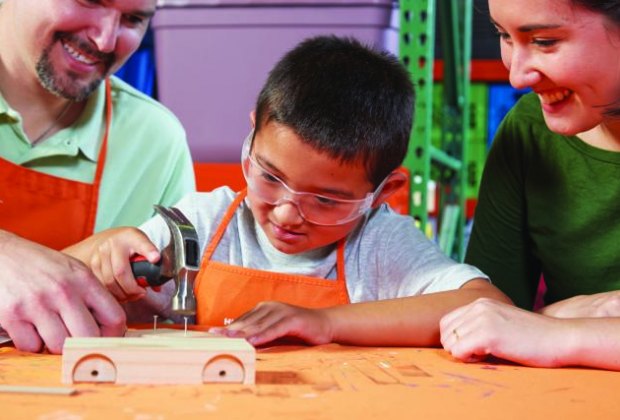 There's a new project to build every Saturday at Home Depot. Photo courtesy of Home Depot
Saturday Kids' Workshops at Home Depot - Multiple Locations
The projects change weekly, and children are guided in how to make everything from a piggy bank to a birdhouse depending on the day. Get there early: Kids get to keep their project, receive a "certificate of achievement," a Workshop Apron, and a commemorative pin (while supplies last).
MAKE and Kids' Club at Michaels- Multiple Locations
It seems natural that this craft-heaven would encourage kids to come and get creative. Michael's hosts regular, themed crafting events that usually embrace the curent season or upcoming holiday, usually on weekend days.
Parent-Child Playgroups—Multiple Locations
Consider this a free class for you, too. Parent educators from the Family Nurturing Center host regular, various age-specific playgroups for kids from 11 months to 4 years, with a caregiver, in multiple libraries, community centers, and other public spaces in Boston and just beyond. Through guided play, circle time songs and activities, and lots of heart-to-heart convos, parents learn about their child's behavior and gain tools to help children to enter school "ready to learn."
Your local library—Boston Public Libraries, the Minuteman Libraries, and other suburban library networks are perhaps your community's richest source of free, public classes, for kids and grown-ups, too. Bookmark your local library's calendar and check it often for free STEM, literacy, and art programs.
Finally, don't forget: There are lots of free trial classes available at places around town, if you know where to look: Our new Deals page is constantly being updated with workshops and programs that you and the kids can try out at no charge.
Top photo: Musicians give children an up-close look at instruments at Berklee KidsJam. Photo courtesy of Berklee