10 Science and STEM Classes for Boston Preschoolers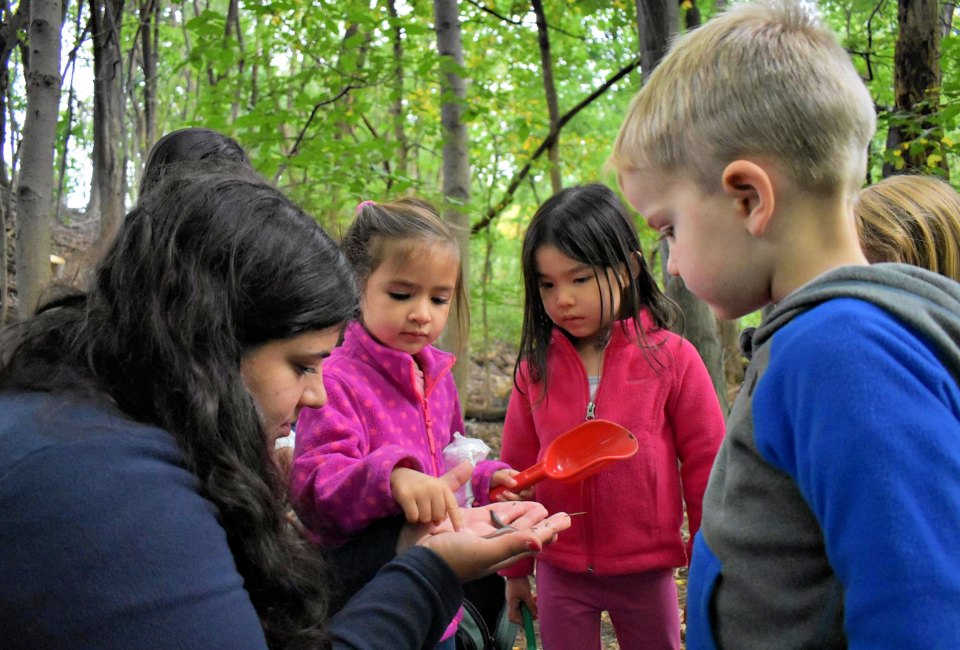 8/6/19
- By
Elyse Andrews
There's no shortage of STEM (Science, Technology, Engineering and Math) activities for kids in the Boston area, from summer camps to robotics classes. While most of these programs are geared toward older kids and teens, children as young as 2 or 3 years old are at a perfect age to start learning the basics of the scientific method. We've rounded up a list of local programs that offer science or technology programs specifically for curious preschoolers.
Einstein's Workshop—Burlington
Einstein's Workshop provides hands-on experiences in STEAM (STEM + Arts) through classes, camps, drop-in play, and birthday parties. The "Einstein's Playground: Asking Questions" class introduces preschoolers to STEM concepts through age-appropriate experiments. Kids ages 3.5 to 6 years old are welcome when accompanied by an adult.
LEtGO Your Mind—Melrose, Wakefield, Walpole, West Roxbury
If your kids are crazy for LEGO, they are going to love LEtGO Your Mind, which has several locations around New England. Four of the ones in Massachusetts have a program geared specifically to kids ages 4 to 5 years old. At "Build It Big: Castles & Motorized LEGO Machines," preschoolers will create sturdy towers using principles of engineering and mechanics.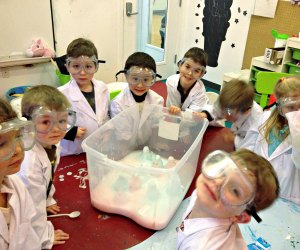 Ha
Kids learn science through hands-on fun at Linx. Photo courtesy of LINX
LINX—Wellesley
A variety of classes offered at LINX range from dance and theater to sports and science. One of the science classes is taught to kids ages 3 to 5 years old, so they can learn the basic STEM principles from an early age. The science class is project-based and changes weekly. In the class, kids will have the opportunity to develop their logic and critical thinking skills, as well as learn how STEM appears in everyday life.
Mad Science—Stoughton, Waltham
The name says it all at Mad Science, which has two Boston-area locations. While many of the programs are focused on kids in kindergarten or older, Mad Science does offer workshops for kids ages 3 to 5. In these workshops, Mad Science uses hands-on learning to introduce STEM concepts through topics like animals and bugs, the human body, air, heat, magnets, and more.
Mass Audubon—Various locations in and around Boston
Mass Audubon's main focus is protecting more than 35,000 acres of land and running 20 nature centers in Massachusetts. But the nonprofit also runs dozens of programs each year geared to young children and focused on science and biology, including nature walks, farm animal care, and preschool "naturalist" sessions.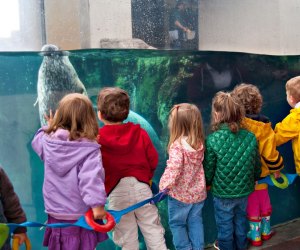 Kids visit the Atlantic harbor seal exhibit at the New England Aquarium. Photo by S. Cheng
New England Aquarium—Boston Waterfront
The New England Aquarium is a terrific place to take children of all ages so they can learn more about the sea and the creatures in it. Ocean-loving kids ages 2 to 4 years old can participate in the aquarium's Sea Squirts program. These four-week classes introduce kids to basic science concepts while developing their motor, language, and social skills.
Puddlestompers—Newton, Wayland, Wellesley
If you have a budding naturalist at home, Puddlestompers is the place to go. It's all about getting kids outside and into nature through classes and camps. Puddlestompers offers a class for children as young as 2-years old when they are accompanied by an adult. At the class, preschoolers will gain an appreciation for nature through outdoor exploration, games, stories, and crafts.
STEM Beginnings—Westborough
As the name implies, STEM Beginnings is all about introducing young children to science, technology, engineering, and math concepts at an early age. STEM Beginnings does this through age-appropriate programs like "STEM is Fun for Tots," for 3- to 5-year-olds. In this class, preschoolers learn STEM basics through hands-on activities, experiments, stories, music, and movement.
Trustees of Reservations—Various locations in and around Boston
The Trustees of Reservations is charged with caring for more than 25,000 acres of land throughout Massachusetts. In addition, the Trustees run programs and special events geared to young kids, often focusing on STEM topics. Past and future examples that are great for preschool-age children include story time on a farm with animal interactions, cooking classes, and maple tree tapping.
Zoo New England—Franklin Park, Boston and Stoneham
Instead of just spending the day at one of Zoo New England's two Boston-area locations, why not send your preschoolers to the zoo's Curious Cubs playgroup? The program is designed to introduce 3- to 4-year-olds to science concepts. Children will get up close and personal with members of the animal kingdom, and participate in storytime and craft time.
---
Click Here to Sign Up!