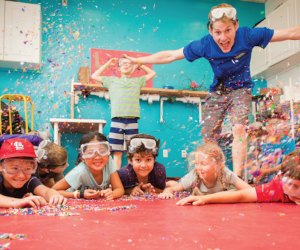 17 Science and Tech Summer Camps for Boston Kids who Love STEM
Surrounded as we are in Boston by so many tech start-ups, a world-class science museum, and some of the top college computer-science departments in the country, it's no surprise that many of our kids are fascinated by all things STEM (Science, Technology, Engineering, and Math). Luckily, a growing number of tech-minded summer camps are cropping up all over the Boston region to meet demand, and the options for local kids range from a program for wannabe inventors to a science immersion program just for girls. We've rounded up a dozen great school vacation programs where kids can tinker, make, build, code, invent, and experiment.
Read on to find a STEM camp that's a good fit for your sci-tech lover, and sign up soon—early-bird specials are widely available this month, and some of these camps fill up fast.
Find more great summer camp options for your Massachusetts kids in our Camp Guide and Directory of listings, which is searchable by interest, age, or location.
1. Camp Invention—18+ locations in Boston area
Ages: Grades 1-6
Local schools host the Camp Invention program, and the week's hands-on activities are led by area teachers. Children rotate through four modules each day, each of which encourages working in diverse teams, engaging in investigations, and taking on engineering challenges that combine science, technology, engineering, and math. Week-long sessions take place throughout the summer, beginning in late June.
Registration: campinvention.org
2. Edge on Science—Weston and Plymouth
Ages: Grades 4-9
Lead instructor John Aviste focuses on projects related to applied science and his civil engineering background, and kids often get outside in the fresh air to work on their projects. This year, choose from nine project-based programs: Drone & Code, Let's Experiment!, Amazing Bugs, Bridge Building, Catapult Engineering, Galileo's Astronomy, Hyrdaulics Makerspace, Summer Rocket Blast Off, and Whales n' Things.
Registration: edgeonscience.com
Empow Studios—Multiple locations
3. Ages: Grades 2-7
For kids between 7 and 13 years old, Empow Summer Workshop is a place to make videos and animations, learn to code, make video games, build robots, and try out digital design and music throughout the summer. Focus on one technology of particular interest, complete mini-projects with each new technology, or combine several disciplines into one epic project. Empow also offers a wide variety of Minecraft-inspired activities, starting with an exploration of electrical circuits and continuing with key concepts related to electrical engineering and architecture.
Registration: empow.me
4. Einstein's Workshop—Burlington
Ages: Grades K-9
Einstein's Workshop summer classes teach the fundamentals, from Newtonian physics to electrical engineering to programming robots, providing a foundation for STEM fluency. Topics kids can explore this summer include 3-D printing, Minecraft, programming, robotics and hands-on science. There are options for morning, afternoon, or full-day programs during July and August, and sign-ups begin in mid- to late-February. Want to know more? Read our review of Einstein's Workshop.
Registration: einsteinworkshop.com
5. Kids 4 Coding—Cambridge and Waltham
Ages: 7-16
Kids 4 Coding programs focus on familiarizing children to a wide range of cutting-edge technologies. Along with sessions devoted to programming and game design, there are weeks when kids can build and code drones, design homes and structures with 3-D computer programs, or parlay a Minecraft or ROBLOX obsession into practical skills.
Registration: kids4coding.com
Photo courtesy of i2 Camp
6. i2 Camp—West Roxbury
Ages: 9-13
A co-ed summer day camp held in late June through July, i2 offers middle schoolers a broad range of fun, hands-on courses across STEM disciplines, designed to give students experiences they wouldn't get in traditional classrooms. Course offerings, which are designed in close partnership with MIT, Bose, and other STEM organizations, cover topics in engineering, genetics, robotics, nanotechnology, mathematics, and even ecology.
Registration: i2camp.org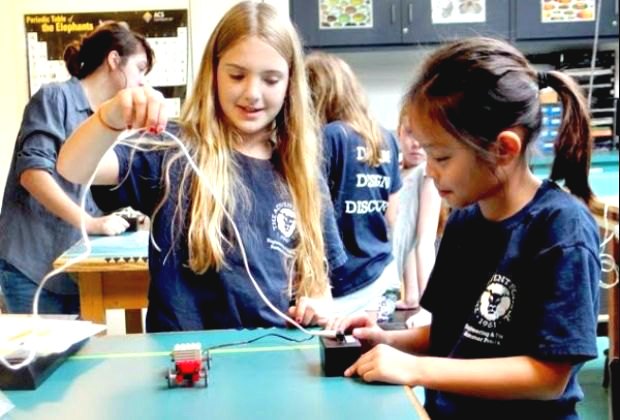 "Dream, design, and discover" this summer at the Advent School Engineering & Design Camp. Photo courtesy of Advent School
7. The Advent School Engineering and Design Summer Program—Boston (Beacon Hill)
Ages: 5-12
Founded in collaboration with MIT's D-Lab, Advent's "Dream, Design, Discover" program specializes in hands-on experiences focusing on the principles of engineering and design. There are three two-week-long sessions in late June through early August, each revolving around a specific theme, from "pedal power" to "wind+water."
Registration: adventschool.org/programs/summer-program
8. STEM in the City Summer Camp—Boston (Fenway)
Ages: Grades 8-9
Home base for STEM in the City Summer Camp is the Department of Mathematics and Science on Wheelock College's Boston campus. Campers for the full-day camp, which takes place from July 17 to 28 this year, will meet at Wheelock and be introduced to a STEM topic. Daily activities then include field trips, led by STEM professionals, and hands-on activities that relate to the field experience. Campers eat lunch (included in camp tuition) at or near the site, then return to Wheelock, where they will explore a variety of careers and the educational pathways needed to attain those careers.
Registration: wheelock.edu
9. LINX EPIC Science Camp - Wellesley/Weston
Ages: Grades K-8
The EPIC science program, held from July through early August, is designed with a variety of hands-on experiments and demonstrations in physics, engineering, chemistry, biology, electronics, and astronomy. Each week campers use the scientific method to uncover the mysteries of the world around them. They are placed in age appropriate groups to foster friendships and to make use of advanced learning methods. Based on age, science campers spend a set number of hours studying science and have lunch, bonus periods, and swim time. Bus transportation is available.
Registration: linxcamps.com
10. GreenApple Campus - Needham
Ages: Grades K-9
GreenApple is a nonprofit organization that offers creative and challenging STEM and STEAM enrichment programs, including coding, robotics, VR and AR, 3-D printing, Minecraft, and "GirlsTech." Campers work independently, in small groups and on teams for different activities throughout the sessions; week-long options start in late June and continue through mid-August.
Registration: greenapplecampus.org
11. Emagination Computer Camps - Newton
Ages: 8-17
Emagination blends technology learning with fun activities to create a well rounded summer camp experience. Two-week sessions from late June to early August give campers time to make friends, build self-confidence and be part of a community while learning new technology skills. Day and overnight sessions are available.
Registration: computercamps.com
12. iD Tech Camps - Beverly, Cambridge, Needham
Ages: 6-15
iD Tech Camps strike a balance between off-computer activities (creative games, sports, life skills, etc.) and tech education to foster STEM skill development. Kids can develop apps, learn coding, design and create video games, develop websites, produce movies, build robots, and more. "Tech Mini" programs are available for children as young as 6. Older kids can choose between day and overnight options from late June through early August.
Registration: idtech.com
13. Science Camp for Girls - Cambridge
Ages: Girls in grades 4-9
Campers for this day camp choose their "Science Major": marine science or engineering (grades 4-6) and astronomy or marine biology (grades 7-8). The session includes plenty of experiments and instruction, as well as the opportunity for informal science learning and leadership development through workshops, experiments and recreational activities.
Registration: Education Unlimited
14. Tufts Center for Engineering and Outreach Summer Workshops—Medford
Ages: Grades 1-12
These co-ed, weeklong programs throughout the summer focus on engineering. Many sessions take creative approaches to physics and building, from "Storybook Engineering" (in which first and second graders engineer solutions to problems that fairy tale characters are facing) to "Engineering Through Time" (in which third through fifth graders study and solve challenges faced by different civilizations).
Registration: Tufts CEEO
15. Summer STEAM at Shady Hill School—Cambridge
Ages: Grade 1-5
Each week has a different theme centered on learning and exploration. Activities include project-based learning, technology, engineering, mathematics, and various art mediums.
Registration: STEAM at Shady Hill
16. JCC Kaleidoscope Creative Arts + Science Camp—Newton
Ages: 5-16
Explore the arts, science, and the great outdoors in a STEAM-driven program at the JCC in Newton.
17. Digital Media Academy Tech Camp—Cambridge
Ages: 7-17
Founded at Stanford University, Digital Media Academy Tech Camp specializes in immersive, project-based learning experiences for middle schoolers and high schoolers.
Looking for more summer camp options? Bookmark our Summer Camp Guide and check back often; we are continually updating and adding options for kids in the city and beyond.
Originally published in 2012