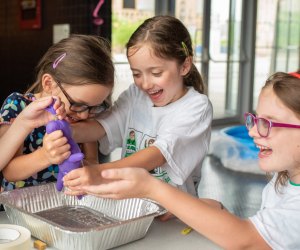 18 Science and Computer Summer Camps for Boston Kids who Love STEM
Got a STEM-savvy Boston kiddo? At these science, computer, math, and design-focused summer camps across Massachusetts, kids ranging in age from preschoolers to teens will have a chance to learn STEM principles, from programming drones, Minecraft modding, marine biology, and more. They keep problem-solving skills sharp over the summer, but for kids, these hands-on science camps are just plain fun.
Check out these STEM summer camps across the state, or take a look at our extensive Boston Summer Camp Guide and Summer Camp Directory for tons of options fit for all interests, including affordable Boston camps and sleepway camps.
Find more great summer camp options for your Massachusetts kids in our Camp Guide and Directory of Listings, which is searchable by interest, age, or location.
Note that summer camp information for the 2020 season is changing daily. Please click the links to the individual camps below to see which ones are offering programs this year.
Ages: Grades K-6
Local schools host the Camp Invention program, and the week's hands-on activities are led by area teachers. Children rotate through four modules each day, each of which encourages working in diverse teams, engaging in investigations, and taking on engineering challenges that combine science, technology, engineering, and math. Week-long sessions take place throughout the summer, beginning in late June.
Registration: campinvention.org
2. Edge on Science—Beverly, Newton, Weston, and Manchester, NH
Ages: Grades 4-12
Kids explore applied science and engineering through individual and team projects. Each program instructor—an engineer, scientist or scholar—challenges students with hands-on experiences. Choose from nine different week-long, day programs, at colleges and universities: Catapult Engineering, Bridge Building, Drone & Code, Drone Makerspace, Galileo's Astronomy, Hydraulics Makerspace, Microscope Adventures, Super Science Sampler and Whales n' Things.
Registration: edgeonscience.com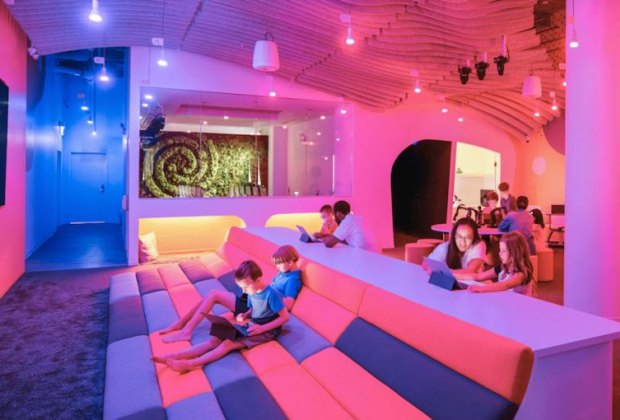 Codeverse's interactive studio space invites curiousity and experimentation. Photo courtesy of Codeverse
Ages: 6-13
Campers will spend a week exploring Codeverse's interactive studio, creating multi-level video games, building real robots, designing 3-D printed projects, learning to code, and more. You can sign your coders up by the week throughout the summer.
Registration: Codeverse
Ages: Grades 2-12
For kids between 7 and 17 years old, Empow Summer Workshop is a place to make videos and animations, learn to code, make video games, build robots, try out digital design and music throughout the summer. Focus on one technology of particular interest, complete mini-projects with each new technology, or combine several disciplines into one epic project. Empow also offers a wide variety of Minecraft-inspired activities, starting with an exploration of electrical circuits and continuing with key concepts related to electrical engineering and architecture.
Registration: empow.me
Ages: Grades K-8
Einstein's Workshop summer classes teach the fundamentals, from Newtonian physics to electrical engineering to programming robots, providing a foundation for STEM fluency. Topics kids can explore this summer include 3-D printing, Minecraft, programming, robotics and hands-on science. There are options for morning, afternoon, or full-day programs during July and August (depending on location), and sign-ups begin in mid- to late-February. Want to know more? Read our review of Einstein's Workshop.
Registration: einsteinworkshop.com
6. Kids 4 Coding—Cambridge, West Roxbury
Ages: 7-16
Kids 4 Coding programs focus on familiarizing children with a wide range of cutting-edge technologies. Along with sessions devoted to programming and game design, there are weeks when kids can build and code drones, design homes and structures with 3-D computer programs, or parlay a Minecraft or ROBLOX obsession into practical skills. You choose from full or half-day options.
Registration: kids4coding.com
Robotics is just one offering at i2. hoto courtesy of i2 Camp
7. i2 Camp—West Roxbury, Hingham
Ages: 9-13
A co-ed summer day camp held in late June through July in West Roxbury and early to mid-August in Hingham, i2 offers middle schoolers a broad range of fun, hands-on courses across STEM disciplines, designed to give students experiences they wouldn't get in traditional classrooms. Course offerings, which are designed in close partnership with MIT, Bose, and other STEM organizations, cover topics in engineering, genetics, robotics, nanotechnology, mathematics, and even ecology.
Registration: i2camp.org
Ages: Grades K-8
The EPIC science program, held from July through early August, is designed with a variety of hands-on experiments and demonstrations in physics, engineering, chemistry, biology, electronics, and astronomy. Each week campers use the scientific method to uncover the mysteries of the world around them. They are placed in age-appropriate groups to foster friendships and to make use of advanced learning methods. Based on age, science campers spend a set number of hours studying science and have lunch, bonus periods, and swim time. Bus transportation is available.
Registration: linxcamps.com
Ages: Grades 6-13
GreenApple is a nonprofit organization that offers creative and challenging STEM and STEAM enrichment programs—including coding, robotics, VR and AR, 3-D printing, Minecraft, and "GirlsTech." Campers work independently, in small groups and on teams for different activities throughout the sessions; week-long options start in late June and continue through mid-August.
Registration: greenapplecampus.org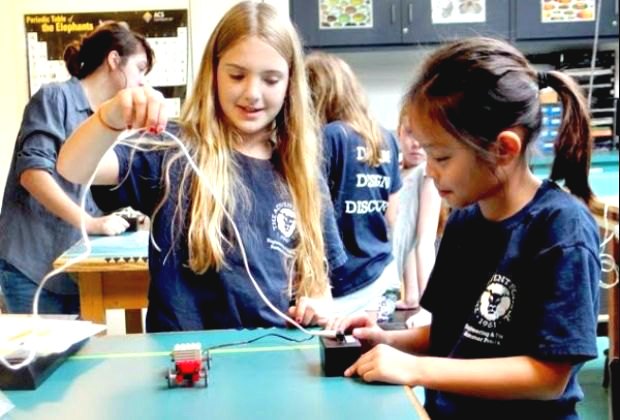 "Dream, design, and discover" this summer at the Advent School Engineering & Design Camp. Photo courtesy of Advent School
Ages: 5-12
Founded in collaboration with MIT's D-Lab, Advent's "Dream, Design, Discover" program specializes in hands-on experiences focusing on the principles of engineering and design. There are three two-week-long sessions in late June through early August, each revolving around a specific theme—"Curious Contraptions", "Wearable Designs" and "Make it Massive".
Registration: adventschool.org/programs/summer-program
Ages: 8-17
Emagination blends technology learning with fun activities to create a well-rounded summer camp experience. Two-week sessions from late June to early August give campers time to make friends, build self-confidence and be part of a community while learning new technology skills. Day and overnight sessions are available.
Registration: emaginationtechcamps.com
Ages: 7-17
iD Tech Camp strike a balance between off-computer activities (creative games, sports, life skills, etc.) and tech education to foster STEM skill development. Kids can develop apps, learn coding, design and create video games, develop websites, produce movies, build robots, and more. Campers can choose between day and overnight options from late June through early August.
Registration: idtech.com
Ages: Girls in grades 4-9
Campers for this day camp choose their "Science Major": marine science or engineering (grades 4-6) and astronomy or marine biology (grades 7-8). The session includes plenty of experiments and instruction, as well as the opportunity for informal science learning and leadership development through workshops, experiments, and recreational activities.
Registration: Education Unlimited

Engineering Through Time, for grades 3-5. Photo courtesy of Tufts Center for Engineering and Outreach Summer Workshops
Ages: Grades 1-12
These co-ed, weeklong programs throughout the summer focus on engineering. Many sessions take creative approaches to physics and building, from "Wizarding Workshop" (where students use robotics and craft materials to create magical designs and create their own spells) to "The Circus is Coming" (where your kids will explore what happens underneath the big top as they learn about engineering).
Registration: Tufts CEEO
Ages: Grade pre-K-8
Each week has a different theme centered on learning and exploration. Activities include project-based learning, technology, engineering, mathematics, and various art mediums.
Registration: STEAM at Shady Hill
Ages: 5-16
Explore the arts, science, and the great outdoors in a STEAM-driven program at the JCC in Newton. Families can opt for the minimal 2-week session all the way up to 8 weeks.
Registration: JCC Greater Boston
Ages: 9-18
Founded at Stanford University, Digital Media Academy Tech Camp specializes in immersive, project-based learning experiences for middle schoolers and high schoolers. Students learn animation, produce their own music, or create a short film, all while exploring Harvard University's campus. Students will also create a portfolio of their work that they can show off on their college applications.
Registration: Digital Media Academy
18. iCode—Wellesley
Ages: 5-18
With a focus on teaching campers collaborative as well as coding skills, iCode offers a wide-ranging menu of offerings for both little and big kids. There are sessions in all the main programming languages (JAVA, Python, Scratch, etc.), virtual reality experiences, drone technology, and robotics, among other STEM and STEAM-focused topics.
Looking for more summer camp options? Bookmark our Summer Camp Guide and check back often; we are continually updating and adding options for kids in the city and beyond.
Originally published in 2012