Tips for Visiting Plimoth Plantation with Kids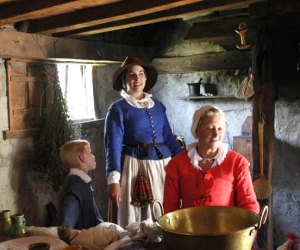 All elementary schoolers learn about the first Thanksgiving and early Native American and colonial life. But did you know that Boston kids are less than an hour away from a living museum where this era is reenacted almost everyday? Plimoth Plantation, located 2.5 miles north of modern-day Plymouth, is a wonderful place to visit anytime, but is particularly special during November and December when seasonal presentations and historic feasts bring the first holidays to life. Bundle up and make plans for a cozy, fascinating day on this bustling property; whether they share a meal with a "pilgrim" or play a traditional game with a member of the Wampanoag Nation, your kids will definitely leave Plimoth with a taste of how their New England forebears lived.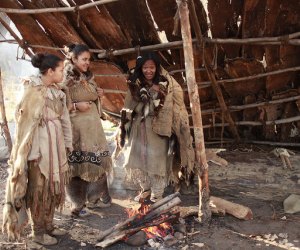 Native people bring their knowledge and expertise to Plimoth. Photo courtesy of the Massachusetts Office of Tourism
1. Play hubbub with a Wampanoag. The Wampanoag Homesite is the first place you'll probably meander on your way around the plantation. Here, native people (not actors) reenact a typical Wampanoag day during the 17th century, including planting crops, gathering food, cooking, and crafting. Let them invite you inside their homes (wetus) and take them up on a game of hubbub, an ancient tribal game.
2. See how corn is milled for your Thanksgiving cornbread. Down by the brook, the Plymoth Grist Mill is a water-powered corn-grinding mill. Kids can learn not just how grain is made into meal, but also about hydopower and ecologically friendly means of food production. Call ahead to see if corn is being milled the day of your visit; it's a highlight!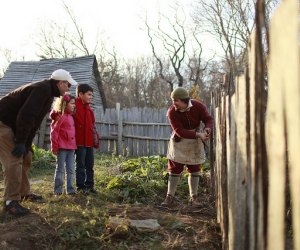 Pilgrims invite guests to watch them work in the village. Photo couresty of Massachusetts Office of Tourism
3. Chat with a pilgrim in a 17th-century English village. The fact that these tours are self-guided adds to the interactive fun. Kids can roam around the modest, timber-framed houses, smell what's cooking in the kitchen, see what's growing in the garden, and even lend a hand with a chore.
4. Visit rare-breed animals at Nye Barn. This is no ordinary animal farm. Plimoth features rare, historic breeds of sheep, cows, and goats that might have been walking around during colonial times. Staff requests that animals aren't touched, but if you catch a caretaker in the barn during an interactive program, you may be allowed to feed or even help milk an animal.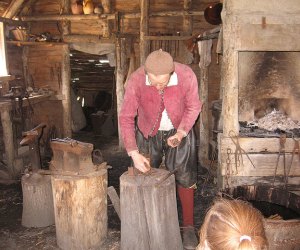 Blacksmiths, woodworkers, and artisans go about their business throughout the property. Photo courtesy of Gabrielle Cyr, Flickr/2.0
5. Glimpse some incredible handiwork at the Craft Center. See where all the amazing reproductions of historic artifacts come from in a visit to the Craft Center. There, skilled woodworkers, potters, and Native artisans are hard at work to create funiture, tableware, and other practical materials for everyday "life" on the plantation.
6. Dig into traditional eats and sing some songs at a New England Harvest Feast. Plimoth celebrates the "season of plenty" with harvest dinners in October and November. While you savor the flavors of old, your host will share historic stories and lead diners in song. Register in advance.
7. Sign up for a Story of Thanksgiving Dinner. Enjoy turkey day in the place where one of America's greatest tradition began. There are several seatings throughout the day but typically sell out; if your preferred time isn't available, call to inquire about a wait list.
8. Have a special meal with Santa Claus. Plimoth is one of a few special places to share breakfast with Santa over the holidays. On Sundays in December, families can enjoy a lavish buffet breakfast, decorate gingerbread, and talk to St. Nick himself. Register in advance.
9. Shop for holiday gifts. One of the better museum gift stores in the region, the Plimoth Shop carries some very special crafts, historic toys, fresh-baked bread, and cornmeal from the Grist Mill to use in your own holiday feast.
10. Make a plan to visit again in 2019, when the Mayflower II returns to the Plymouth waterfront. The full-scale reproduction of the ship that famously brought colonists to Massachusetts is in the Mystic seaport, getting tuned up for the 400th commemoration of the real ship's arrival to Plymouth. In the meantime, you can follow the Mayflower II's progress, here.
Top photo: Kids can see how colonists prepared their homes for the holidays. Photo courtesy of G. Bayliss/Flickr 2.0