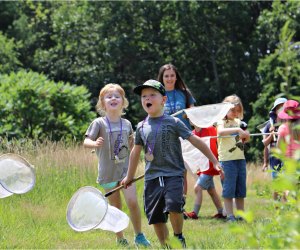 Great Summer Camps for Preschoolers in and around Boston
Summer camp can be an awesome way to introduce preschool-aged kids to a school-like setting. They're old enough to want (and need) some mental and social stimulation during those long summer days, but not so mature that you can plant them at any old camp and trust they'll make do. The good news is that Boston and the surrounding Massachusetts 'burbs offer lots of great summer day camps to suit the many different types of preschoolers out there—from sporty to outdoorsy to tech-y!
We have the scoop on art camps, science camps, theater camps, and farm camps, too. Find more great summer camp options for your Massachusetts kids in our Boston Camp Guide and camp directory, which is searchable by interest, age, or location.
Note that summer camp information for the 2020 season is changing daily. Please click the links to the individual camps below to see which ones are offering programs this year.
Summer Camps for Preschoolers in Boston and Greater Boston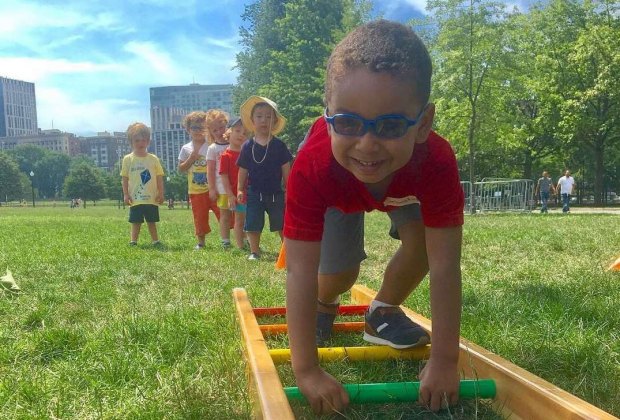 Kiddie Camp is all about outdoor fun, from park games to splashing at a spray deck. Photo courtesy of Hill House
Hill House Kiddie Kamp – Boston
Hill House's Kiddie Kamp serves campers starting at age 3, as long as they are toilet trained. Weather permitting, campers spend two days a week at the Esplanade at Teddy Ebersol's Red Sox Fields and the Alfond Spray Deck, giving city kids a chance to splash around. Themed camp weeks include on-site special events like traveling tide pools or magician acts. In addition, campers get to play games, do crafts, sing songs, and spend time outdoors.
Summer in the City at Kingsley - Boston
Situated in the heart of the Back Bay, Kingsley Montessori offers children a unique opportunity to pursue their interests and favorite activities while soaking up our fair city in the summertime with trips to the aquarium, zoo, and other cultural attractions. Unique weekly themes include nature, sports, arts, music, engineering, and adventure. Preschoolers are a well represented age group here, but the camp officially serves children ages 3 to 12.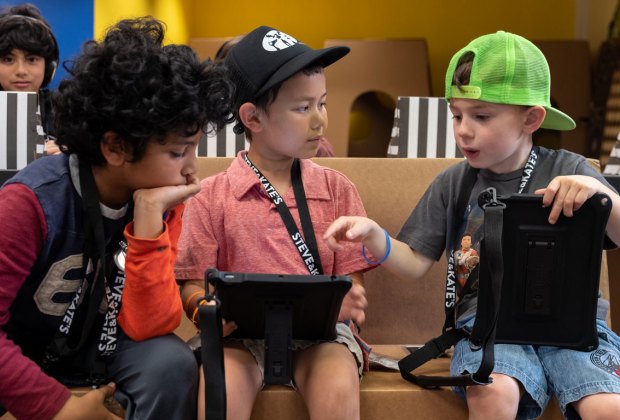 Tech-loving kiddos will find several STEM options at Steve and Kate's. Photo courtesy of Steve and Kate's Camp.
Steve and Kate's Camp - Boston and Cambridge
For families looking for something a little different, there's Steve and Kate's Camp. With locations in Cambridge and Boston (and other sites all over the country), Steve and Kate's is designed to let campers aged ages 4 and up choose the activities they like: film, fashion, coding, music, and bread making are all available. The Launchpad program is designed to ease preschoolers into the camp routine, and to give them a break when they need it. Unlike at typical camps, parents buy day passes in advance for use at any time—and get a refund for the unused passes. Steve and Kate's also provides lunch each day, with options like burritos, meatball subs, and more.
Passport at Cambridge Montessori - Cambridge
The Tiny Tots program for children ages 21 months to 2.9 years old is modeled after and run as a Montessori classroom. To provide the campers with consistency, campers must commit to a four or eight-week session, which will include water play, nature walks, gardening, and more. For 3-to 4-year-olds, Passport offers single week sessions including field trips, swimming, and team games.
Dexter Southfield Junior Camp - Brookline
Dexter Southfield's Junior Campers are grouped by age: 3.5- to 4-year-old Mites, 4- to 4.5-year-old Tykes, or 4.5-year-old Juniors. Children spend their days with their group moving between activities like drama, swim, and sports programming. Each group is led by a head counselor, with two additional counselors and one staff member for every four campers, in order to provide maximum fun and safety. Fees include bus transportation, snack, lunch, and all supplies.
RELATED: Starter Sleepaway Camps in New England with Short Sessions for First-Timers
6. Summer@BB&N Kiddie Camp - Cambridge
Buckingham, Browne & Nichols' summer camp is a great option for active kids with a variety of interests. Summer@BB&N lets 4-year-olds try out swimming, art, drama, tennis and other sports, with a little rest block thrown in for good measure. Kiddie Campers have specialized programming and their own designated camp space. Added bonus: an all-you-can-eat lunch is included in the camp fee.
7. JCC - Boston and surrounding areas
Emphasizing an inclusive attitude and welcoming all faiths, several JCC (Jewish Community Center) locations offer Early Learning Centers and also summer programs specially designed for children ages 15 months to five years old. There are indoor and outdoor summer programs in many communities around Boston, including Hingham, Newton and Sharon.
Summer Camps for Preschoolers in the Boston Suburbs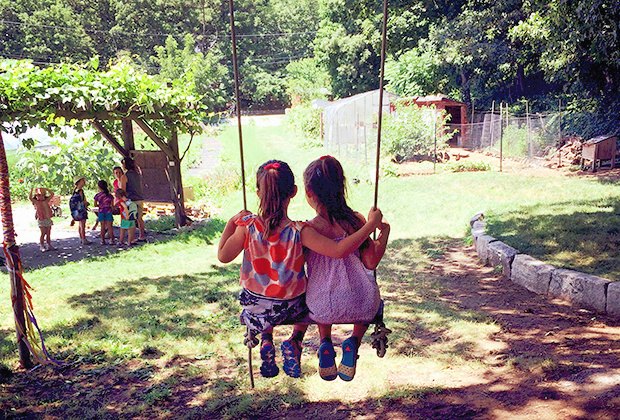 Friendships are forged at Farm Sprouts Camp. Photo courtesy of Fiona Haley
Newton Community Farm Sprouts - Newton
For campers not quite ready to let go of Mom and Dad for the whole day, Newton Community Farm offers the Farm Sprouts program. At only $15 per session, caregivers and campers between 2.5 years old and kindergarten-age will get to discover the magic of farm life. Campers can feed chickens, learn more about honeybees, and taste new and exciting plants. Each week has a theme, and campers can choose how many weeks to attend and vary the days of attendance.
Tenacre Day Camp - Wellesley
Though technically catering to ages three to 12, Tenacre has a long-standing rep for helping preschoolers learn to swim: It boasts a 1:1 teacher-to-student ratio in twice-daily swim lessons in one of two recently refurbished pools on Tenacre Country Day School's campus in the green-and-leafy heart of Wellesley. Along with swimming, 3- to 4-year-old campers enjoy sports, arts and crafts, yoga, and nature exploration under the direction of carefully chosen counselors (all 18 years or older). The camp offers nine weekly sessions, and each has a different theme, from "pirates and mermaids" to "shark week."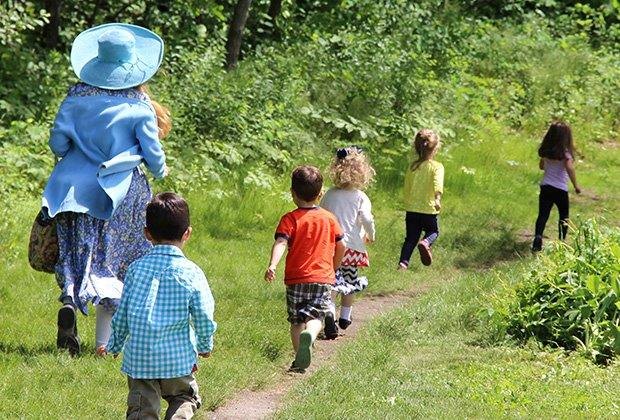 Waldorf School of Lexington includes walks on conservation land. Photo courtesy of the Waldorf School
6. Summer Nursery Program at Waldorf School of Lexington - Lexington
WSL's summer nursery program is based on the Waldorf curriculum, so it's focused on nature and self-directed free play—which means kids will do plenty of romping on the school campus and the adjoining conservation land. Children will also participate in art projects and listen to songs and stories. The half-day program is perfect for campers who are looking for freedom but aren't ready for a whole day away from home. This year the school has added sprinklers and a paddling pool for hot summer days, but students should be prepared to play outside in rain or shine.
10. Drumlin Farm Camp - Lincoln and Sudbury
Mass Audubon's Drumlin Farm Camp has two locations for preschoolers in Lincoln and Sudbury for kids ages 4 to 18 years old. Pre-k'ers can enroll in a half- or full-day two-week program exploring the farm with resident animals, sanctuary, playing nature games, and enjoying crafts in Lincoln. In Sudbury, campers can enjoy three-day camps focused on animal life.
12. Delphi - Milton
Designed for children from ages 3 to 12, this camp provides both indoor and outdoor activities as well as field trips. Full day camp is offered with academic enrichment and with drop offs available as early as 7:30am. Rounding out the offerings are weekly themes and swimming for campers.