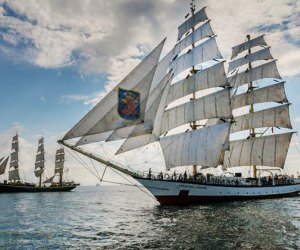 Seeing the Tall Ships at Sail Boston with Kids
The tall ships are coming! From June 17 to 22, the city's inner harbor will be filled with more than 50 historic vessels from around the world for the first time since 2000. Sail Boston will be an impressive sight that will wow kids (and teach them a thing or two about our city's rich maritime history), but you'll want to do some planning before setting a course for the waterfront next week. Here's the scoop on how to enjoy the show with little landlubbers in tow.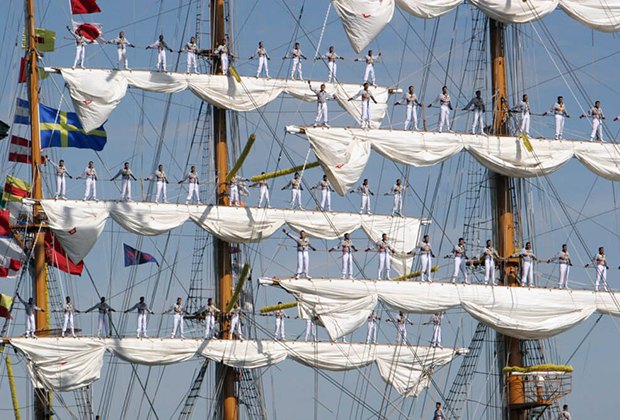 The opening ceremony features plenty of pageantry and fanfare.
Getting There
Along with dozens of ships and their crews, some four million people are expected to flock to the city's waterfront for various events during the five day festival. You will need to factor crowds, traffic, and security restrictions into your voyage.
Whether you're hoping to see the parade or just stop by a ship or two, expect traffic delays. Visitors are being urged to take public transportation. There will be shuttles from transit and parking hubs around the greater Boston area, as well as a shuttle between Sail Boston venues. Tickets are required for all shuttles and it is recommended you purchase in advance.
You will want to check out the list of prohibited items before packing up. This is not a bike friendly event and large backpacks are prohibited from the festival venues. Strollers are allowed and are recommended for younger festival-goers as there is a lot of ground to cover between berthing sites.

Smaller bags, single-handle coolers, and chairs will be allowed so your crew can camp out with a picnic and watch all the action off the coast. To grab a quick bite without straying too far from the attractions, you can visit the many food trucks that park along the Greenway, as well as the food court at South Station.
Aside from a few reserved parade viewing areas that require tickets, access to Sail Boston events is free.
Must-See Events
The main event is the Grand Parade of Sail, scheduled for Saturday, June 17. The procession at sea kicks off at 9:00 a.m. and will last through mid-afternoon as the ships enter the harbor and make their way to their berthing sites. There are viewing areas all around the harbor and you can stay out of the heart of the city and still catch a glimpse of the ships.
The parade is the official start of Sail Boston at locations along the waterfront, including the Charlestown Navy Yard, Fan Pier, and the World Trade Center. You can track all the events and get last-minute schedule changes on the Sail Boston app. Perhaps most exciting for your little explorers will be the opportunity to board some of the tall ships and learn what life is like under those gigantic sails. Schedules will be posted closer to the actual event.
Crowds are expected to be heaviest over the weekend but there are plenty of activities planned during the week, including the Crew and Cadet Street Parade. Pull up a patch of sidewalk to watch the marching bands and crews in full uniform make their way from Seaport Boulevard to Downtown Crossing. They step off at 12:00 pm on Monday, June 19.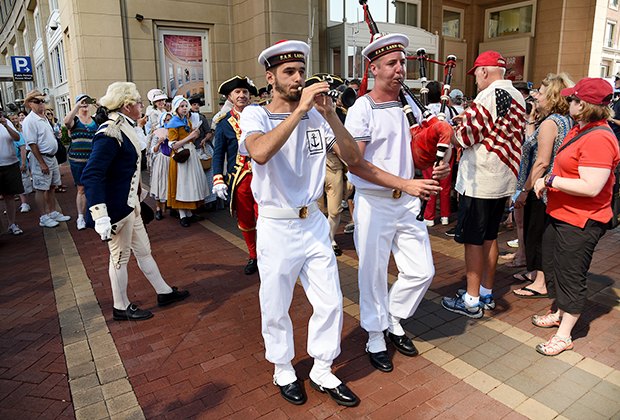 Enjoy marching bands from the visiting ships.
If a late-week visit works out better for your family's schedule, the last two days of Sail Boston feature plenty of fun and fanfare. On Wednesday, June 21, groups of servicemen and servicewomen will be putting on military and musical shows at a Sunset Salute on Fan Pier from 7-9 pm. Finally, there will be a chance to bid farewell to the fleet on Thursday, June 22, when the ships depart the harbor, onto their next port of call.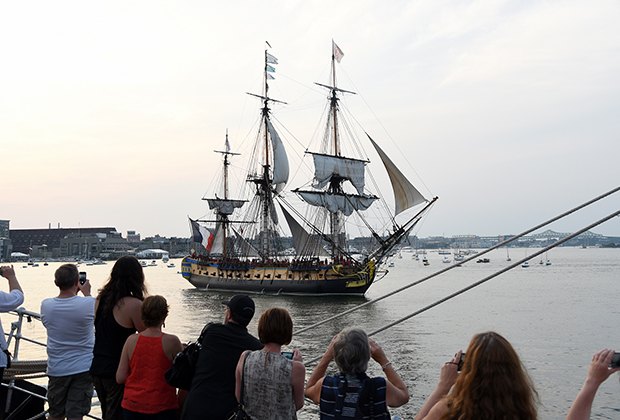 Bid the ships bon voyage as they head off on June 22.
Top photo: For five days, more than 50 vessels from around the world will fill Boston Harbor for Sail Boston 2017. Photo by Valery Vasilevskiy/courtesy of Sail Training International. Unless otherwise noted, photos courtesy of Sail Boston.