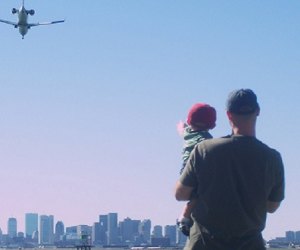 5 Places to Watch Airplanes on Boston's North Shore
I met a fella recently who was stationed with binoculars on the border of East Boston and Winthrop, gazing at the planes lift off from nearby Logan Airport.
"It's beautiful to watch. It's almost mystical," he told me.
A handful of youngsters also peered at the planes, which, depending on the wind direction, buzzed right overhead with a thunderous roar as they headed to destinations unknown.
If you have kids who are into aircraft, there are some great spots on the North Shore to watch the planes come into and leave the airport. Here are top viewing choices, along with other nearby activities – including the beach, restaurants, and playgrounds – to enjoy:
1 Main St., Winthrop
The scene described earlier took place here, at the entrance to Winthrop on Route 145. A small, low bridge looks south toward the air field, which is about a half mile away.
Nearby: Belle Isle Seafood is a good place to stop for a meal in this area, and families will find plenty of places to eat outside if they order takeout.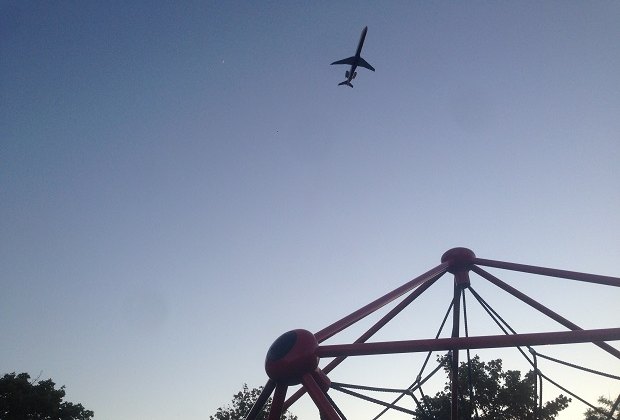 Point Shirley, Winthrop
Point Shirley is a small strip of land that juts out of Winthrop, with narrow roads and houses that are tightly packed in. At the northwestern tip is Coughlin Park, which offers spectacular views of airplanes taking off and landing (see photo above). The park has a rocky shoreline that you can walk along, an open grassy area, and a small playground.
Nearby: Yirell Beach is on the opposite side of Point Shirley facing the Atlantic Ocean and is popular with families. A bit further south is Deer Island, which is home to an immense wastewater treatment plant and a series of public trails and hills that let visitors see all around Boston Harbor.
Constitution Beach, East Boston (Blue Line, Orient Heights station)
This little stretch of sand near Orient Heights sits on a water inlet, so the waves are calm for toddlers, although the noise of the airport can be constant during busy times. The beach has a playground and bathrooms.
Nearby: Kids enjoy a zig-zagging footbridge that lets walkers cross over the Blue Line tracks. Waving youngsters may get the subway drivers to blow their horns.
Revere Beach (Blue Line, Revere Beach and Wonderland stations)
Depending on wind directions, sunbathers along this 4.5-mile beach get a long-distance show as planes file in line to approach Logan Airport, flying right along the shore. It's particularly cool to see the planes at dusk with their lights on while you and your kids frolic in the sand, even in autumn.
Nearby: There are plenty of restaurants to enjoy along the beach, although the classic choice is the original Kelly's Roast Beef. Check out RevereBeach.com for a current list of events that take place at the beach. And good old people watching is fun here, too.
Condor Street Urban Wild, East Boston
Condor and Glendon Streets
For a slightly grittier feel, head over to this reclaimed park deep in East Boston, where families can run along the trails and climb huge quarry stones arranged in the shape of a boat. While the low planes fly overhead, you might also get a larger-than-life view of a tanker boat making its way along Chelsea Creek.
Nearby: A short drive over the Meridian Street Bridge takes you into Chelsea, where you can stop by Mary O'Malley Park.
---
Photos by the author