25 Things to Do in Concord, MA with Kids
9/19/17
- By
Audrey Trieschman
History, nature, literature, and the arts—whatever grabs your family's interest, chances are, you'll find lots to do in Concord. Just 45 minutes west of Boston, Concord has been called one of the more picturesque New England villages and is known far and wide for its revolutionary roots, extensive literary culture, and, of course, the "shot heard round the world." If you've ever been on Boston's Freedom Trail, a visit to this town is a perfect next step.
With great family-friendly spots to eat, too, we'd venture to say that Concord is just about the easiest, quickest, most satisfying day trip one could take from the city. Just plan your itinerary wisely using our tips below, and we're pretty sure that everyone will come home from Concord satisfied, and having learned a thing or two about our state's great history.
1. Consider a train ride there. You can drive to Concord on a straight shot out Route 2, but if you really want to make a day of it, especially when the fall leaves are on display, take an easy train ride. Take the Fitchburg line from Boston's North Station to one of two train stations—Concord or West Concord. While most things on our list are closer to the Concord station, West Concord has an appeal of its own (and the two stations are only six minutes apart).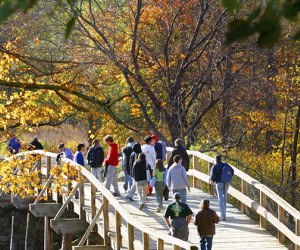 Take a stroll on the Old North Bridge. Photo courtesy of NPS
2. Swing through the Minute Man National Historic Park, which has several sites in Concord and neighboring towns:
The Visitor's Center, at the eastern entrance, is a good place to start your visit. Here, you can watch The Road To Revolution, a multimedia theater program that gives a good overview of the park.

The Battle Road Trail is a five mile-trail connecting historic sites from Meriam's Corner in Concord to the eastern boundary of the park in Lexington.

Ranger Programs are offered at Hartwell Tavern (May through Oct).

See the famous Old North Bridge—site of the start of the American Revolution and the "shot heard 'round the world"—and continue up the hill to Buttrick's Mansion and the North Bridge Visitor's Center.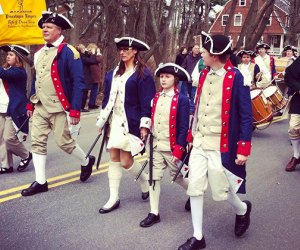 Fife and drum parades are a Concord tradition. Photo courtesy of NPS
3. Catch a fife and drum presentation. Throughout the year, there are groups that recreate the music of the revolution at various spots in and around Concord. Next on our calendar: On October 14, 2017, at 11am, the Middlesex Fife and Drum Corps will be at the Old North Bridge to perform a variety of marches, airs, and dances that were played during combat and camp activities.
4. Canoe or kayak on the Concord River. Bring your own boat or rent one at the South Bridge Boat House (check out one family's river trip).
5. Meander around the Old Manse. The home of Ralph Waldo Emerson's grandparents is right by the Old North Bridge. It became a transcendentalist magnet, and Emerson and Nathaniel Hawthorne wrote some famous works there. (If canoeing along the Concord River, you can tie up at Old Manse and stop for a tour before getting back on your way down the river.)
6. Pick out some special occasion children's clothing (infants and up) at Fritz and Gigi, the Children's Shop on Main Street.
7. Listen to a story, paint some pottery, enjoy a special concert, and more at Barefoot Books, perhaps the region's most storied—no pun intended—children's bookstore.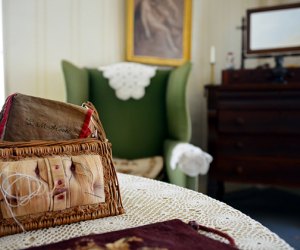 Visit the home of the Alcott family, the site where Louisa May wrote "Little Women." Photo courtesy of Massachusetts Office of Travel & Tourism
8. Tour the Orchard House. The historic home of the Alcott family is where Louisa May wrote and set Little Women.
9. Visit the Concord Museum, especially around holiday time. There, you can watch the Exploring Concord film, see the period rooms, and take part in hands-on activities. During December, the museum hosts one of our favorite events: the Family Trees exhibit.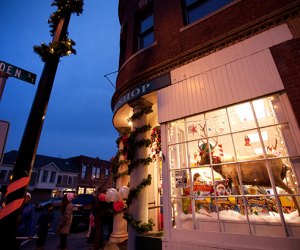 The Toy Shop is a cheery magnet in town. Photo courtesy of Massachusetts Office of Travel & Tourism
10. Spend some allowance money at the Toy Shop of Concord. This old-fashioned, classic toy store is as fun a place to browse as it is to shop.
11. Head to the great children's section in the back of the Concord Book Store. Helpful staff and plenty of books for all ages make this a good stop for the whole family.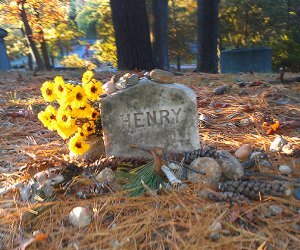 The humble grave of Henry Thoreau is at Sleepy Hollow Cemetery. Photo by Julie Jordan Scott/CC BY 2.0
12. Bring a pencil and paper for grave rubbing at the Sleepy Hollow Cemetery. "Author's Ridge" marks the burial site of a number of famous Concordians, including Henry Thoreau, Nathaniel Hawthorne, Ralph Waldo Emerson, Louisa May Alcott, and her father, Bronson Alcott.
13. Grab lunch at Helen's, Main Street's Market and Cafe, or the Country Kitchen (you have to try the turkey).
14. ...Or do a pizza taste test: Walden Italian Kitchen (my favorite), Sorrento's (my kids' favorite), or Comella's, always a crowd pleaser.
15. Grab a luscious baked good for a snack. Check out Nashoba Bakery or Concord Teacakes in West Concord, or Sally Ann Bakery in Concord Center.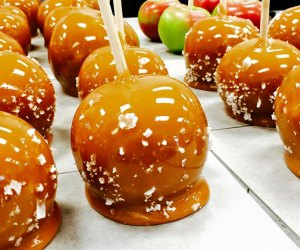 Caramel Apples shine at Priscilla Hand Made Candy. Photo courtesy of the shop
16. ...Or satisfy a sweet tooth. There are treats for all Priscilla Hand Made Candy, or you can get a scoop—or two— at Reasons to Be Cheerful or Bedford Farms.
17. Swing, slide and climb. We love the town's Emerson Playground on Everett Street between Stow and Thoreau.
18. Need something? Anything? You'll find it at the West Concord 5 & 10.
19. Explore Walden Pond. It's a four-season destination: swimming in the summer; hiking on trails around the pond, visiting the replica of Thoreau's one-room cabin, and taking part in interpretive programs and guided walks throughout the year.
20. Soak up some kid-friendly, interactive theater. Spend a Saturday morning with Concord Youth Theatre's Playtime Theater - every other week, children ages 2 to 9 can enjoy new and improved versions of familiar children's stories, complete with a sing-a-long, in the fall, winter, and spring.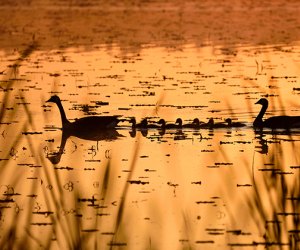 A Canada goose family meanders through Great Meadows National Wildlife Refuge. Photo by Steve Arena/USFWS
21. Enter Great Meadows National Wildlife Refuge on Monsen Road—this area of the refuge has a restroom, a wildlife observation tower, and a wildlife observation platform.
22. Visit Fairyland. Hapgood Wright Town Forest ("Fairyland") is another short, easy walk where kids can be immersed in nature. Extend your walk to include Thoreau's Path, on Brister's Hill.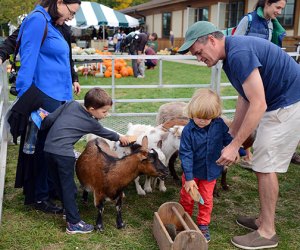 Kids interact with animals at the Harvest Festival at Verrill Farm. Photo courtesy of the farm
23. See a working farm in action at Verrill Farm. It features a farm stand/bakery extraordinaire, and is home to special events like pancake breakfasts, annual festivals, and cooking classes.
24. Take a historic, scenic bike ride around the area with Concord Bike Tours (spring though fall).
25. Celebrate Patriots' Day on April 19 in the place where it all started.
Top photo: Patriots' Day is celebrated at Minute Man HIstoric National Park. Photo courtesy of NPS