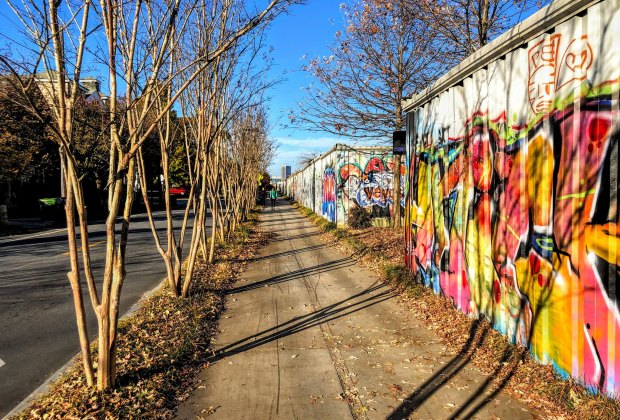 What's Open in Coronavirus Shutdown in Atlanta: Parks, Hikes You Can Do While Social Distancing
It's the first weekend of spring in Atlanta and that normally brings inspiration to us here at Mommy Poppins.
Of course, we all know these are not normal times in the Atlanta area. As precautions against the spread of the coronavirus continue, public events, particularly with kids, remain limited and fluid.
So many weekend events have been canceled or postponed, but there are some outdoor activities that are continuing with safety precautions in place. Call or research before heading out, however. With a bit of imagination we just might make it through coronavirus lockdown.
We have already posted several "evergreen" and indoor activities so you can manage your kids' cabin fever this weekend should you choose to avoid public and outdoor events. We've also included a roundup of some of the best virtual storytimes, sing-alongs, STEM activities, and more that you can access here. You also might want to check our rundown of our favorite family films.
In the mood for a good read? Check out New York correspondent Susan Miele's post from inside that state's containment zone. Also, our coronavirus activities guide contains hundreds of activities for parents and kids during this extended time off from school.
Whenever the virus abates, know that your friends at Mommy Poppins Atlanta will be with you with updates on the best family happenings in the area. Check our events calendar for the most up-to-date happenings in Atlanta and beyond, and remember to sign up for our FREE newsletters to receive posts such as this right to your inbox.
Lastly, a word on our events calendar: Events listed in the calendar whose statuses we have confirmed should be clearly noted. Those with plans to go forward once the virus abates are labeled "postponed." Those with no plans to reschedule are noted as "canceled."
In this environment, it is a challenge to keep up with all canceled or postponed events, so we beg a bit of indulgence from readers who have been so loyal to us.
Now on to what's possible this weekend:
1. Take in the Atlanta Fair
The Atlanta Fair remains open with increased health and safety measures in place, officials said in a statement on Facebook. Georgia's only urban fair takes place in Turner Field's Gray Lot, across from the GA Panthers' stadium. An abundance of antibacterial soap will be at all hand-washing stations, fair officials said. Dozens of alcohol-based hand sanitizers have been placed throughout the fairgounds as well. The fair features plenty of exciting rides and your favorite carnival cuisine. There's also nightly entertainment, including concerts and dance troupes. Admission prices vary and individual ride and unlimited ride tickets are available.
2. Avian Adventures at Sweet Water Park
As of March 18, there is no mention of the regular birding hikes being postponed. But if you're interested please call before heading out. Families can discover the diversity of the local bird population on a guided walk. Binoculars are available for use.
3. Take in the View From SkyView Atlanta
The SkyView Ferris wheel in Centennial Park features 42 climate-controlled gondolas that offer guests panoramic views of the city and surrounding metropolitan area. A message on SkyView's website says it is open but shutting down early during the crisis.
4. Walk the BeltLine in Atlanta
The urban trail remains open with limited hours during the coronavirus crisis. Visitors are encouraged to consider stopping by in the early morning and follow the well-marked safety guidelines. Events along the route have been canceled.
5. Visit a State Park Near Atlanta
Georgia state parks managed by the Department of Natural Resources remain open. Visitors might find offices and museums closed, however. Hiking trails, fishing docks, campsites, accommodations, golf courses, and other amenities are available for visitors seeking quiet time in nature. Franklin D. Roosevelt State Park in Pine Mountain, for example, offers superb views plus 42 miles of hiking trails on mote than 9,000 acres. Other nearby parks include Panola Mountain State Park, and Sweetwater Creek State Park. The grounds atChattahoochee River National Recreation Area, managed by the National Park Service, are open but events are canceled and facilities are closed.
RELATED: Awesome Crafts for At-Home Fun With Kids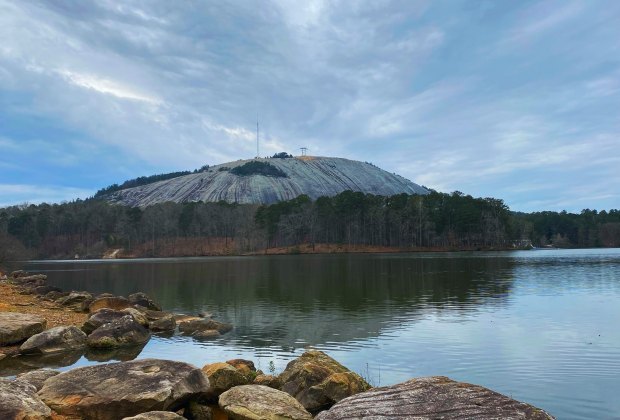 The natural areas and campground at Stone Mountain Park remain open to the public. Photo courtesy of Stone Mountain
6. Enjoy Stone Mountain Park Near Atlanta
All attractions and shops at this vast and scenic park are closed, However, the natural areas and campground remain open. Visitors are reminded to use designated walkways throughout the park only and not to cross any fences, chains, landscape areas, or other barriers.
7. Visit a Historic Site Near Atlanta
The city's location in central Georgia makes it an ideal starting point for a day drive. At least a half-dozen Civil War battlefields sit within a two-hour drive of the city, including Kennesaw Mountain National Battlefield Park, which remains open through the crisis. If history isn't your thing, why not take a drive along Georgia's Antebellum Trail, from Macon to Athens, and discover a bit of the old South. You don't even have to leave the car.
8. See a Drive-In Movie
You still can hit the movies this week as long as you don't mind the view of the big screen from inside your car. The StarLight Drive-In Theatre on Moreland Avenue remains open with several family-friendly films among the presentations. If you're on the road already, the Swan Drive-In in Blue Ridge and Tiger Drive-In in Tiger are also options.