SPONSORED
How to Know if Your "Mom Brain" is Actually Undiagnosed Adult ADHD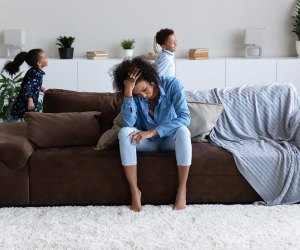 Believe it or not, attention-deficit hyperactivity disorder (ADHD) is one of the most common mental health conditions in the United States, and yet still one of the most under-diagnosed and under-treated.¹ With most people receiving their diagnosis as kids, the neurodevelopmental disorder is often thought of as a childhood condition–but it's that generalization that can make recognizing and addressing adult ADHD a real challenge.²
To better understand adult ADHD–and why way too many moms aren't receiving the right diagnosis or care–we connected with the online mental health service, Cerebral. Cerebral offers convenient and affordable medication management, counseling, and therapy for ADHD, as well as anxiety, depression, insomnia, and more. Read on to learn more about adult ADHD in women, find meaningful resources and support, and secure an exclusive code that'll get you your first month of meds and care counseling through Cerebral starting at $30.

The entire Cerebral experience can be accessed and managed from an easy-to-use mobile app.
What are the symptoms of adult ADHD?
Because some ADHD symptoms are associated with other mental health conditions–like anxiety and depression–and some are even regarded as "normal" if they aren't extreme, ADHD can be really tough to diagnose. In adults, you're most likely to experience some of the following symptoms ¹:
Impulsiveness
Disorganization and/or forgetfulness
Poor planning, difficulty prioritizing, or procrastination
Difficulty multitasking Difficulty focusing
Excessive activity or restlessness
Outbursts of anger
Frequent mood swings
Difficulty coping with stress
Are ADHD symptoms different in women than in men?
Although symptoms are not strictly gendered, studies have found that women tend to have more of the "internalizing" symptoms, like inattentiveness, while men are more likely to have "externalizing" symptoms, like impulsiveness and hyperactivity. Research also shows that women with ADHD may develop better coping strategies than men, which can mask their symptoms. Along with the dated assumption among parents, patients, and even some medical professionals that ADHD primarily affects men and boys, women and girls are more likely than their male counterparts to go undiagnosed.²
In moms specifically, depression, anxiety, or even rage are often chalked up to the pressure of parenting before ADHD is even considered. And the immense pressure for mothers to be organized and in-control can really magnify the toll ADHD takes on women's self-esteem.³

If medication is indicated, it'll be mailed to you monthly in discreet packaging.
How can Cerebral help people manage adult ADHD?
If any of the symptoms listed above sound familiar to you, Cerebral can help determine if you do in fact have ADHD and get you started on a treatment plan. Step one is spending a few minutes taking Cerebral's free emotional assessment–a preliminary screening that uses your symptoms to determine whether medication may be the right course of action. Based on your initial assessment, you can choose from three subscription packages: Medication and Therapy, Medication and Care Counseling, or Therapy.
If you choose Medication and Care Counseling, you'll be matched with one of Cerebral's licensed prescribers, who will confirm your diagnosis and develop a treatment plan. You'll also be connected with a trained Care Counselor who will support you on your journey. If medication is indicated, it'll be mailed to you monthly–packaged discreetly and without the headache of a pharmacy trip. You'll also have a chance to check in with your Care Counselor each month to discuss progress and learn new skills, and your prescriber to make sure your treatment is on track.
With the Medication and Therapy plan, you'll receive the same support of a prescriber and access to any required medications, but you'll also be matched with a licensed therapist for weekly video or phone sessions and secure chat anytime. All Cerebral therapists have training in evidence-based therapeutic practices and hold a graduate degree from an accredited institution.
Of course, if medication is not required or you're only interested in connecting with a therapist at this time, the Therapy package allows just that. If your needs change, you can opt for a different plan at any time.
What makes Cerebral such a good fit for moms?
Busy schedules and childcare needs can also stand in the way of women receiving the care they need–for ADHD and beyond. Thankfully, Cerebral is flexible and convenient, enabling women to receive a diagnosis from their living room and to have their medication show up at the front door right when they need it. Virtual therapy makes scheduling easy and reduces the chance of needing to cancel a session, or simply putting it off altogether.
The entire Cerebral experience can be accessed and managed from an easy-to-use mobile app that's available for iPhone and Androids. You can schedule sessions, message or chat with your care team, and even browse self-guided CBT resources.
How much does Cerebral cost?
For those without insurance, Cerebral offers reasonable monthly subscription plans starting at $84 a month–and all at about 1/3 the cost of traditional services. If you do have insurance, Cerebral is in-network with a large number of insurance providers, and your monthly fee is only $29 a month for any of their plans.
For a limited time, Mommy Poppins readers can use the code MOMPOPPINS30 to get their first month of meds and care counseling starting at $30.
How do I get started with Cerebral?
The free emotional assessment is the first step in diagnosis and treatment, enabling you to pick the plan that's right for you. If you'd like to learn more about Cerebral, visit Cerebral.com for services, FAQs, pricing details, and more.
Read more about the facts in this article from these references:
1 Andrea S. Pereyra, "ADHD in Adults, Cerebal.com, September 13, 2021, https://cerebral.com/blog/can-adults-have-adhd-and-how-to-get-treated
2 Prim Care Companion CNS Disord. 2014; 16(3): PCC.13r01596. Published online 2014 Oct 13. doi: 10.4088/PCC.13r01596
3 Eunice Sigler, "ADHD Looks Different in Women. Here's How — and Why," January 21, 2022, https://www.additudemag.com/add-in-women/
The contents of this article are for informational purposes only and not intended to be a substitute for professional medical advice, diagnosis, or treatment. Always seek the advice of your physician or other qualified health provider with any questions you may have regarding a medical condition.
Photos courtesy of Cerebral unless otherwise noted