Online Robotics Camp
Young Gates - Kids Online Personalized Classes

Artificial Intelligence with Scratch Online Camp
Young Gates - Kids Online Personalized Classes

Spark Math: Free Trial Class
Virtual
Sign up for our free newsletters.
A New Van Gogh Immersive Art Installation Opens in DC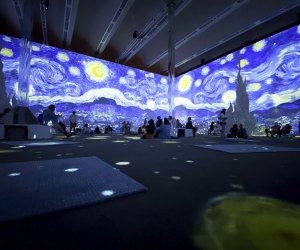 8/15/21
- By
Jody Mercier
Vincent Van Gogh is certainly having a moment. A slew of immersive, larger-than-life art exhibits dedicated to the Dutch master have opened in cities all over the world. DC can now add itself to that list with the opening of Van Gogh: The Immersive Experience on August 6 at northeast DC's Rhode Island Center. And in a city teeming with museums, it offers something quite unique.
Van Gogh: The Immersive Experience is a 20,000-square-foot light and sound installation featuring two-story projections of the artist's most compelling works so you can experience them in 360 degrees. It includes three galleries tracing the artist's development and life story. Giant fact-filled placards hang in the first two exhibition spaces before you ever encounter the finale: total immersion.
I, the New York editor of Mommy Poppins, visited Van Gogh: The Immersive Experience at Skylight on Vesey in Battery Park City when it opened back in June. Below is my review, with a few details changed to fit the DC exhibition.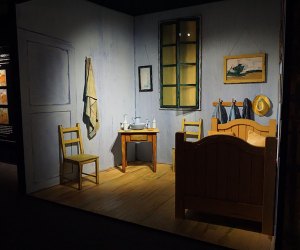 Visitors can step inside a re-creation of Van Gogh's bedroom at Van Gogh: The Immersive Experience.
What You'll See: I learned a great deal about Van Gogh at this exhibit, which provided food for thought when I walked into the immersive gallery. After taking in a study of the artist's "Vases" series, where a 3D vase hangs on a wall and you see the evolution of his paintings animated in an ever-changing video, and exploring 3D paintings and a re-creation of his bedroom that you could actually step inside, the art on the walls fell flat. Many of his most famous pieces are given gallery treatment, but after seeing The Starry Night at MoMA, the poster-board knockoff failed to impress. That being said, there's much less risk in letting little ones creep close to the paintings here! In the immersive gallery, which is 20,000 square feet, I settled into a lounge chair and kicked back to enjoy the show. You'll see many more vignettes here than complete paintings, but the show and soundtrack were entrancing, and The Starry Night immersion made up for its less-than-enchanting model in the prior gallery.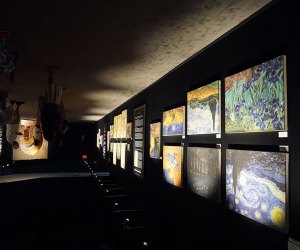 At Van Gogh: The Immersive Experience, you'll see many re-creations of the master's works before stepping inside the immersion space.
Standout Extra: If you didn't get enough immersion in the gallery, you can go on a Virtual Reality tour of Arles, France, with Van Gogh as your guide and watch as the landscape is magically framed into his famous paintings.

Feeling inspired after the exhibit? Plenty of crayons—and hand sanitizer—await outside.
Cool Kid-Friendly Perk: Let the art be your inspiration for the tables full of coloring sheets and crayons once you leave the immersive gallery. Calming task lighting and plenty of seats give you room to plop down and bring Van Gogh's pieces to light with your own hands. Once you're done, scan them to be added to the digital gallery on the wall.
What it Costs: Individual tickets start at $19.90 for children and $36 for adults. Family four-packs are also available. The exhibit runs through Wednesday, January 26, 2022.
Who Should Gogh? Because there was so much historical and biographical information packed into the first two galleries, I'd say this exhibition is more big-kid friendly. I couldn't imagine reading all the info to my youngest daughter—nor would I want to explain some of it to her. I took my time reading all the info and found the immersive gallery enchanting; had I not needed to get back to work, I would have lingered for another loop of the show, or at least another look at The Starry Night.
Photos by Jody Mercier