2017 Long Island Bestie Guide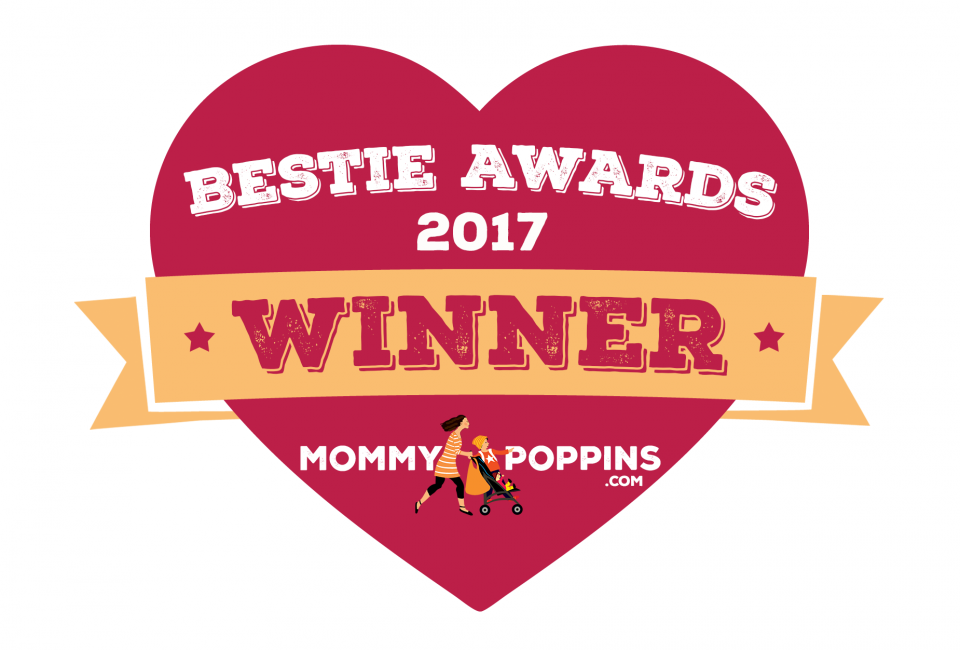 11/8/17
- By
Margaret Hargrove
Long Island families, you have spoken! We asked you to weigh in on the Long Island's Besties—the best family businesses across 24 categories ranging from restaurants to party places, swim schools, and more. With all the great family fun experiences and resources on Long Island, it was hard to narrow down to just one winner per category, but you were up to the task. In the pages that follow, you will get to know our Besties, the most highly regarded Long Island businesses that live to serve, entertain, teach, and enrich the lives of your family.
We can't thank each of our 236 finalists and their fans enough for participating in our contest. We'd also like to extend a special thank you to our Besties Sponsors, and our congratulations to the four lucky voters who were picked at random to enjoy some amazing prizes. You made our contest awesome, and we love you.
And now, without further ado, Mommy Poppins proudly presents your guide to the best of family friendly Long Island, the 2017 Long Island Besties! Because 24 is a lot of winners, we've divided them into three groups: Family Fun, Parenting Resources, and Enrichment Programs. Enjoy!
Best Family Fun Winners | Best Parenting Resources Winners | Best Enrichment Programs Winners
Best Family Fun Winners
Best Indoor Playspace for Tots: Once Upon a Treetop — Plainview
Once Upon a Treetop hits all of the marks when it comes to providing a safe, educational, and fun indoor environment for babies, toddlers, and young children. The mini-universe of imaginative play options is designed as an interactive city. The multi-level climbing playground with a serpentine slide and tunnels, tree house, and eight adorable and realistic-looking "stores" and "businesses" allows children to engage in make believe play and test their skills. Every detail—from the placement of trash cans to the benches located throughout where tired parents can rest—is mindfully planned out. The playspace also hosts birthday parties, special events such as Halloween parties and Easter egg hunts, plus ballet, soccer, and Mommy & Me classes.
Best Museum for Kids: Long Island Children's Museum — Garden City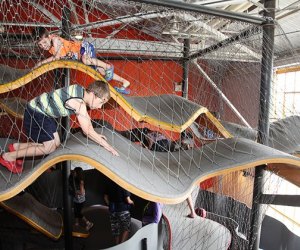 Photo courtesy of Long Island Children's Museum
The Long Island Children's Museum, part of Nassau County's famed Museum Row, is dedicated to providing fun, educational exhibits, programs, and performances for Long Island families. The vast open space—it's housed in a converted airplane hangar—clocks in at 40,000 square feet. There are 14 hands-on exhibit galleries for little ones, plus a state-of-the-art theater and several learning studios. If the bright lights, noise, and excited visitors are too much for your little one, check in to the new sensory room which just opened in October. A weighted blanket, soft lighting, bubble wall, and other sensory soothers are available to help children relax and self-regulate. It's a testament to the museum's commitment to better serve ALL children and their families.
Best Place to See a Family Show: Tilles Center for the Performing Arts — Greenvale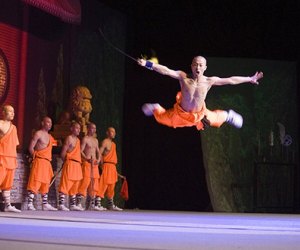 Photo courtesy of Tilles Center for the Performing Arts
There's nothing better than live theater to ignite a child's imagination. Known for its top-notch adult productions in music, theater, and dance, this regional theater also offers a series of wonderful shows just for kids. Holiday performances of The Nutcracker are not to be missed, with visions of a Sugar Plum Fairy, her dashing Cavalier, angels, dolls, and a Christmas Tree that grows right before your eye to delight your little ones. Get your tickets now for early 2018 productions that bring popular children's books to life, including Goodnight Moon and The Runaway Bunny, plus Mr. Popper's Penguins and Go Dog. Go! Pre-show family workshops in the lobby offer crafts, story, and music activities to get kids excited about their introduction to the world of theater.
Best Place to Throw a Party: Bounce U — Farmingdale
Want to wow your birthday kids and their party guests, too? Look no further than this jumping emporium. Floor-to-ceiling inflatables in two different rooms keep kids moving. They can climb up a slippery rope ladder to slide down a huge chute, or duck under obstacles to crawl up to the the top of another slide. Basketball hoops and air hockey tables round out the fun. The rooms are exclusively for birthday party guests, so you don't have to worry about sharing the space with others. Upgrade to the Cosmic package to transform your kids' party into an out-of-this-world experience as the lights go down and kids are given glow sticks to add an extra level of excitement. Once guests have worked up an appetite, the party moves into the party room for pizza and birthday cake.
Favorite Local Kindie Band: Darlene Graham & the Shades of Green Band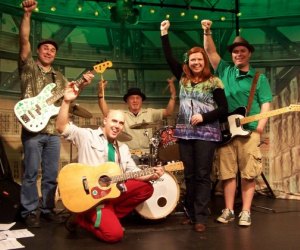 Photo courtesy of Darlene Graham
Darlene Graham entertains children of all ages with her interactive and exciting performances. After teaching music for seven years in Newfoundland Canada, motherhood gave Darlene a passion for family music and she began writing and creating music for her four children. Today, the Long Island mom, along with her husband/co-songwriter/bandmate Chris and the rest of the Shades of Green band, have ascended to kindie-star status, garnering acclaim for their two albums, hundreds of concerts, and Rockin Tots musical education program for the littlest of ears. Darlene's catchy pop tunes, fun upbeat lyrics and rhythm inspire families to move and play together! Book the band for you little rock star's next birthday party or catch a performance at your local library.
Favorite Place for Animal Encounters: White Post Farms — Melville
This awesome animal farm and petting zoo, home to several exotic animals like zebras and giraffes, is perfect for little animal lovers. Kids can hand-feed the barnyard animals (such as the very enthusiastic goats), watch the lemurs and squirrel monkeys swing, climb and play in the recently-renovated primate exhibit, and flock to the giant free flight aviary where adorable birds will eat special birdseed sticks right out of your hand. Gentle ponies are available to give your little cowboy or cowgirl a ride, or take your choo-choo fan for a vintage train ride around the propety. Stop by Mining Adventure where kids can sift through a bag of debris to search for hidden treasures, like arrowheads, gemstones or fossils, or let little ones work out the wiggles by sliding down the massive moon bounce inflatables.
Favorite Place for Family Dining: Krisch's Restaurant & Ice Cream Parlour — Massapequa
Feel immediately transported back in time at this 1950s-style diner. Vintage Coca-Cola signs, historic photos of Massapequa, old-fashioned soda fountains and an old-school 10-stool counter will greet you at the door. Kids can have their pick of more than 30 homemade ice cream flavors that include FlufferNutter, Cake Batter and Rainbow Cookie, plus a host of toppings, to create their own over-the-top sundae. The iconic Kitchen Sink sundae comes served in, yes, an actual kitchen sink! Filled to the brim with 10 scoops of ice cream, hot fudge, candy, cookies, sprinkles, whipped cream, waffles and cherries, if your family can finish it in less than an hour, then it's on the house. Krisch's amazing blueberry pancakes are not to be missed; good ol' fashioned burgers, fries, and milkshakes are also on the menu.
Best Family Fun Winners | Best Parenting Resources Winners | Best Enrichment Programs Winners
Sign up for the Mommy Poppins Newsletter today!