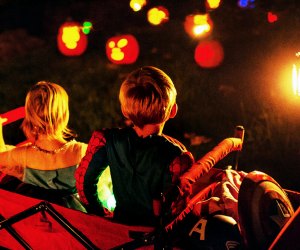 Things To Do in Westchester on Columbus Day Weekend
Thank goodness Columbus Day weekend is three days—you'll need every minute to soak up the tons of fun we've identified for Westchester and Hudson Valley families!
There are all the big Halloween events recurring throughout most of the month, among them the G-rated Headless Horseman Hayrides – Children's Day. Other seasonal fun can be had at Apple Cidering or the Pumpkin Picking Autumn Celebration (or pick your pumpkin at any of the other destinations we've rounded up), as well as at a few fall festivals. For alternatives to the autumnal activities that abound, snag a seat to the production of Moon Mouse at the Emelin Theatre, or head to the Eastchester Columbus Day Carnival and Parade—a.k.a. the "Lake Isle Carnival"—featuring a parade, meatball contest, fireworks, and more.
Beyond all this, there's way more, so read on! We've got fun happening all month long, so visit our Event Calendar, consult our guide for scenic autumn drives, and check out our October GoList for our month's highlights.