The Surprisingly Affordable Way to Fly Semi Private with Your Family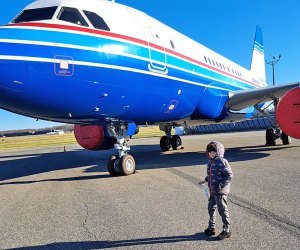 12/22/22
- By
Katherine Dhurandhar
If the hassle of air travel is keeping you from booking that beach vacation or has you dreading a trip to visit Grandma and Grandpa, hear me out. Hop-on jet service JSX may be the answer to parenting prayers, offering the perks of flying private, but at prices that are comparable to regular commercial travel.
As someone with a lot of far-away family, I've done my fair share of flying since my son was born, and I've never seen it done quite like this. With private crowd-free airports, quick contact-less check-in, and planeside luggage retrieval, imagine flying without wrestling your shoes off at security or waiting an hour at baggage claim with squirmy little ones. Add family-friendly amenities and non-stop flights from Westchester to Orlando and Miami, flying semi-private with JSX is amazingly easy, even with kids, and bags, and even pets, in tow.
I'm here to give you the inside scoop on this life-changing option for air travel, from a full list of perks to ticket pricing, and all your other questions about flying with JSX.

JSX jets feature roomy seats, business class legroom, power outlets in every row, and gourmet snacks, beer, wine, and spirits.
What are the perks of flying semi-private with JSX?
JSX offers flights on sleek 30-seat jets with business-class legroom, power outlets in every row, and—by Spring of 2023—free Starlink in-flight Wifi for all customers. There's also full flight attendant service on-board, with complimentary snacks and drinks, including beer, wine, and spirits, and planeside baggage claim when you arrive at your destination.
But the best part for families, in my opinion, is the private terminal. Passengers can park right out front—avoiding the typical airport crowd and the miles of walking involved—check in 20 minutes before their flight, and sit in the comfy guest lounge with complimentary tea, coffee, and hot chocolate. There is a security check, of course, but the staff is very helpful and the process is quick and noninvasive, i.e., no embarrassing body scan.
Is baggage included in the ticket price?
Yes! With JSX, your ticket price includes two checked bags up to 50 pounds each, plus a personal item to take on the plane. All baggage is stowed under the plane and removed immediately on arrival, so lost bags are truly a thing of the past. JSX staff can also help carry your luggage to the plane, which is a huge plus if you already have your hands full with small kids.
Another plus, there are no restrictions on liquids, so no need to pour out the kids' juices or the water bottles you brought from home!
Do we need to pay extra to check car seats and strollers?
Nope. You'll never be charged extra for car seats or strollers, whether you bring them on-board or stow them under the plane. And, if you do choose to board with a car seat or booster, you can trust that the roomy seats on JSX jets are big enough to accommodate any FAA-approved model.
When you exit the plane, your stroller will be immediately available for you. While other airlines claim to offer this, I've had to carry my very heavy one-year-old and my bag for what felt like a mile before getting to his stroller.
Can we fly with our pets?
JSX is a popular option for people who want to fly with their cats and dogs. While many other airlines have stopped allowing pets, JSX permits small cats and dogs on-board in carriers at no additional cost. They even allow larger dogs up to 79 pounds if you purchase a seat for them (just note that some breeds are excluded). For families who want to bring their pets along for the ride rather than paying boarding costs, this is a huge draw.

With JSX, the quick check-in process means you only need 20 minutes to get from the curb to your seat.
Where does JSX fly?
JSX currently flies in and out of more than 20 airports across the country, and they're constantly expanding their territory. Right now, from Westchester, they offer direct flights to Miami and Orlando. Other hubs include Dallas, Austin, Denver, San Diego, Los Angeles, and Rifle/Aspen/Vail (which is inaccessible to other commercial airlines). See the JSX website for a complete map of locations.
How much does it cost to fly with JSX?
Prices vary according to dates and routes, of course, but tickets for a flight from Westchester County (HPN) to Orlando (MCO) are generally in the range of $350-$400 per person, while flights to Miami are a bit more. Overall, the prices are premium, but comparable to commercial airlines, particularly when you account for no extra baggage costs and complimentary snacks and beverages.
How do I book flights with JSX?
JSX makes it really easy to book a trip from the JSX website or mobile app—and you can reserve tickets up to an hour before boarding time. Fully refundable options are also available.