Poughkidsie: Indoor Play Space Combines Art & Exploration For All-Ages Fun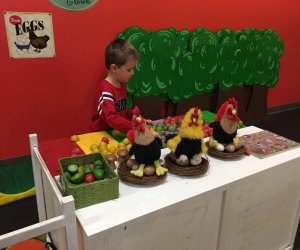 For parents with kids of wide-ranging ages, it can be difficult to find activities that occupy everyone. Choose something too young and the older one gets bored. Skew older and the little one gets frustrated. Poughkidsie in Dutchess County solves that dilemma with its indoor play-space-slash-art-studio.
Looking for more activities that appeal to the whole family? Consult our Event Calendar and follow us on Facebook!
Poughkidsie, located (naturally) in Poughkeepsie, is segmented into two areas. The right side features what's known as The Village—a pretend town with a kitchen, bank, doctor's office, farm and more. The left side contains the Create Workspace, an art studio with a dizzying amount of supplies: paints, beads, stickers, tiles, pom poms, decoupage, glitter, dry noodles, googly eyes—you name it. Kids choose an art project and are allowed to use any of the supplies they wish.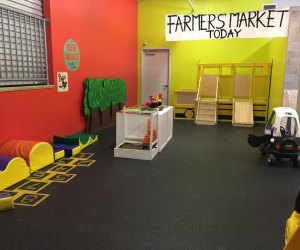 The Village is ideal for toddlers and preschoolers who need to explore.
Located in the middle of the two areas are tables and chairs and a coffee bar with snacks. Parents can sit and hang out while keeping an eye on both areas. (Note: You can't see every area of The Village from this spot, so this may depend on ages and how comfortable you are letting them out of sight.) There's also a sitting area in the Create Workspace with some comfy chairs and "grown-up" books, and there's free Wi-Fi!
There's nothing especially out of the ordinary about The Village. It's very similar to the one found in Billy Beez, although it does have a dress-up area that can't be beat. With its ride-on toys, pretend play items and beanbag games, this area is ideally suited for toddlers and preschoolers. There's an $11.95 per child entrance fee to play in The Village, and you're welcome to stay as long as you'd like. Annual and season memberships are also available.
The Create Workspace, meanwhile, is quite impressive, and we're not aware of another play zone in our area with a similar space. Projects range from simple picture frames and door hangers to more elaborate castles and other wooden toys. Pricing starts at $3 and goes up to $22. (Members receive a 10 percent discount.) No matter the project, kids are given access to all of the materials. An employee set up my 10-year-old son with some paints, and he could take beads and other accoutrements as he so desired. (You may want to keep an eye on any younger, overzealous artists.)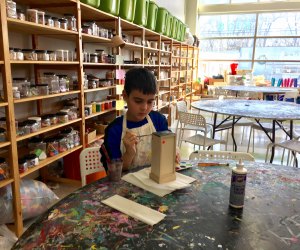 Kids can make use of all the art materials when making their projects.
In addition to your standard coffee and tea drinks, the snack area sells egg creams, bubble tea, juice and milk boxes, bagged chips and veggie straws, pouches, chocolate, string cheese, soups and locally made baked goods. You are permitted to bring your own food, although peanuts are strictly forbidden. There's also an outdoor seating area and some nearby restaurants within walking distance. The restrooms are very clean and include changing tables.
Our only wish for Poughkidsie: We'd love to see some children's books in the reading nook. It would have extended our time even further. Even so, we can see a return trip in our near future. The space also holds birthday parties, classes and workshops.
Sign up for our newsletters to learn more about other indoor play spaces and kid-friendly activities in our area!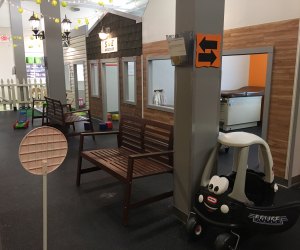 All photos taken by the author.