Spooky Fun for Westchester Kids at Lasdon Park's Halloween Train Show
With so many Halloween happenings in Westchester and the Hudson Valley, it can be hard to narrow down the choices. While many events are clearly geared toward older kids, the Halloween Train Show at Lasdon Park in Katonah is perfect for preschoolers, younger elementary kids or anyone who falls on the lower end of the scare-o-meter.
The 2018 show is open on Saturdays and Sundays throughout October, plus Monday, October 8, and we have the scoop on what you need to know! Looking for more spooktacular things to do? Consult our Halloween Guide and sign up for our newsletters.
The Friends of Lasdon Park & Arboretum are once again transforming the grounds into a Halloween spectacle. For those wondering if it's a good fit for their little ones, we visited recently and found that while there was no shortage of scary monsters and grim reapers, there was very little gore (and it doesn't hurt that things are always a lot less scary in the sunshine).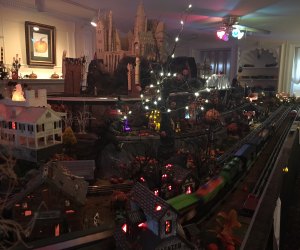 Train lovers will delight over the trains racing though haunted villages.
In addition to the train display, visitors can check out the Fairy Garden Room and the Conservatory's Tropical Treasures, The Rainforest exhibit. There is also a Veterans Museum Exhibit, as well as a hay maze, live entertainment and music on scheduled days, face painting, storytime and more.
The train display is located in the main house. For parents of curious kids, take note that last year's display featured buttons that kids could push to activate different areas. The rest of the display was completely hands-off, and a short plexiglass barrier surrounded the edges to prevent tempted hands. Small kids who had trouble seeing could use use a tall stepstool at one end for an overhead view.
As with last year, families can make their way through the outdoor Dinosaur Garden. Sure, it's no Museum of Natural History, but preschoolers in the dino phase will love it. There will also be a meet-and-greet with the "resident dinosaur" at select times.
RELATED: 30 Awesome Things To Do with Westchester Preschoolers this Fall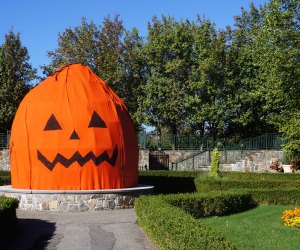 A happy jack-o'-lantern is the centerpiece of the formal garden. Photo courtesy of the venue
Know Before You Go
The Halloween Train Show costs $10 for ages 13 and older and $5 for 12 and under.

It's held rain or shine from 11am – 4pm, but some events will not be held in bad weather. Check the schedule to see what's happening before you visit.

The sweet spot for this attraction is likely ages 2-8. My (train-loving) kindergartner could have stayed all day, but my 10-year-old was ready to leave after a quick trip of checking out the decorations. (The rain probably didn't help.) Train fans of all ages will get a little more mileage out of it, as there really is an impressive amount of detail in the display.

While the lights are dimmed in the main house, it's never extremely dark. Any rooms deemed too scary by your child are very easy to exit and/or skip entirely.

Strollers aren't recommended and aren't permitted inside the main house. They're also not allowed in the Dinosaur Garden.

The Fork in the Road Cafe food truck will sell food, and there will be wine and craft beer tastings on select days.

Restrooms are located in the main house and down by the gift shop. The gift shop bathroom has a changing table in the ladies' room.

Dinosaurs and trains make it a preschooler heaven!
Unless otherwise noted, all images were taken by the author and may not be reflective of this year's display.
This originally posted in 2016 and has been updated for 2018.
Places featured in this article:
---
Lasdon Park Arboretum and Veterans Memorial