Summer Camps with Availability for Westchester Kids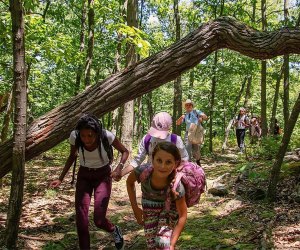 Summer vacation may be staring you in the face, but there's no need to panic—we've rounded up several day camps that still have spots for Westchester kids. Whether you're looking for a camp for your preschooler, tween, or teenager, you'll find it here! And to make your life even easier, many of these camps offer door-to-door transportation. Sign up for the whole summer, or just one week, depending on the camp and your needs. (After all, you might want to leave time to work your way through all the activities in our Summer Fun Guide.)
You can find even more camps in our Summer Camp Guide for Westchester Kids, and in our Westchester Summer Camp Directory.
Tennis Camp at The New Rochelle Racquet Club – New Rochelle
Openings available for ages 4 to 16 from June 24 to August 30; 9am–noon, 1–4pm, and 9am–4pm. All skill levels welcome.
Day Camps with Transportation
Challenge Camp – Hartsdale
Openings for campers ages 4-15 in Session 1 (June 27 – July 26, four weeks) and Session 2 (July 29 – August 16, three weeks). Early and extended day available.
Mount Tom Day Camp – New Rochelle
Call to discuss availability.
The Nature Place Day Camp – Chestnut Ridge
Some spaces still available for 4- to 16-year-olds in all weeks from July 1 through August 9.
Oasis Day Camp – Dobbs Ferry
All week-long sessions are still available from July 1 – August 23 in all age groups.
Click through to find out more about each camp's offerings in our Westchester Summer Camp Directory and find more suggestions in our Camp Guide.