SPONSORED
Top DC Area Preschools: BASIS Independent McLean Balances Kids' Curiosity with Academic Learning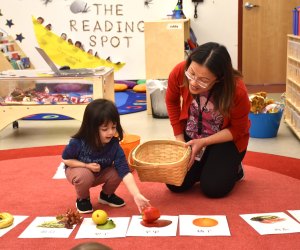 An enriching high-quality early education is such a meaningful start, and BASIS Independent McLean's Early Learning Program brings exactly that to families in the Northern Virginia area. Situated on a sprawling 11-acre campus in Tysons Corner—less than 15 miles outside of Washington D.C.—the age 2 through grade 12 private school helps lay a foundation for success with a world-acclaimed curriculum that thoughtfully balances kids' natural tendency to question, explore, and create with more formal academic instruction. And at the heart of it all is a deep love of learning, instilled in students by nurturing and compassionate expert teachers.
If you'd like to learn more about the Early Learning Program at BASIS Independent McLean, read on or sign up for an upcoming virtual open house.
The Toddler Program at BASIS Independent McLean
At BASIS Independent McLean, Early Learning begins with the Toddler Program, which lays the building blocks for 2- and 3-year-olds to develop strong physical, social, emotional, and language skills. Each week, students engage in STEM discovery, music, literacy, movement, Mandarin, and visual arts—encouraging them to question and discover, use their imaginations, and even get a little messy. From playing with puppets to learning a traditional Mandarin song to building their own parachutes, little learners grow critical skills from the very start.
PreK and Kindergarten in the Early Learning Program
In PreK-1 and PreK-2—geared towards ages 3 and 4—a thematic, hands-on curriculum is really at the core. These programs strive to empower children's curiosity through developmentally appropriate play, music, and exploratory activities. The curriculum prioritizes early numeracy and literacy and also celebrates key milestones like social-emotional and self-help skills, preparing students to make a seamless transition to future grade levels. Once kids reach Kindergarten, they begin to work in a more formal setting and explore advanced topics, like civics, science, and history.
Experienced Early Learning Teachers and Subject Experts
Across all levels, the Early Learning Program is brought to life by expert faculty members who deeply understand cognitive and emotional growth at these key ages, and who help students build confidence, independence, and simple problem-solving skills. Kids often list singing and dancing while their music teacher plays guitar, examining the inside of a pumpkin with a STEM instructor, and learning to count to five in Mandarin as some of their favorite school activities.
These early grades also utilize a unique two-teacher model—with one teacher specializing in language and literacy and the other in math and science. These experienced teachers work in tandem to develop lessons, engage students, and provide plenty of encouragement and support. Together with a robust curriculum inspired by the best practices from top education systems around the world, they aim to foster a love of learning that serves kids throughout their school years and beyond.
On top of early academics, BASIS Independent McLean teaches children about personal responsibility, self-reliance, and social awareness. By helping students learn how to be good friends and citizens, the Early Learning Program truly lays the groundwork for their educational futures.
To learn more about the Early Learning Program at BASIS Independent McLean, sign up for their interest list or register to attend an upcoming Virtual Open House. And keep in mind, BASIS Independent McLean is now accepting applications for fall 2021!