Best of December: 23 Top Things to Do in Atlanta with Kids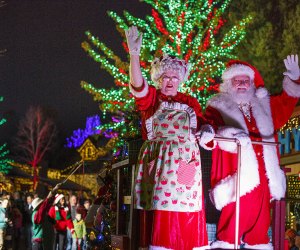 Christmas lights, Hanukkah celebrations, and holiday activities are in full effect for December, and that's just the beginning of things to do in Atlanta this month!
December in Atlanta starts with Christmas tree lightings all over town, including Sparkle Sandy Springs, Woodstock Christmas Jubilee and Parade, and Light Up Brookhaven (where Santa enters on a helicopter)! As December continues, Atlanta families get into the holiday spirit with Nutcracker Ballet and Holiday Shows as well as Dazzling Holiday Lights Drive-Thrus and Christmas Light Shows. Around mid-month (starting December 18 to be exact), the eight nights of Hanukkah begin and families celebrate at Chabad Intown's menorah lightings; we also have 8 Ways to Celebrate Hanukkah with fun gift and craft ideas. After all those holiday gifts are ripped open, families can look forward to 2023 and celebrate with fun, daytime events like the New Year's Eve Bubble Bash.
In fact, there's so much to do during December in Atlanta, we couldn't squeeze it into just one article. Make sure to visit our Atlanta Holiday and Christmas Guide to get ALL the details on the many things happening this month, including the scoop on the Places to Take Pictures with Santa in Atlanta, Atlanta Holiday Gift and Christmas Markets, and more!
We're adding more events to our family activity calendar every day, so don't forget to check it frequently. No more holiday drama, mama — sign up for our newsletters to make your holidays run smoothly.