Nature Preschools and Kindergartens in Philadelphia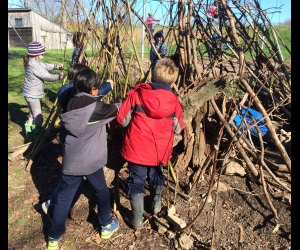 Over the last few years, nature preschools and outdoor education have received some serious attention. The concept allows kids to learn all or most of their lessons in the great outdoors-- no matter the weather. Lessons often incorporate the outdoors and feature plenty of adventurous activities such as hiking, canoeing, climbing, and ropes courses. What's awesome about this trend is that kids get to spend tons of time outside instead of sitting in a classroom. In addition, it also teaches kids practical outdoor survival skills. Some of these forest schools even go all the way through 12th grade. While it's still a relatively new phenomenon (and maybe not for the faint of heart), the Philadelphia area has multiple options.
Kimberton Waldorf School Forest, Field, and Farm Kindergarten- Phoenixville
Offering one of the areas full day, mixed age kindergarten experiences, Kimberton's 430-acre campus of rolling hills, farms, gardens, creeks, trails, and woods keep children ages 4 to 6 busy. A significant amount of time is spent outdoors as children explore animal habitats, perform farm chores, care for animals, climb, hike, and run. Preschool and Parent/Child classes are also available.
The Schuylkill Center Nature Preschool- Philadelphia
The Schuylkill Center's Nature Preschool promises to immerse children ages 3 to 5 in the outdoors while fully preparing them for school. Its classroom opens directly on the 340-acre nature preserve. Most of the day will be spent outdoors, but there is also an indoor classroom. The Schuylkill Center provides an emergent curriculum, which means that lessons are not pre-planned and themes are drawn from the children's interests. The goal is to build motivation and a long-term love of learning.
The Philadelphia School- Philadelphia
For the slightly less adventurous, The Philadelphia School offers an outdoor education program that brings kids outside one full day each week in the fall and spring. The "country classroom" takes place at the Schuylkill Center for Environmental Education. All other days, classes will be held indoors on The Philadelphia School's property. The outdoor education program is directly connected to the school's science program, but also incorporates art, music, writing, math, and more. This program is offered for kids in K to 8th grades.
Urban Nature Preschool at Smith- Philadelphia
Smith Memorial Playground is teaming up with Parent Infant Center (PIC) to form an Urban Nature Preschool on the grounds of Smith. While renovations for two indoor classrooms in the mansion, which can accommodate around 17 students, are in the works, the primary focus of the curriculum is hands-on exploration and outdoor opportunities. One unique aspect to this program is that it will serve as a local and regional training site for other early childhood educators. It is expected that the school will open as early as 2019 and offer full-day experiences for children ages 3 to 5 year-round. Importantly, this initiative is committed to helping a wide range of families including families who live in the neighborhoods surrounding Smith.
The Nature School of Philadelphia- Roxborough
Set to open in 2020, The Nature School of Philadelphia is an independent private school with a curriculum based on the fundamental values of Dr. Ken Ginsburg's 7 Crucial C's: Competence, Confidence, Connection, Character, Contribution, Coping, and Control. To get involved and see what The Nature School is all about, check out one of their child-led Family Nature Club Hikes at Wissahickon Valley Park.
Header image courtesy of Kimberton Waldorf School's Facebook page.