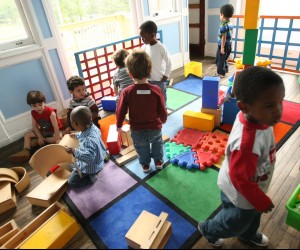 10+ Indoor Play Spaces in Philly for Babies and Toddlers
Mother Nature can often be a real thorn in the side to new parents in Philadelphia. Be it winter snow, spring rain, or summer heat, the weather often discourages getting out of the house with babies and toddlers. Visiting an indoor play space can rescue the little ones from cabin fever as well as offer parents a chance to socialize with other new moms and dads.
Parents in the city need to be a little more creative in finding indoor play areas, with fewer bouncehouse centers than in the suburbs. Mommy Poppins has a list of fun spots to drop-in with tots in and around Center City Philadelphia, including museums, gyms, and stores.
Be sure to browse our directory for even more indoor fun ideas in the Philly area or our list of indoor play in Bucks, Chester, Montgomery, and Delaware Counties.
As one of the best children's museums in the country, the Please Touch Museum's mission is all about learning through play. There are several exhibit spaces designated just for toddlers to explore as well as a massive water table area, theater, art room, music events, and the beautiful historic carousel.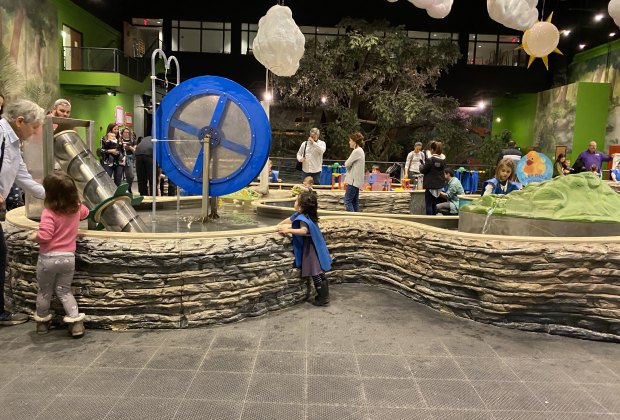 The waterworks station is a favorite for toddlers at the Please Touch Museum
2. NEST—Center City and Chestnut Hill
This large indoor kid's center provides 10,000 square feet for toddlers and babies to explore. The nature-themed play area is for meant for infants through 6 years old and offers memberships for drop-in play. Nest also has an on-site salon, cafe, shop and children's classes. NEST even has an app that parents can download to view schedules, sign their kids up for classes, and add reminders.
3. InMovement—Queen Village and Bella Vista
This gym for children and adults offers drop-in "Early Years Open Gym" time for ages 10 months - 5 years old. Little ones can run, jump and tumble on the mats and gym equipment at various sessions throughout the week. The Bella Vista location (a.k.a. Mini InMovement) focuses on younger students.
Another great indoor play space with plenty of soft play areas for the younger set, but also small ball bits, slides, and swings that make it an exciting energy burner for toddlers and even older kids.
Little ones are sure to delight in storytimes and music classes at Momo's Tree House. Free storytimes are held in Old City on Wednesdays and Filter Square on Tuesdays. Drop-in on a music class on Fridays.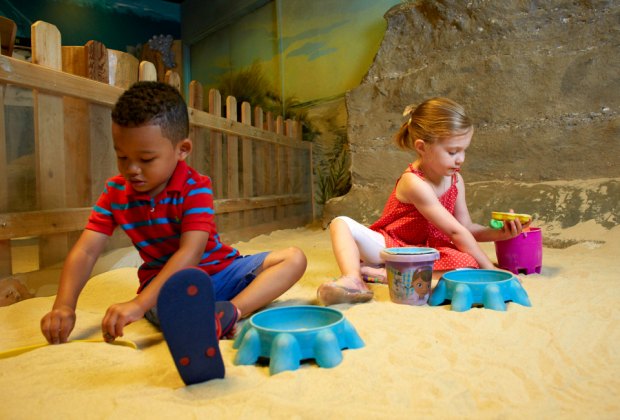 Play in an indoor sandbox at the Outside In exhibit at the Academy of Natural Sciences. Photo by Jeff Fusco/courtesy the museum
While the museum itself is not a baby/toddler play space, the spacious Outside In exhibit on the third floor is intended for children aged 3 to 8. Kids can touch live animals, climb in an eagle's nest, relax in science reading nook, play dress up and explore many other hands-on learning stations.
The Art Museum holds regular Baby Bird Playdates where little ones can participate in circle time with games and music. Parents appreciate the gallery walks with other families, gaining culture while playing with the kiddos. Stroller Tours offer parents of babies under one year of age a chance to explore the museum in the company of other families.
8. IKEA—South Philadelphia
With locations in both the city and the suburbs, IKEA is a great place to shop and play. The furniture warehouse features Småland, a free supervised play area near the entrance where kids can play for 60 minutes while Mom and Dad shop. Children must be potty trained and between 37" and 54" tall.
This indoor playspace is designed especially for open-ended creative play for little ones. Expect tons of wooden toys, fun ride-ons, and ample space to explore. Plus there's coffee and snacks available for purchase on the mezzanine level.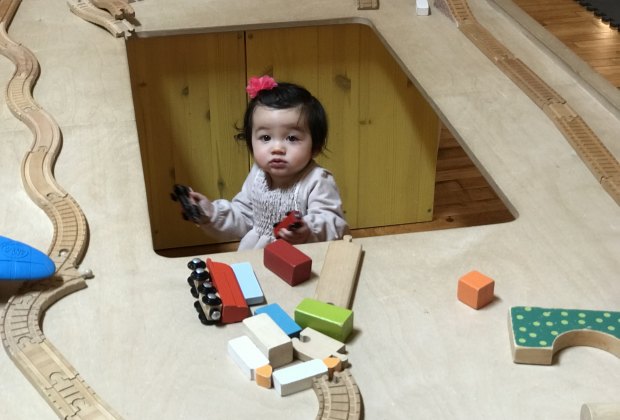 Exploring train track creation at PlayArts
Besides beautiful upscale clothing, this store also hosts music sessions by Music Monkey Jungle Monday through Friday to entertain little ones.
Smith Memorial Playground and Playhouse has been a Philadelphia landmark for over 100 years. It is free to access the amazing historic playhouse which is just for children aged 5 and under. Smith also offers storytimes, crafts and many annual events for families. NOTE: Smith Playhouse is currently under renovation which is slated to complete in August 2020.
Bonus: Public Libraries -Various
Of course, we can't forget the rich resources of the Philadelphia Library when it comes to indoor play. Storytimes, music entertainment, baby yoga - there is always a variety of programs available at various branches. Some libraries even have designated play areas with puzzles, games and toys. Be sure to check calendars at neighboring libraries as well as your own because you never know what you might find on any given day!