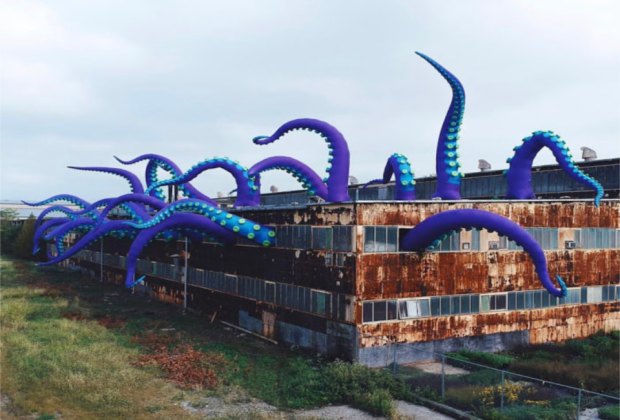 You've Gotta See This!
This fall, you and the kids can check out an 800-pound pumpkin, trick or treat in Philly's best Halloween neighborhoods, get lost in a corn maze…and see a giant sea monster! Set right in the heart of Philadephia's Navy Yard, a super cool and unique art installation is happening now, but you've gotta be quick! It will be gone in just a few weeks. Want to check this art installation out for yourself? Read on for details.
International artists Filthy Luker and Pedro Estrellas make inflatable tentacle art (yep, you read that right) all over the world. But their latest piece, Sea Monsters HERE, can make Philly proud: It's the largest that the duo has ever created.
In total, there are 20 tentacles, each a whopping 40 feet long. Pushing out of the windows of one of the Navy Yard's still-abandoned warehouses, these inflatable giants sway and come alive with each gust of wind. Both kids and grownups will find these tentacles really fascinating to watch. Plus, how often do sea monsters invade Philadelphia??
But you've got to hurry! Sea Monsters HERE will only be here until November 16, 2018 and then back out to sea it goes.
So here's what you need to know:
Visiting Sea Monsters HERE is free to the public and is open during the Navy Yard's public hours (6a.m. to 8 p.m. on weekdays; 7 a.m. to 5 p.m. on weekends) through November 16th.
The art installation can be found at Building 611 in the Navy Yard, but since that address isn't on the map yet, use the Navy Yard's address below or head to the intersection of Flagship Avenue and 13th Avenue.
To get to the Navy Yard you have a few choices. If you drive, street parking near the main entrance is free. You can also take the Navy Yard Shuttle available from various points in the city.
Make a whole trip of it! The Navy Yard has a lot to offer from river views to walking tours and cafes.
Top photo courtesy of GroupX on Instagram