Beyond Strawberries: Best Places to Pick Your Own Blackberries, Peaches, Cherries, and More this Summer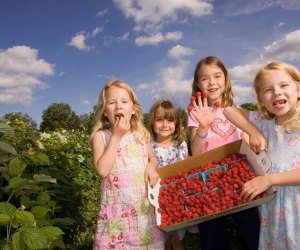 The Pick-Your-Own season is bookended by strawberries in the spring and apples in the fall, but what do you do with all those months in between? Pick everything else, of course! The Delaware Valley's many farms and orchards are great spots to haul out the family on nice weather days and haul home buckets, baskets, and bushels of fresh summer fruits, and some sweet memories, too. Many of these farms host summer festivals, family activities, and special events to really round out the day so be sure to search our events calendar for details. For now, read on for our list of the best Philly area farms and get pickin'.
Linvilla Orchards - Media, PA
Linvilla Orchards' offerings span beyond the orchard. This massive family-friendly facility hosts a market, mini golf course, fishery, garden center, bakery, and abundant PYO offerings. For fruits, families can pick sweet cherries, peaches, grapes, raspberries, pears, nectarines, blackberries, blueberries, plums, and apricots. The PYO vegetable selection is just as numerous. Check out their events calendar for their Blueberry Festival complete with a pie-eating contest and Peach Festival.
Highland Orchards - West Chester, PA
Visitors can harvest a variety of fruit such as peaches and blackberries at Highland Orchards during the summer months. There isn't an admission fee. You simply buy a basket in the market shop for a flat fee. When you've picked to your heart's content, children can enjoy story time sessions, music times, and yoga for kids. And don't forget to come back to the market shop to grab one of Highland's housemade treats including its always delicious apple cider donuts.
Indian Orchards Farm- Media, PA
Organically grown and non-GMO and pesticide free, this spot offers fruits and vegetables including blueberries, raspberries, plums, peaches, cucumbers, and peppers. The fee is $2.50 per person to pick. Check out the farm's Mom's Mondays program, any mom who brings 3 or more moms and kids receives a free fruit package. Be sure to call or text in advance to receive this opportunity.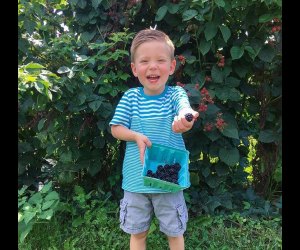 Photo courtesy of Shady Brook Farm
Shady Brook Farm - Yardley, PA
Besides strawberries, visitors to this beloved Bucks County farm can harvest blueberries, peaches, and apples plus a variety of vegetables, from corn to summer squash. The PYO availability and hours vary by day, but families can expect the farm to be open Wednesday-Sunday from 11 AM-4 PM when wagon rides take visitors to the fields. There is a $3 admission price per person, plus the cost of how ever much you wind up picking. Come during the Strawberry Festival or for one of their summer wine and music events to keep the fun going for longer than you're out in the fields.
Solebury Orchards - New Hope, PA
Cherries, blueberries, blackberries, and cherry tomatoes are on the PYO calendar at this New Hope farm. You can also pick your own flowers from their waist high flower fields. Pay for what you pick with no extra charge. While you're there, you might want to extend the day to include any number of fun family-friendly things to do in this part of Bucks County.
Solly's Farm - Ivyland, PA
Solly's has a wide variety of vegetables in their PYO offerings in addition to peaches and strawberries. Be sure and call ahead to make sure there is still availability. Solly's also offers special events, such as Breakfast on the Farm, a once-a-month pancake breakfast during the summer.
Fruitwoods Orchards Honey Farm - Monroeville, NJ
Besides strawberries, visitors to Fruitwoods Orchards in New Jersey can also pick tree-ripened cherries in June. Bring your own containers (several small ones rather than a large bucket is recommended so the fruit doesn't get crushed) and check in with the market for directions.
Specca Farms - Bordentown, NJ
Specca Farms is perfect for the veggie lover. While it's closed in July ("too hot for pickin'"), the June crops include fava beans, kale, spinach, and peas. Strawberries, too, are available to pick during this time. In August, New Jersey tomatoes are ready, along with eggplant, okra, and heirloom peppers.
Things to Know Before You Go:
Hours vary by day, time of year, and farm. Picking conditions change daily so be sure to call ahead and make sure the farm is open and ready for picking.
There is very little shade in the fields so don't forget sunscreen and hats.
Bring plenty of water to drink.
Leave the stroller at home and wear your baby in a carrier instead.
Ask staff at the market how to identify ripe fruit and veggies and instruct children to only pick those that are ready.
Fields can be muddy places so wear appropriate shoes and clothing you don't mind getting dirty or stained.
Many farms don't allow food in the fields.
Don't forget your camera or phone to capture all the sweet moments!