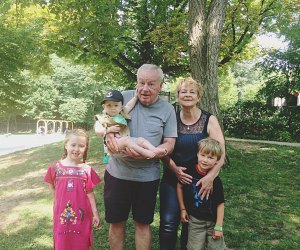 Grandparents' Day in Philly: Time to Send the Kids to Grandma's
Whether you call them Grandma, Granddad, Nana, or Poppop, grandparents add an enormous amount of value to the life of a child. They're the best babysitters, treat sharers, spoilers, and we love them so. And what better excuse than Grandparents Day (September 9) to send the kids out for some fun with their grands...and get some time to yourself! To help you and the extended family out, we've rounded up some wonderful ways to celebrate grandparents. From sporting events to nature excursions, there is something for everyone. Keep reading to discover all the ways to show Mom Mom and Pop how much you love them this Grandparents Day. So, #DoSomethingGrand, #TakeAGrandie and make #GrandparentsDay special for the loved ones in your family.
Philadelphia Honey Festival- Philadelphia, PA
September 7-9, 2018
What could be sweeter than spending Grandparents' Day weekend at the Philadelphia Honey Festival? Glen Foerd welcomes families to participate in lawn games and bee demos on Friday. On Saturday, guests can visit Wyck Historic Home, Garden and Farm for honey tasting, extractions, presentations, mead-making, and children's activities. On Sunday, folks can head to Bartram's Gardens for a children's carnival and bee parade, honey extraction, and open hive talk.
Macy's Family Fun Day- Philadelphia, PA
September 8, 2018
Head to The African American Museum in Philadelphia to participate in interactive art workshops with the theme, The Story of A Seed. The first 250 people receive free admission, courtesy of Macy's.
Hands-On History Day- Philadelphia, PA
September 8, 2018
The Historical Society of Pennsylvania welcomes families to research their family tree, learn how historical documents are professional preserved, and see a historical play with Abe Lincoln.
Grandparents Day at Baby Wordplay- Philadelphia, PA
September 8, 2018
Get ready to celebrate grandparents with face painting, hula hooping, and read-alongs. Grandparents can even help their grandbabies register for their first library card!
Hefty Harvest and Scary Scarecrows- Camden, NJ
September 8-9, 2018
Send the crew off to the Camden Children's Garden for some harvest fun all weekend long. While exploring the grounds, children can play games, make crafts, and a host of other kids' activities. Grandparents and grandchildren can build a scarecrow together (for an additional fee).
Thomas the Tank Engine & Friends at Morris Arboretum- Philadelphia, PA
September 8-9, 2018
Grandparents can enjoy watching their grandchildren's faces light up as they see Thomas and his friends as they barrel down the tracks at Morris Arboretum.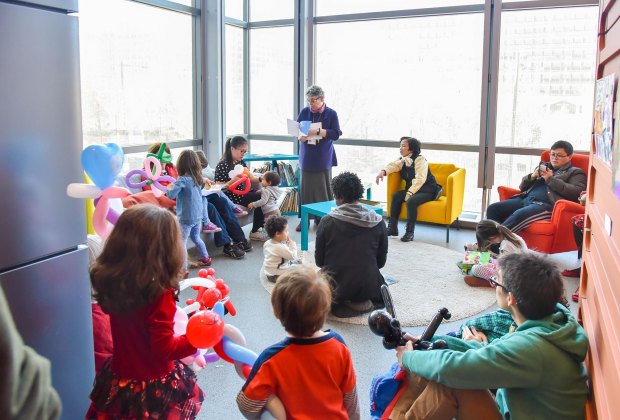 Storytime photo courtesy of NMAJH
Family Day at the National Museum of American Jewish History- Philadelphia, PA
September 9, 2018
The National Museum of American Jewish History offers free admission for all members of the family during its Family Day event. In addition to the traditional exhibits, visitors can expect hands-on activities such as crafts, projects, and story times.
Grandparents Day at Delaware Children's Museum- Wilmington, DE
September 9, 2018
Special programming, live music, and photo opportunities await visitors to the Delaware Children's Museum.
PECO Family Jams- Philadelphia, PA
September 9, 2018
What better way to spend family time than using your imagination and creativity to make something together! During this PECO sponsored activity at Philadelphia's Magic Garden, visitors can make mosaic medallions. Afterwards, guests can take a kid-friendly tour of the grounds.
Zippity Zoo Days- Wilmington, DE
September 8-9, 2018
Visit the animals at The Brandywine Zoo during Zippity Zoo Days. Kids can learn about the animals through keeper talks and learning stations, and see some animal art. Extend the fun by heading to The Brandywine Festival of the Arts at Brandywine Park.
Phillies Grandparents Day- Philadelphia, PA
September 16, 2018
The Phillies take on the Miami Marlins during this special themed event. The first 1,000 people to purchase tickets receive an exclusive Phillies tote.
Photo courtesy of Cait Sumner for Mommy Poppins