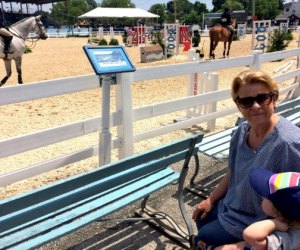 A Day At The Fair: Devon Horse Show and Country Fair Review
If you live in the neighboring areas, you've almost definitely heard of The Devon Horse Show and Country Fair. You've probably even watched the horses loading in and the ferris wheel going up. If you haven't heard of it, The Devon Horse Show and Country Fair is a week and a half long event that kicks off the summer every year and is tons of fun for the whole family. It's a unique experience and it offers a little something for everyone, including some really fun events.
Despite what you might think, Devon is not just a horse show. There's food, drinks, carnival games and rides, an art gallery and even shopping.
If horses are your thing, the schedule is jam-packed. Some of the more fun shows that kids will enjoy include Coaching, where exhibitors dress in fancy clothes and ride around the ring in horse-drawn carriages, the Shetland Pony Steeplechase, Radnor Fox Hounds and Leadline, where kids age 3-5 show off their riding skills. Take a look at the Horse Show's schedule to find out more about when these events are happening. It can also be fun to walk around with your kids and see the horses. Some barns (not all) will let you walk through, and on Family Day (May 25 and 30) the Country Fair is offering tours of the Back Barn from 2-5 PM. Just be careful as you walk around the horses. Keep your head up and stay alert, and never walk too close around the back of a horse.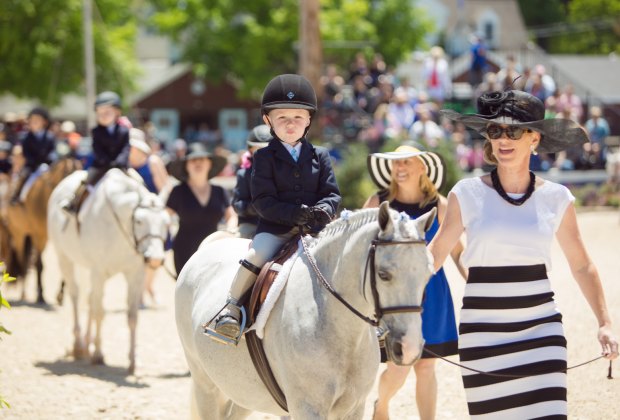 Photo courtesy of Brenda Carpenter Photography
If you find yourself there at lunchtime, there's a variety of food options. From their famous Devon Fries and other typical fair food, to salads and wraps, it's easy to find something to eat. If you've got a picky eater or just prefer to pack a lunch, outside food and beverages are allowed. That said, bring water, load up on sunscreen and wear hats. If the temperature says it's warm, believe me, it's warmer at Devon. Luckily, they also offer local Bassett's ice cream (and milkshakes), as well as Mompop's popsicles which are gluten free and vegan (and delightful). Perhaps my absolute favorite part of Devon though? The lemon sticks. These things are so simple, so refreshing, and absolutely delicious. They're a vivid childhood memory of mine, and my son also sucked his dry. So yummy. The concession stands and the ticket booth for rides take cards, but parking and carnival games are still cash only. Also, parking will cost you $10. There are a couple of ATMs on the premises, but you'll need money for parking ahead of time, so I'd reccomend getting cash in advance.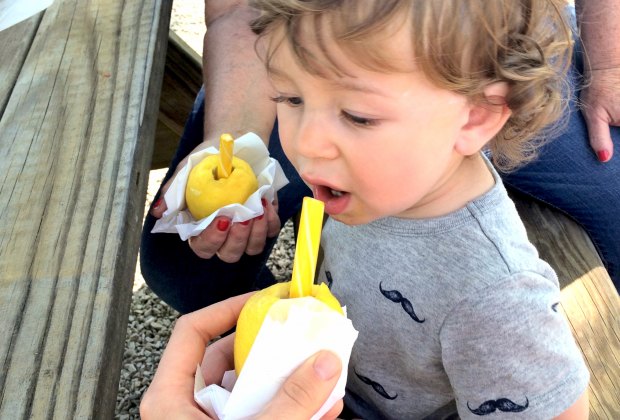 Just past the concessions and the souvenir shop is an adorable little shopping strip. This area may not be so fun for kids, but parents will enjoy the quaint little shops. For the most part, the show is stroller friendly, but the shops are a little too tight for strollers. Also for parents, there's a bar serving wine and beer towards the back of the showing area.
Beyond that is the Midway, featuring a handful of carnival games and fun rides. The rides are mostly for the smaller set. There's a ferris wheel, a carousel, a "Berry-Go-Round" (tilt-a-whirl) and a little motorcycle speedway that is faster than it looks. My 17-month-old rode it by himself (for the first time- eek!), and I may have had a slight panic attack when it took off. But, he loved it and it was absolutely hilarious to watch him go around. Carnival games include skee-ball, balloon darts, a water squirter and 2 win-a-prize-everytime games for toddlers.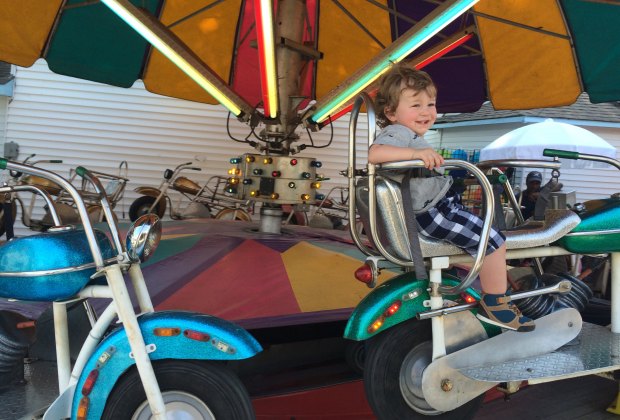 There are some special days to be aware of when planning your visit. May 25 and 30 are Family Day. Wristbands for rides are discounted and back barn tours are offered in the afternoon. Wednesday, May 31 is Ladies' Day, which includes a fancy hat competition. Visitors who wear a hat on Ladies' Day get in for free! Also, for pet-loving families, leashed dogs are welcome to join you at the fair.
One thing to consider when visiting Devon with kids: Thursday, June 1 is Grand Prix day, which means it is absolutely jam-packed. This may not be the best day to try to navigate the show with kids.
If you've been to Devon and you had fun, come back on the final day, Sunday, June 4. Admission is free and it's Children's Day featuring an Itty Bitty Hat Parade. The plants from the show will also be on sale after the day is over. Note that Sunday is only a half-day of shows ending at 2:30 PM.
The greatest thing about Devon is that it's mostly run by volunteers, and the money raised at the souvenir shop and all of the conession stands goes to Bryn Mawr Hospital. By supporting the Devon Horse Show, you're also supporting Bryn Mawr Hospital.
The Devon Horse Show runs May 25-June 4, 2017.
All photos by the author except where otherwise noted. This article was originally published in 2016. Info has been updated to reflect 2017 dates.
Devon Horse Show and Country Fair
23 Dorset Road
Devon, PA 19333