Learning Through Play Day Cares and Preschools in Philadelphia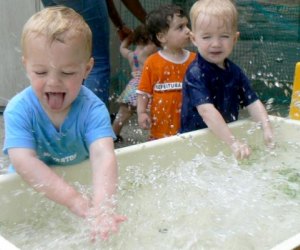 More and more studies are showing how important the role of play is in early childhood learning. Kids develop important social and cognitive skills from play, and become more self-confident and emotionally mature when allowed to learn by playing. Finding a daycare that goes beyond simply watching your kid, and fosters this independence and imporant early learning skill isn't always easy. We've rounded up a few great daycares (some of which also have preschools) where your child will love to learn while they play.
The Giving Tree Daycare + Preschool
With two locations, one in Logan Square and one in Queen Village, The Giving Tree believes that if a child is having fun, they are more apt to learn naturally. The Giving Tree takes this one step further through its partnerships with The Please Touch Museum, Zoo on Wheels, The Insectarium, John Carlson's Teaching Puppets, The Franklin Institute, and Mad Science. Each of these groups visits the school annually to encourage more fun- and more learning! Visiting and rotating teachers also teach art and music classes as well as gym classes like yoga, gymnastics, and movement. The Queen Village location also has a preschool on the second floor.
Today's Promise Montessori Nursery and Preschool
This Montessori-based preschool also offers childcare services in its nursery. Many members of the staff here are bilingual. Because this is a Montessori school, education is based on each individual child's needs and growth. Today's Promise also offers evening and overnight care for parents who work odd hours.
Trinity Playgroup
Trinity Playgroup believes that as children play, they develop social and interpersonal skills, fine and gross motor abilities, self-help skills, language, and cognitive abilities. Enrollment is open to children age 18 months to 5 1/2. The school is divided into 3 morning classes and 1 large mixed age afternoon program for structured classroom activities and peer group play. The toddler group utilizes books, music, arts and crafts, circle time, and free play. Trinity fosters a sense of self motivation and independence in children.
Parent Infant Center
The child-centered curriculum at Parent Infant Center is based on everyday experiences and interests as children learn through play. Children enjoy active investigation, observation, and discussion every day. Kids will experience group play as well as independent time and will be encouraged to resolve conflicts with words, not actions. Classroom experiences will teach kids the ways in which we are alike, and will also affirm our differences. The surrounding area of Philadelphia becomes part of the classroom during expeditions- walking to the library, visiting the University of Pennsylvania campus, walking to Clark Park, or seeing the trolleys go by at 40th Street Station. Children age 6 weeks to 5 years can be enrolled in the Parent Infant Center's programming. The Parent Infant Center also offers a nationally certified outdoor classroom- The Magic Circle Nature Playground.
Photo courtesy of Parent Infant Center.