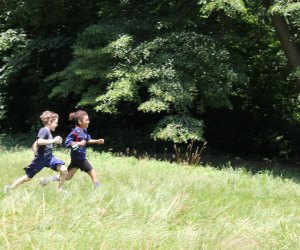 New Summer Camp Opportunities in the Philly Area
Every Philly parent wants their kids have a fantastic summer. One way to make sure that kids' minds are stimulated (and they are not BORED) is by registering them at summer camps that provide opportunities for learning and growth. There are many local camps with new offerings for 2019. Some programs have expanded their schedule to include younger or older kids while others have incorporated new themes to keep campers engaged. Several even provide early bird discounts to save some extra money too! Keep reading to discover the new camp fun that awaits Philly kids this summer.
Holy Child Academy Summer Camp- Drexel Hill
Ages: 2-14
Dates: June 10-August 9, 2019
In addition to their traditional camps, Holy Child Academy offers many specialty camps. New themes include STEAM camps such as Lego Camp, Coding and Robotics Camp, Engineering Camp, and Innovation Camp. Those who enjoy athletics can participate in the Success in Sports Camp while literary fans can use their imaginations in Creative Writing Camp.
Uptown! Knauer Performing Arts Center- West Chester
Ages: 4- 17
Dates: June 10- August 16, 2019
Lights, camera, action! Campers can participate in two new camp offerings at Uptown! Knauer Performing Arts Center. The first is a two week Back Stage Tech camp and the second is a one week Improv/Stage Combat camp. Both camps are geared towards older kids. Younger students can participate in returning favorites such as Storybook Theater and Acting for the Camera.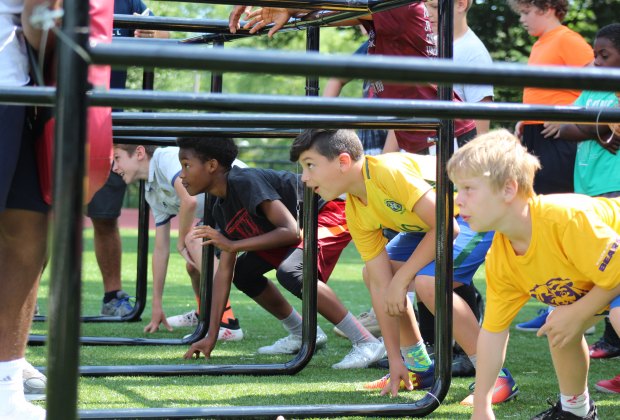 Photo courtesy of Springside Chestnut Hill Academy
Summerside on the Hill at Springside Chestnut Hill Academy- Philadelphia
Ages: 3-16
Dates: June 10- August 16, 2019
Providing camps for students from PreK through Grade 10, SCH has expanded to offer 11 weeks of camp this summer. New this year, campers can participate in academic camps, programs especially designed for middle school and upper school students, and new sports camps. Red Hot Camp is back with new themes such as All Around the World, Mess Fest, and Animal Planet. But, that's not all that is new. The youngest of campers can participate in Red Hot Minis and Midis Camp, specifically geared towards PreK and Kindergarten kids, starting at age 3.
Delaware Museum of Natural History- Wilmington
Ages: Grades 7-9
Dates: June 10-June 14, 2019
This new camp is for older kids who have completed seventh, eighth, or ninth grade. Not only will students learn about animals in the camp entitled, Animals Up Close, but they will get the chance to interact with them. For example, campers can expect to feed a snake and give vitamins to a lizard.
Awbury Arboretum- Philadelphia
Ages: 6-13
Dates: June 17-August 2, 2019
This camp provides participants with the chance to unplug from the technology and become engaged outside. In addition to its traditional offerings, Awbury added three new camps this year for kids ages 6-8 including Nature Superheroes, Forest Creatures, and Nature Foragers.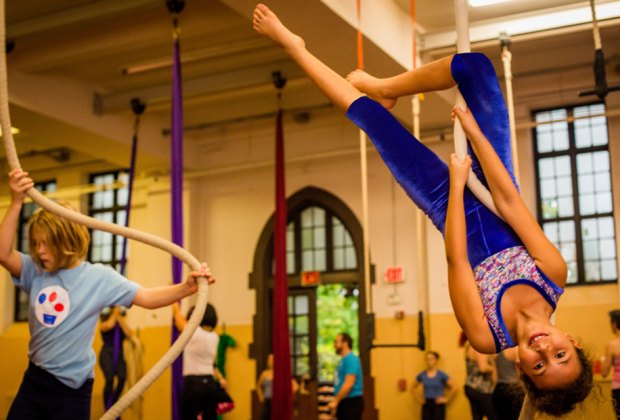 Photo courtesy of Philadelphia School of Circus Arts
Philadelphia School of Circus Arts- Philadelphia
Ages: 5-18
Dates: June 17- August 30, 2019
Offering an expanded schedule and dates this summer, Philadelphia School of Circus Arts provides a new Flying Trapeze Camp for both kids and grown ups which culminates in a mini-performance starring students in the camp. Campers can also sign up for A La Carte camp, a great way to test run camp before signing up for a full week.
Independence Seaport Museum- Philadelphia
Ages: 6-12
Dates: June 17- August 16, 2019
This year, the Museum is offering teen campers a new two-week Waterfront Explorers Camp. In this camp, students learn how to paddle and row, Morse code, navigation skills, and how to work as a team. Independence Seaport Museum is also providing its traditional favorite, Navy Boot Camp. Day camps are available during the week of the Fourth of July.
Camp CLM- Wayne
Ages: 3-12
Dates: June 17-August 30, 2019
Recently named Main Line Today's Best Camp in 2018 and Best Swimming Lessons in Main Line Parents' LOVE awards in 2019, Camp CLM offers new themes this year such as Dragon Week.
The Creative Living Room- Swarthmore
Ages: 5-12
Dates: June 24- August 29, 2019
Last year, The Creative Living Room totally revamped its camp format with expanded offerings and themes. This year, the big change is its location, from Wallingford back to its roots in Swarthmore. Camps take place at Swarthmore Community Center. Older campers can enjoy the new Hollywood Studios camp in which kids create an original live-action movie while younger kids film their very own 'puppet shorts." Camp DIY is back and has expanded to include more involved sewing elements and cooking opportunities since students have access to a full kitchen at the new location.
Pennsylvania Academy of the Fine Arts- Philadelphia
Ages:4-15
Dates: June 24- August 9, 2019
Many favorites return to PAFA this summer; however, there are several new themes as well.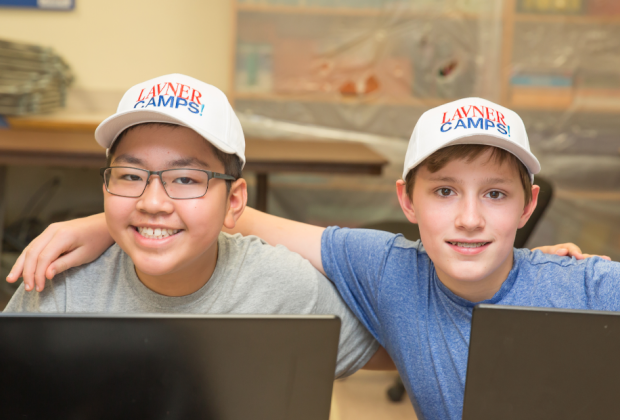 Photo courtesy of Lavner Camps
Lavner Camps- Multiple locations
Ages: 6-14
Dates: Vary by location
With nine different locations found throughout the Delaware Valley, Lavner Camps offers many new summer camps this season. There are esports camps that include Fortnite, Overwatch, League of Legends, Madden, and FIFA themes. Not only do these camps focus on playing the games, they also teach camps sensitivity training and the ability to differentiate the real world from the imaginary. Other new camp opportunities include Roller Coaster Design Camp, Superhero Camp with STEAM, and YouTube Video Production.

Penn Museum- Philadelphia
Ages: 6-13
Dates: June 24- August 16, 2019
Kids who love learning about ancient times are sure to enjoy this camp hosted by Penn Museum. Campers can expect themes such as Mesopotamian Mysteries, Trickster Tales, and Heroes, Giants, and Monsters. While technically new last year, Junior Summer Camp is back by popular demand. Now in its second year, students who are entering first grade can participate in the new Junior Summer Camp with themes include Digging Up the Past and Daily Life in Ancient Egypt.
ESF Camps and BSD Code & Design Academy- Chester Springs, Chestnut Hill, Newtown Square, Haverford
Ages: PreK-Grade 8
Dates: Vary by location
For the second year in a row, BSD Code & Design Academy partners with ESF to bring kids in Pre-Kindergarten through Grade 8 tech camps. Reorganized camp offerings include First Steps Robotics, First Steps Makerspace, Junior Robotics Lab (Lego WeDo), Build Your Own Fashion Brand, and Indie Game Developer in Roblox. This camp is always coordinating new locations so be sure to stay updated as new venues are secured.
Camp Pegasus- Haverford, Bryn Mawr
Ages: 6-16
Dates: June 24 to July 5, July 8 to July 19, July 22 to Aug 2, August 5 to August 16, 2019
The mission at Camp Pegasus is to provide social-emotional developmental experiences in a therapeutic camp setting. There are several new things happening at Camp Pegasus during the summer of 2019. First, the camp is offered at Barrack Hebrew Academy in Bryn Mawr, a new location for them. In addition, campers can expect new Friday performances and the introduction of new social lessons.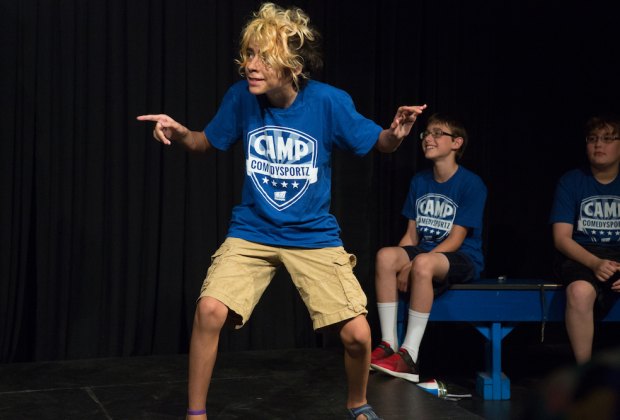 Photo of Camp Comedy Sportz by Kathryn Raines
Camp ComedySportz- Philadelphia
Ages: Grades 4-9
Dates: July 8-12, 2019
Campers can expect new games, new sessions, and new skills during this summer's improv comedy camp. Throughout the week, participants are taught confidence building and performance skills. The week concludes with a showcase performance for family and friends.