2017 Philadelphia Bestie Guide: Enrichment Program Winners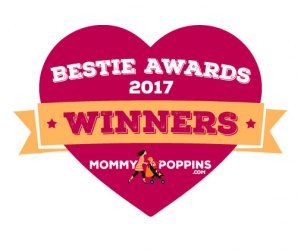 3/11/17
- By
Lindsay Li
Philadelphia families, you have spoken! In 2017 we asked you all to weigh in on Philadelphia's Besties—the best family businesses and resources in categories that range from best restaurants, parties, activities, and more. With all the great family fun experiences and resources in Philadelphia, it was hard to choose just 24, but you were up to the task! Each winner was selected from a competitive crop of 10 nominees in each category.
A special thank you to the Bestie Sponsors, and congratulations to the four lucky voters who were picked at random to enjoy some amazing prizes!
The votes are finally in, and we couldn't be more excited about our winners. We've grouped them into three winning categories: Enrichment Programs, Family Fun, and Parenting Resources.
Without further ado, here is your guide to the best of family-friendly Philadelphia, the 2017 Philadelphia Besties!
Best Enrichment Programs
Best STEM Program: The Franklin Institute
The Franklin Institute is one of area's most beloved museums, and makes it on our Philly Golist for 2017. But more than that, it is a national leader in science and technology. The Franklin Institute STEM Scholars program serves a select group of Philadelphia-area students in grades 9–12 who are passionate about STEM subjects. The four-year program includes STEM career immersion experiences, informal as well as formal science experiences, college prep (including SAT/ACT tutoring), and paid research experiences. Sound great? Get your younger kids started on STEM at home, to help prepare them for their future in the scholars program!
Best Summer Day Camp: Philadelphia School of Circus Arts
Your kids, aged 5-14, will burn off all their energy by moving, climbing, and going upside-down all in a safe, air-conditioned space. What's great about this program is you can choose to commit for the full summer, or participate as it works around your schedule. Campers will learn amazing new skills like trapeze, aerial rope and silks, feather-balancing, scarf-juggling, plate-spinning, and tightwire as well as arts and crafts projects. And with skills like that, they are also building confidence and a new sense of pride at what they can accomplish!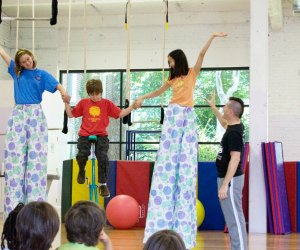 Kids look at life from a new perspective at the Philadelphia School of Circus Arts

Best Place for Kids' Art Classes: Blue Sky Art Studio
With classes available for kids aged 5-15, Blue Sky Art Studio teaches a variety of art styles and media including paint, clay, chalks, pastels, and markers. Younger artists (age 2-5) can take a class with parents and get an early start on their love of art.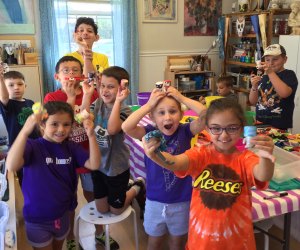 Kids create adorable figurines in the spirit of Halloween
The Philadelphia Dance Academy is the premiere dance training academy in the Philadelphia area, teaching each student as an individual with the goal to help them achieve their maximum potential. We love it so much, we included it in our top places for dance classes. Kids of all ages gain classical training in ballet as well as modern techniques.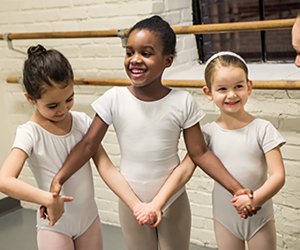 The Philadelphia Dance Academy faculty view each student as an individual and aim to ensure he or she reaches maximum potential.
Best Place to Learn a New Language: The Philadelphia School of Languages
The Philadelphia School of Languages' central goal is to help each individual student acquire the tools they need to learn a new language. They offer flexible programs for adults and children.
Learning a new language with the school is based on four skills: reading, listening, speaking, and writing. Kids can select from English, Spanish, European Portuguese, Brazilian Portuguese, or other languages as available. Teachers provide varied ways to learn each of the four primary skills, with activities that include singing, writing, and role play.

Best Place to Learn How to Play an Instrument: Settlement Music School
At Settlement Music School, anyone can learn to play an instrument. They offer lessons for all ages and experience levels. Individual lessons are offered in all keyboard, string, brass, woodwind, and percussion instruments, as well as composition and music theory, and voice. For the younger students (ages 4–8) they practice the Suzuki method for beginning string and piano study based on daily listening, constant repetition, parent responsibility, and loving encouragement, among other elements. Children 6–12 can participate in group instruction.

Best Sports Program or Class: Soccer Shots Philadelphia
Focusing on the 3 C's (Coaching, Communication, and Curriculum), Soccer Shots is a national program that is committed to excellence. That doesn't mean an emphasis on winning, but instead an emphasis on creating a positive impact while teaching your children teamwork and growth. Unlike many traditional programs where parents have to step in to do the coaching, Soccer Shots coaches are trained to work with and guide your kids. The curriculum is age-appropriate and aligns with childhood education standards.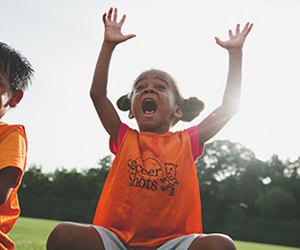 Best Theater Class for Aspiring Actors: Walnut Street Theatre
​The Theatre School at Walnut Street Theatre, founded in 1984 by Producing Artistic Director Bernard Havard, is the most popular and vital theatre training program in the Delaware Valley. Aspiring theatre artists—of all ages and levels of experience—love to study here. Last year, nearly 1,200 students were enrolled at the Walnut, working on the fulfillment of their artistic pursuits within the walls of America's oldest theatre. The dynamic classes at the Walnut are taught by high-caliber theatre professionals and range from introductory to advanced.