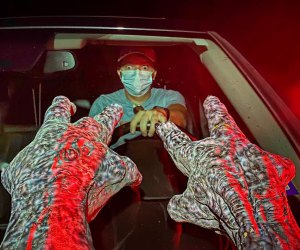 New Halloween Drive-Thru Options Coming to Orlando
Is Halloween saved? Even as Disney, Universal, and others cancel Halloween events due to coronavirus concerns, new spooky—and contactless—Orlando Halloween fun is popping up for 2020. Two new Halloween drive-thrus are opening near Orlando in late September, and we've got all the details.
This new type of socially-distanced haunting fun might just help to keep the Halloween spirit alive for Central Floridians. Dare to drive into a world of twisted fairy tales at the Haunted Road Drive-thru in Orlando, while the new Scream n' Stream in Kissimmee offers a younger kid drive-thru trick-or-treat trail or a chilling immersive horror movie experience in a haunted house for the teens and up. Read on for more details on the new Halloween attractions coming to the Orlando area.
Don't forget to sign up for the FREE Mommy Poppins Orlando newsletter that offers all the latest news and local events, including more Halloween fun coming soon.
'The Haunted Road' drive-thru is Orlando's new immersive Halloween experience, combining "twisted creatures," theatrical storytelling with lights, music, and other special effects. It opens September 27 and runs on select days and nights through November 7.
A family-friendly experience for all ages will be offered during the daytime on select weekends from October 3 through October 31. This not-so-scary journey will feature new takes on traditional fairy tales set in an enchanted forest complete with spooktacular music and dancing.
The main nighttime event is recommended for guests 13 and up, with unrestricted 18 and up nights to dial up the intensity. Guests will drive through the attraction and park their car at each scene to witness an untold story of Rapunzel as she ventures into a world of nightmarish creatures and "bloodcurdling encounters."
Similar to a drive-in theater, guests will tune in to a radio station to hear sound and music synced to the live action at each scene. Organizers said the event was created with CDC guidelines in mind and will be a completely contactless experience. Face coverings must be worn if windows are down. All performers and staff will be wearing face masks. Masks have even been cleverly incorporated into the characters' costumes.
Tickets start at $15 per person and must be purchased in advance online. An upgrade is available for both the daytime and nighttime events. The nighttime upgrade includes priority viewing, a bonus scene, and a digital photo. The daytime upgrade includes priority viewing, a digital photo, a customized live greeting for the kids during the show, and a colorful rainbow car wash.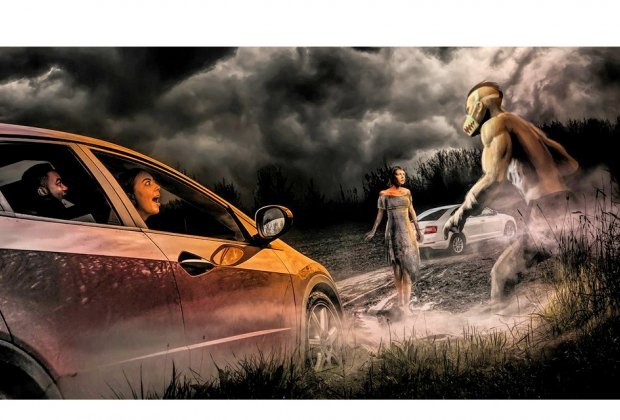 Image courtesy of 'The Haunted Road'
The 'Scream n' Stream' drive-thru is a new attraction in Kissimmee offering several Halloween events for the whole family, taking place on Friday and Saturday nights from September 25 through October 31, 2020.
Geared toward guests ages 13 and up, 'Night at the Die In' drive-thru haunted house allows visitors to drive "into" a horror film set at an abandoned drive-in theater and watch as creatures (and live actors) pop out at them and offer up more scares. This experience features original music from Andy Garfield, composer of the Marathon of Mayhem soundtrack at Halloween Horror Nights in Orlando.
A 'Drive Boo Trick r Treat' family-friendly experience is offered for the younger set with contactless candy distribution taking place along a Halloween trail complete with inflatables, props, performers and music.
Nighttime haunted airboat rides are also offered. Guests will be entertained with ghost stories and legends while witnessing nature's nocturnal hunters in the swamp.
Guests must wear masks if windows are rolled down or when leaving the vehicle for any reason. Costumes are allowed for kids under the age of 10.
Presale tickets are on sale now and start at $50 per car, with discounts available for theme park annual passholders and hospitality employees. Food and merchandise will also be available for purchase.
The Haunted Road at Painted Oaks Academy
15239 Lake Pickett Rd
Orlando, FL 32820
Scream n' Stream at Boggy Creek Airboat Adventures
2001 E Southport Road
Kissimmee, FL