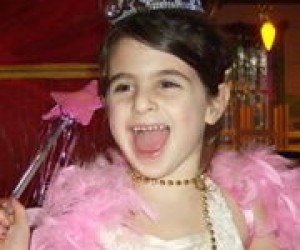 New Jersey Kids Birthday Parties: Dress-up Party Services for Your Little Princess
Even though my daughter's birthday is in December; I'm already thinking about her next birthday party! Thankfully, the New Jersey Kids' Party Ideas Guide is here to help me nail down the perfect venue for my princess. And speaking of princesses...does your daughter enjoy dressing up in beautiful costumes and dream of being a princess? If so, chances are she'd love a dress-up princess party for her next birthday.
Fairy Tale Home offers a variety of party packages for girls of all ages! And they come to you! The too-cute-for-words Glamour Girl -Diva Dress Up Party package includes dress up costumes (accessories and gowns), makeup, hair styling, music and dancing. Every Glamour Girl receives an individual make over with makeup and hair styling—and they get to walk the 'red carpet.' Bonus: Fairy Tale Home will work out a discount with you if you find a similar dress- up party package for less money!
Bella Princess brings the expression "Let's pretend" to life! Bella Princess offers interactive theme parties in New Jersey and some areas of NYC—in a magical, storybook way. Themes include Under the Sea, Fairy Party, Princess Party and more. Parties are booked on a first come, first serve basis and the company will come to you—just say where! Or, host a party at the beautiful 'Bella's Pad' or Oakeside Mansion in Bloomfield. Bonus: The costumes Bella Princess provides are designed to go directly over children's own clothes, eliminating the need to get undressed!
The Essex County-based My Fairytale Party has a plethora of fun party packages for kids, including Glass Slipper Princess, Yellow Beauty Princess, Pink Princess, Long Locks Princess and Magic Carpet Princess. A beautifully-costumed princess arrives at your party location and based on the package requested will host a story-time, organize dancing and activities, distribute tiaras, create a music routine with the guests and more! Bonus: Package add-ons include a professional photographer, doll cakes, custom cupcakes and more!
Located in North Plainfield, Cookies & Juice adorns little girls with the Royal Treatment. 'Hand maidens' pamper the party princess and her friends with lotions, princess hair-do's makeup and nails. Of course, there are also regal gowns, fancy jewelry, and sparking tiaras. Each princess then makes her royal entrance. All parties are an hour and a half, private, and include two staff characters, face paint, pizza, beverages, tattoos and snacks. Bonus: Extras includes a DJ, Candy Cart and Smoke Machine for dancing.
Available statewide, if you book a party with Magical Princess Party, every Princess (Snow White, Ariel, Rapunzel, etc.) will dress up in her costume and entertain the young guests with a singing performance. The Princess will then read their very own story and ask questions to have the children interact. Additionally, the Princess will play games, dance and have activities for the kids to enjoy. Everyone will get a chance to take pictures with the Princess and then sing Happy Birthday to the birthday girl. Princess are all professional singers!
Original article published January 12, 2012.