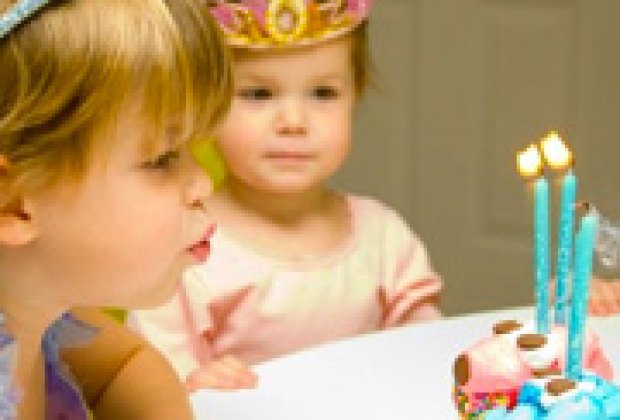 Hosting a Fun Birthday Party at Home
Well, Mommy Poppins has given you the skinny on birthday parties from ice cream bashes to museum shindigs and now we're chatting about at-home fun, beginning with yesterday's party vendors that come to you. And many moons ago, before I decided that having a party at a bowling alley was the easiest birthday party known to man, I used to throw really fun, theme-y birthday parties for my kids at home and I'll let you in on a few things I learned.
It's a good idea to begin by asking your kids what it is they want — unless they are too little to care, and I've thrown those parties too. We did our due diligence with a Fancy Nancy party, a ballerina party, and a tea party, but my youngest surprised us last year by asking for a Chinese New Year party. It is her favorite celebration of the year, and she wanted to be very sure that the party details matched her Canal Street memories. All the kids wore red, made red beaded necklaces, and red feather masks. We had dragon cupcakes, fortune cookies and a dragon pinata and we decorated with lanterns. She was thrilled.
I think the best plan for a home party is crafts or games, dancing, more crafts or games, food, and done. I prefer not to open presents. It's too chaotic. At the Fancy Nancy party for my eldest, everyone dressed up in their fancy clothes, and very diligently lined up for games and a raucous round of freeze dance. Yo Gabba Gabba has the best freeze dance song — your neighbors might sue you, but the kids will love marching in circles. I think it's nice to keep the games simple. We played hot potato and bean bag toss, and at the Chinese New Year party, we played Peking duck duck goose. Here's a more thorough list of party games if you want to expand your (my) repertoire.
What food you serve depends on the time of day and how much you want to prepare for kids that will probably be very distracted with crazy partying.
The tea party was a brunch, so I served smoothies, little fruit and cheese kebabs, frittata, lemon monkey bread , tiny peanut butter and jelly sandwiches, pink M&Ms and I had individual mini-cakes made for each guest. I thought delicate, pretty food suited the occasion well.
I've enjoyed letting my girls help 'design' their cakes and cupcakes through the years. They've had confections with dragonflies, mermaids, golden dragons and Angelina Ballerina perched on top. I usually farm out the cake-making, because I'm not a great baker. A bakery like Pink Cake Box in Denville can work with you on a custom cake or cupcakes or if you want to go easy and freezy, a Cold Stone Creamery cake fits the bill.
If you want to bring a little extra magic, the addition of a clown or face painting never fails, and a bounce house is the bowling alley of at-home birthday parties. Throw them all in with a pizza and you can dust off your hands and settle in for a Downton Abbey marathon with peace of mind.
Here's a listing of some local party people:
Clowns:
Face-painting:
Check out our article 10 Fantastic Face Painters for NJ Kids
Bounce House rental:
Enjoy! And next year, try the bowling alley.
Originally published 2012