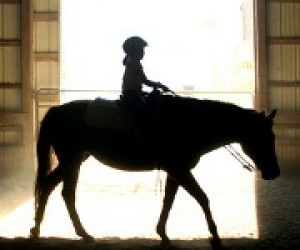 Horseback Riding in New Jersey
If your family is in the mood to try a new sport, why not opt for horseback riding? From Monmouth County to Sussex County, New Jersey's vast farmland hosts a variety of riding stables and private horseback riding lessons for the entire family to enjoy, and summer riding camps for the kids. There's even a number of therapeutic riding centers in our fair state. So, get out and giddy up!
Offering horseback riding trails in scenic Northern New Jersey, Legends Riding Stable (Vernon, NJ) is open all year round, including seven days a week throughout the summer months. Rides last an hour. Please call (973) 827-8332 for reservations and additional details.
Washington Riding Stables (Sayreville, NJ) offers 30 minute rides on Saturdays and Sundays. Riding lessons and birthday parties are also available at the Sayreville Capik Nature Preserve. Please call (732) 727-3838 for additional details.
Kafka Farms (Watchung, NJ) offers both private and group riding lessons for families. Pony rides are also available. For addition details and pricing, please call (908) 405-7038.
Hunter Brook Horse Farm (Howell, NJ) offers trail rides, private lessons, birthday parties and summer camps. For more details and pricing, please call (732) 364-4949.
Miller Farms (Berlin, NJ) offers horseback riding every Saturday and Sunday from 10:00am to 4:00 pm. Rides leave at the top of every hour. Please call (856) 728-3500 for additional details.
Superior Horse Farm is open year round, seven days a week for trail rides. One hour trail rides and 45-minute private lessons are available. Please call (732) 521-4969 for reservations.
Echo Lake Stables (Newfoundland, NJ) offers trail rides, night rides and hay rides. Echo Lake Stables are open five days a week from 9:00 am to 5:00pm; closed Wednesdays and Thursdays. For more information, please call (973) 697-1257.
The garden state is home to several therapeutic riding centers. Also known as adaptive riding, these centers specialize in riding programs for individuals with any of a wide range of cognitive, physical, and emotional conditions. Therapeutic riding centers in New Jersey include Morning Star Farm (Newton, NJ), Rocking Horse Rehab (West Orange, NJ), Centenary Equestrian Center (Long Valley, NJ), HorseSense Therapeutic Riding Center (Howell, NJ), Reindancer Therapeutic Riding Center (New Egypt, NJ) and Shadow Equestrian (Monroeville, NJ).
Appropriate clothing is required, please call in advance to check weight and age restrictions (per facility).
First published August 2012