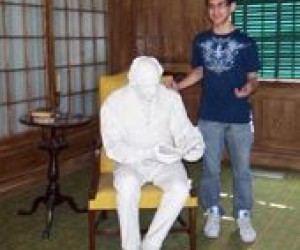 Spring Festival and Hands on History at King Manor Museum
If you're looking for an enjoyable afternoon of stories, crafts, and a little bit of American history, all for free, do pay a visit to King Manor on a Saturday for either their upcoming Spring Festival on May 1st or one of their monthly children's Hands on History days. We attended one of the Hands on History events and found the crafts thoughtfully presented, the guides warm and welcoming, and the special presentation just the right length to be entertaining. The free house tour we took after was also worthwhile.

Read on for more about this little-known locale and their upcoming children's events.


King Manor was the home and working farm of Rufus King, one of our Founding Fathers and an author of the US Constitution. He was also one of New York's first United States Senators in addition to spending many years as Ambassador to Great Britain. Because Rufus King was a well-known and outspoken abolitionist, King Manor is one of the historical sites designated on the NY State Freedom Trail. He himself lived in the manor with his family from 1805 to 1827, followed by his son John Alsop King, one of New York's Governors. If you take the kid-friendly tour of the manor, which we definitely recommend, you'll learn a lot more about King and his family.

The guides entertain young audience members with amusing anecdotes about the King children (one of whom would "fish" for pigs with apples or empty the house of all its furniture when bored) and point out tricky instances of trompe l'oeil painting that adorn the elegant interior. Expect a giggle or two in the room where you can see on display interesting stuff historians found in the outhouse (where families generally threw out anything they didn't want). The tours loosely take place every half hour but if a couple families show up they'll take you as soon as they can. Both tours and featured kids' activities are ongoing so it doesn't really matter which you do first.

King Manor Museum
Jamaica Avenue between 150th and 153rd Streets, Queens

Upcoming Family Events at King Manor:
These events are for all ages. Very patient guides will adjust tours, as much as possible, to level of children present. Spring Festival and Hands on History events are free to all, and also free on these days are the family-friendly tours of the manor.

Saturday, May 1st : Spring Festival Noon to 4pm. All ages. Expect Spring-themed stories, crafts and a traditional May Day celebration
Saturday, May 15th : The Little House and the Manor, from Noon to 5pm
Saturday, June 19: My Family Portrait, from Noon to 5pm
Saturday, July 17: It's Time to Play! , from Noon to 5pm
Saturday, August 21: Dog Days of Summer, from Noon to 5pm
Saturday, September 11: Back to School, from Noon to 5pm
Saturday, October 9: Harvest, from Noon to 5pm
Saturday, November 20: Apples, Apples, Apples, from Noon to 5pm!
Saturday, December 11:Snowed in at the Manor, from Noon to 5pm

TIPS: The Jamaica Center subway stop (E,J, and Z) is literally a block away making the Manor very easy to reach. Even nicer, the Manor sits on lovely tree-filled park grounds complete with a large and very swell playground which your clan can enjoy after attending a Manor event. Bring a brown bag picnic lunch and make it a day!