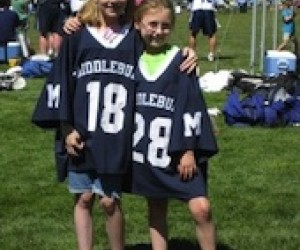 Day Trip: Heading out to check out the Connecticut College Lacrosse Team
This time of year, I am always ready for the arrival of spring. I know, I know...we haven't REALLY had winter this year, but still! February vacation is coming to an end, the groundhog has come and gone, the Superbowl has passed….time to bring on Spring! And to kick off Spring in this family, we like to pack up our car take a day trip to New London's Connecticut College for an early season lacrosse game.
Why Connecticut College, you ask? Well – for several reasons. Their New London campus is right on the water, and nothing makes me feel like Spring more than an ocean breeze blowing. Plus, the convenient New London location makes it an ideal spot to meet up with Boston friends who might be heading south to catch the game.
So here's how it works. We check the Conn College lacrosse schedule and pick a game that works for us (Saturday afternoon, preferably). Games are usually around 1 pm, so we head out around 11, stop and grab sandwiches for the road, and then hit Rte. 95. Several Hannah Montana songs later, we are approaching the New London area. A quick stop at the Mystic Market for way too many cookies, and then on to the game.
A rain out? No problem. The Mystic Aquarium is only a few miles north of Connecticut College, as is Noank, one of my all time favorite Connecticut villages. By the end of the game, we are tired from cheering, from battling the March breeze and from running up and down the sidelines. The car ride home is consequently much quieter (more Crosby Stills and Nash, and less Hannah Montana….), and low and behold…we've ushered in Spring!
Connecticut College
270 Mohegan Avenue
New London, CT 06320
Mystic Market
375 Noank Road, Rte 215
Mystic, CT 06355