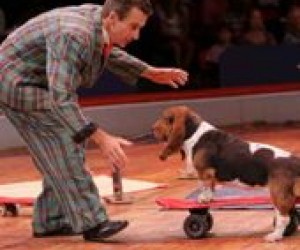 Long Island Weekend Round-Up of Events August 7th-8th
We're covering all of our bases this weekend! From Shakespearian comedy to dogs climbing ladders, from magic to Suess, there are a variety of performance options that appeal to all interests. Want to spend more time in the great outdoors? Head to Garvies Point Day or on an unusual safari of the bat kind. Whatever you choose, savor it … only a few more weekend of summer!
Muttville Comix
Saturday, August 7th and Sunday, August 8th, 12PM, 2PM, 4PM
Long Island Game Farm
Chapman Boulevard
Manorville
631.878.6670
Come and cheer on Animal Planet's 2003 Pet Star winners, Johnny Peers' Muttville Comix Canine Comedy Show on the Long Island Game Farm. Fifteen dogs perform tricks like tight rope walking, skateboarding and even jumping rope. Everyone in your family will enjoy the show! Tickets are $17.45 for adults, $15.45 for children 3-11 and senior citizens.
Garvies Point Day
Saturday, August 7th, 10AM-4PM
Garvies Point Museum & Preserve
50 Barry Drive
Glen Cove
516.571.8010
A sampling of the best events available at Garvies Point is at your disposal this weekend. Experience birding, mineral identification, butterfly garden tour, paper making and much more. Add in a Paul Helou (author of Bears, Bees and Butterflies) concert for the kids, and you have a jam-packed family fun day ahead of you! Admission is $3 for adults, $2 for children 5-12, free for those 4 and under.
Seussical Junior
Saturday, August 7th, 2PM
931 Montauk Highway
Oakdale
631.218.2810
Bring your little Dr. Seuss fans to the theater to see their favorite characters like the Cat in that Hat and Horton. Tickets are $8.


Bat Safari
Saturday, August 7th, 7:30PM-9:30PM
Connetquot River State Park Preserve
Box 505
Oakdale
631.581.1072
Need an excuse to miss bedtime? Learn about and then observe bats in their own environment on this walkabout tour. This Family Night Adventure costs $4 for adults, $3 for children.
Children's Summer Theater – Nassau County
Sunday, August 8th, 2PM
Hempstead Lake State Park
West Hempstead
516.766.1029
Perhaps we could all use some magic to prolong summer! Bring your blankets and chairs and join in the fun of a family friendly illusion show, the Magic of Mark & Kym. As with all New York State Park events, there is a charge for parking.


A Midsummer Night's Dream
Sunday, August 8th, 7:30PM
The Vanderbilt Museum Carriage House
180 Little Neck Road
Centerport
631.854.5579
Have older children who enjoy Shakespearian humor? Watch as the Arena Players perform their rendition of Shakespeare's comedy, A Midsummer Night's Dream. What better a setting than to be surrounded by the Vanderbilt estate. General admission is $15.