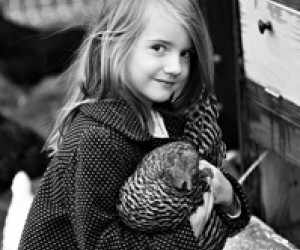 The Perks of Living on a Small Family Farm in Litchfield County
Summer is here and many will begin retreating from the city in search of nature and the idea of peaceful living. Some of us have made the rural lifestyle a full-time affair here in Connecticut while others of us just dream about it (okay, or have nightmares about it). But seriously, how do some of these working parents end up with chickens and sheep living on their property? Well, we've got the inside scoop. Watch out, it just might inspire you to add a chicken or two to the family.

Karen and Elliott Davis live in Washington, CT with their lovely young son and daughter. Step by step they have created New Leaf Farm right outside their back door.

1) What were you before becoming interested in having a mini-farm on your property and what inspired you to do so?
Both of us work at full time jobs; however, it has been a life long passion to connect more with our land and with our food, which inspired us to find our "inner farmers".

2) What is living and growing on your land right now?
Two years ago, we started with an assortment of 25 heritage chickens that we are raising organically, we then established a flock of Icelandic sheep; this year we started making maple syrup from our own trees and have also started raising honeybees and will plant 50 organic old-world cider apple trees.
3) Are the kids into it and do they help out with the care-taking?
Our kids have enthusiastically taken to these projects- from caring for the animals which encompass many chores, to the marketing of the products, They are learning the value of hard work and making their own money. Their responsibilities include gathering and delivering the eggs, feeding the sheep, boiling and bottling syrup etc and having to discuss the benefits of our products and making change with customers.

4) Do you eat your animals? Do you sell anything? If so, what?
Yes, we sell what we make as we want this to be a self-sustaining farm, which will take time. The discipline of trying to figure out the markets differentiates having pets from farm animals. Our eggs come in assorted colors from pale pink, to blue and brick red. Maple syrup comes in various grades and wool can be sold as fleeces for hand spinnin or processed as felt or knitting yarn. Down the road we'll have honey and hard and sweet cider. As our flock of sheep expands, we hope to sell breeding stock and envision renting the flock out for environmentally friendly land clearing as the sheep eat poison ivy, multiflora rose and all other manner of invasive plants in places that are too hard to bush hog or too expensive to clear by hand.

5) What's your favorite thing about living this lifestyle?
Farming in our small way has opened our eyes to the wonders of nature in our backyard. We see the weather in a new way- when will the sap start to rise, how is the pasture growing, what flowers are blooming. Animals have personalities and can confound and delight in equal measure. It is just short of amazing to see baby chicks arrive 1" tall in the mail and then a few months later be collecting dozens of eggs a week. Shearing sheep reminds you of the "original" fleece. Seeing the kids sit at sunset on the fence and say this is better than the Nature Channel- makes it all worth it.

6) What's your least favorite thing? Be honest.
Worrying about being away and relying on caretakers. We've done much to "automate" the chores- putting in permanent waterers, automatic coop doors etc, and have found some very competent caretakers, but it is still in the back of your mind when traveling that everything is OK.

7) Anything else family or kid related that you want to mention?
Children will gravitate towards different parts of the farming experience. Our daughter is really the "animal whisperer" and takes great interest in their well being; our son is more of the businessman and thinks of how to price and sell the end product. They split the chores according to age and ability, but the extra efforts fall along nature lines of interest.

8) Any advice you'd give to someone contemplating taking the leap?
Start small and study up before jumping in to anything. It is amazing how you will find a whole new world of people that are around the area that will be expert in what ever you choose to pursue. Read up- old books and the internet are equally rich in advice. Join the relevant groups before starting as there is a wealth of information, advice, breeders, sources for supplies etc that can jump start your search. Scale your business to how much land you have and what type of barns or outbuildings are available. Answer some basic questions- do you travel frequently, are you able to do heavy work or not... there is a big difference from herding 2,000 lb cows and raising rabbits. Protect your investment- plan for the worst as there are many wild animals that will want to eat your animals or your garden. Invest the time, energy and thought up front to get plants and animals that will thrive in our climate and the amount of care you can give them. Despite all the reasons not to do something, at the end of the day, you may take a leap of faith and be rewarded by the successes (and failures) which define farming.

So there you have it folks, Green Acres - here we come!