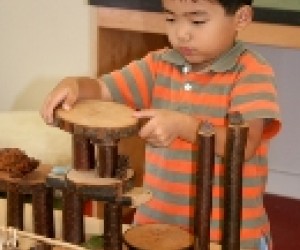 Fall Culture Guide: 7 New Museum Exhibits for Kids in New York City
Adventure abounds in NYC museums this fall. Lots of new exciting (and educational) exhibits will have families crash landing into Oz, patrolling the city with the NYPD, going nose to nose with a real woolly mammoth, learning all about the brain and even climbing up a tree. Once your kids hear about these fun exhibits they will be begging for a museum visit. Here is our round up of the must-sees that we think the kids will really dig.
Out On A Limb: Adventures with Nature and Art
The Brooklyn Children's Museum is transformed into a woodland fantasy with Out On A Limb, designed to ignite a love for nature while sparking children's imaginations. The wooded wonderland of an exhibit plays with all the senses in the same way a day in the forest would. There are trees to climb and fanciful tree houses to play in (equipped with a periscope, a talking tube and a bucket on a pulley). They can build a fort, watch leaves swirl around in the wind, play with shadows and light, listen to the rustling leaves and snapping twigs and smell the woodsy spices of the forest. Other activities include drawing in a nature journal, helping a bird with its nest and building homes for the forest gnomes. Now through January 2, 2011.

The Butterfly Conservatory: Tropical Butterflies Alive in Winter:
The annual favorite returns to the American Museum of Natural History. Enjoy a stroll through the 60 foot long vivarium filled with 500 flying butterflies. Take a break from the cold in the warm and "sunny" space while delighting in the flowering plants and butterfly species from the Americas, Asia and Africa. On exhibit October 16, 2010 through May 30, 2011.

Mammoths and Mastodons: Titans of the Ice Age
Okay, the Liberty Science Center is in New Jersey – but you can see it from lower Manhattan and it is super easy to get to. And it is the only place right now you can see Lyuba, a totally preserved 42,000 year old baby mammoth! Lyuba is part of the Mammoth and Mastodons exhibit opening this month that explains these massive creatures in a way that is easy for kids to understand with lots of hands on stations to explain various characteristics. Hundreds of fossils and other relics are on display plus Lyuba, the most complete (eyelashes, internal organs and everything!) specimen of its kind. On display October 16, 2010 – January 9, 2010, Lyuba, the baby mammoth leaves on November 10, 2010 so hurry if you want to see it!

Houdini - Art and Magic:
You won't learn exactly how this innovative magician squirmed out of that straightjacket, but you will get a rare glimpse into the man and the legend of Harry Houdini. His handcuffs, shackles and straightjacket are on display along with some of his traps like the replica of his water torture cell. Contemporary artwork inspired by the magician as well as original posters and advertisements will also be on view. Although kids will enjoy this exhibit whenever they see it, you may want to try to visit on Houdini Family Day - November 14, 2010. The exhibit runs October 29, 2010 through March 27, 2011.

Brain: The Inside Story:
Everything you ever wanted to know about the mysterious lump of gray matter in between your ears will be brought to light at the American Museum of Natural History. Brain: The Inside Story explains the many different things the brain does in a family-friendly, interactive and high tech exhibit. Kids will love the introduction with a five foot, carved, replica of the brain with portions that light up while it is being explained. And they'll have a blast trying their hand at the challenging puzzles and games included in the exhibit. On display November 20, 2010 until August 14, 2011.


The Junior Officers Discovery Zone:
The 1,000 square foot educational area for kids at the New York Police Museum is a permanent exhibit that lets kids try out lots of aspects of policing New York City. In the interactive space children can try to "pass" the rigors of police academy, drive a police car and solve crimes. Opening Fall 2010.


The Wizard of Oz:
All the best scenes of the Wizard of Oz will come to life for your kids in a colorful and interactive exhibit space. This traveling exhibit lets families visit the Gale family farm, Munchkin Land and the Emerald City all while exploring math, science and music concepts in a new and lively way. Don't miss the castle -- all the kids will want a chance to scale it. Mommy Poppins visited the exhibit last week. Now through January 9, 2011.


More museum fun in the Mommy Poppins Culture Guide.