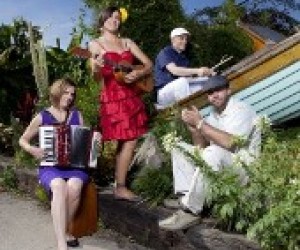 Fall Culture Guide: 16 Must See Live Concerts for Families in New York City
I remember when my son was born, a friend of mine with much older kids, said to me "you don't have to listen to kiddie music just because you had a baby. He can listen to your music." But now, after nearly six years of listening to the emerging genre of kid rock, there is no good reason that I can think of not to introduce kids to their own roster of rock stars. Especially being in New York City where we are surrounded by talented musicians who regularly perform live for children. "Kiddie" music, if you want to call it that, is for the most part top notch not to mention age appropriate and speaks to kids about things they care about (something my music just can't do.) My son has plenty of time in the future to dig through my record collection, but for now I am happy to dig through his. This fall there are so many bands and artists rocking out in family shows all around the city, read on to find out our favorites:
Family shows are just as fun as the concerts you may remember from your pre-parenting days but the music isn't as loud, the settings are sometimes more intimate with the children nestled around the performer and there is nothing cuter than watching the kids get up and groove to the music.

The Deedle Deedle Dees:
Brooklyn's own uber popular group sings about history and science while spanning music genres. Sometimes songs feature harmonies; others have banjo picking and some sound just like The Ramones. Total Brooklyn. This fall they will be playing as part of the Bring Your Own Kid series at the 92nd Street Y in Tribeca and the Knitting Factory in Brooklyn.

Black Violin:
You may have already heard this amazing trio without realizing it, their music, combining two classically trained violinists and a DJ, have been featured in many big commercials and shows, like CSI. They usually bring their unique blend of classical, hip hop, rap, jazz and funk to college campuses around the country and lucky for us they have a show scheduled in Staten Island.

Alastair Moock:
No stranger to the kiddy rock scene with multiple records and awards under his belt, Moock, is in from Boston with a brand new record "A Cow Says Moock", folksy with a dash of rock and roll. Don't miss the bands only NYC appearance at the 92nd Street Y Tribeca as part of the Bring Your Own Kid series.

Mama Doni:
With funky danceable songs like "Oy Vey" and "Bagel Time", Moma Doni's live shows are a celebration of Jewish culture for today's modern kids. The award winning band will be bringing their joyous show to the Museum of Jewish Heritage and other places in the tri-state area this month.

Agent 23 Skiddoo:
Grown up sounding Hip Hop with messages for the junior set (and lyrics parents won't have to worry about.) Catch him in NYC as he performs from his new record at Symphony Space as part of the Just Kidding Series.

Jeremy Plays Guitar:
Rock out with Jeremy and the gang as the children's educator and guitar player, Jeremy, gives kids permission to jump and play while catching tunes at this fun live show. Jeremy will playing his guitar all over the city this fall including the 92nd Street Y Tribeca as part of the Bring your Own Kid series.

Monkey Monkey Music with Meredith LeVande:
Popular NYC birthday party entertainer and music educator, Meredith LeVande's brand new record "What Are The Odds" is full of peppy and happy tunes that teach as well as entertain. She will be at the Educational Alliance on Halloween for a CD release party.

David Weinstone and Music for Aardvarks:
The original kiddie band for NYC. Who doesn't love the catchy original tunes about stuff all kids love? Taxis, skyscrapers and bathtubs are all covered by the now classic musician. You can see David at the 92nd Street Y Tribeca as part of the Bring your Own Kid series.

Bossy Frog Band:
Led by a music therapist on the banjo, guitar, sax and harmonica along with a fiddler and a guitarist, the tunes will have the kids up on their feet in no time. The juggler and the big green frog turn the concert into a fun event for all. Playing Columbus Day as part of the Just Kidding Series at Symphony Space.

Moona Luna:
Positive messages in both Spanish and English are sung by this relatively new children's band. An accordion, guitars, a stand up bass and a female lead singer turn the stage into a party wherever they play. Playing at the 92nd Street Y Tribeca as part of The Bring your Own Kid series and Brooklyn Botanic Garden this season.

Justin Roberts:
Justin Roberts gets kids but he also gets parents with his laugh out loud lyrics. Pop songs that remind me of indy rock from 20 years ago. Justin Roberts could be playing in any band he wants to--lucky for kids, he wants to play for them. His tour stops at the Jewish Museum this fall.

Bari Koral Family Band:
Sweet, power pop vocals with some rocking guitar riffs. Music aimed directly to the needs and wants of preschoolers: packing backpacks, rubber duckies, Cheerios and more stuff about growing up. You can catch the band at the Upper West JCC and the main branch of the Brooklyn Library.

Farmer Jason:
My personal favorite, Jason Ringenberg from the punkabilly band Jason and the Scorchers, created the farmer persona to entertain his daughters, not expecting his singing farmer to become a world wide phenomenon. A hootenanny for the whole family, don't miss his one man show during his only NYC appearance at Symphony Space this fall.

Sweetbeatz:
Professional actress and singer, Meredith Wright, started her children's band after working as an early childhood educator in downtown Manhattan. My son had the pleasure of taking her classes a long time ago. Meredith belts out soulful songs that don't talk down to the kids and inspire movement and creativity at her great live shows. Join in the fun at the upcoming show at the Brooklyn Children's Museum

Gustafer Yelllowgold:
Absolutely mesmerizing for children of all ages (parents, too), a multi-media performance incorporating animation, live music and storytelling that brings Gustafer, a little yellow man from the sun, to life. Watch the show and get a sneak preview of Yellowgold's latest adventure when the whole band performs at Symphony Space this fall (along with other tri-state area venues).

Hot Peas and Butter:
Groove to lively Afro-Caribbean and Latin beats with vocals in both English and Spanish. Kids will recognize the band from their appearances on Jack's Big Music show, parents will dig their sophisticated sound. They will be at the Jewish Museum this month.