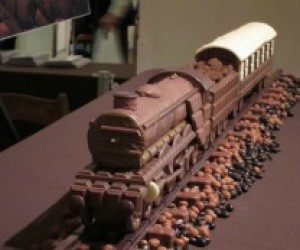 Chocolate Show - New York: Sweet Stuff for Families
Yes, we realize your kids will be unwrapping their trick-or-treat loot for weeks to come. But if your family is as serious about sweets as mine, it's worth checking out the 14th annual Chocolate Show - New York, which takes place Thursday, November 10-Sunday, November 13. While the tickets are pricey ($30-$40 for adults), children under 12 get in free and once inside, all tastes and activities are included. The only additional cost is if you want to buy chocolates to take home. (For me, resistance is futile.)

My children and I attended Chocolate Show - NY last year and just loved it. (I mean, it's chocolate. What's not to love?) It's very family-friendly and even includes a Kids Zone, where creative youngsters can draw and paint with chocolate, make chocolate-flavored pasta and decorate cupcakes with—wait for it—chocolate. New this year is the Chocolate Grab game. Just like a scene out of Willy Wonka, kids will grab handfuls of chocolate and the child who finds the specially wrapped piece will win a prize, like tickets to the Radio City Christmas Spectacular or the upcoming revival of Peter Pan.

Here are other some other sweet things you can do at the 2011 edition of Chocolate Show - New York.
The show is a celebration of all things chocolate, so eating is a major part of the event. But that's not all there is. The amazing creations made from chocolate are always a big attraction. Last year, my kids and I watched Swedish artist Håkan Mårtensson of FIKA NYC sculpt intricate statues. We marveled at a lengthy miniature train carved entirely out of chocolate before moving on to the tasting booths.

I find it nearly impossible to resist the rich delights (and so do my kids), that's why we decided to go ahead and indulge. There's not an ordinary M&M or bar in sight. The Chocolate Show features high-quality goods made in small batches, usually by family-run companies. The chocolate makers are present, and they take pride in their products. Be prepared to stand in lots of lines as this event attracts crowds of serious chocoholics who sample pretty much everything.

We loved tasting artisan chocolates from around the globe, many of them organic and made with ethically sourced cacao. My kids and I even sampled chocolate sweetened only with agave nectar that was packaged in environmentally friendly recycled paper. While we didn't always love what we tasted, the fact that everything was technically chocolate encouraged my kids to go outside their comfort zone and to try some unusual flavors. That said, because of the long waits and offbeat flavors, the Chocolate Show probably won't appeal to young kids. It's really a tween and up affair.

Like any popular New York City event, it's best to arrive early. The doors open at 10am and if you wait until the afternoon to arrive, you may face a long line just to enter, even if you pre-purchased your tickets. While there is some space to maneuver a stroller, you're better off putting babies in carriers to maximize your mobility.

Chocolate Show - New York runs Thursday, November 10-Sunday, November 13 at the Metropolitan Pavilion, 125 West 18th Street between Sixth and Seventh Avenues. Open Thursday-Saturday 10am-7pm; Sunday 10am-6pm. In advance: $30 for adults Thursday, Friday and Sunday, $35 for adults Saturday. $5 more at the door. You can buy tickets at the Chocolate Show website. Free for up to two children ages 5-12 with each paying adult. Free for kids under 5.


Read more posts about fun family food outings in New York City.
Chocolate Show - New York
125 West 18th Street Metropolitan Pavillion
New York, NY 10011