PIE! Where to Find the Best Apple & Pumpkin Pie in NJ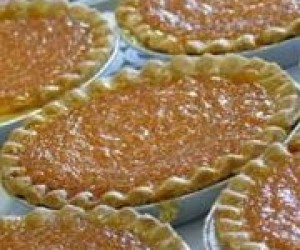 There really aren't too many "all-American" foods that my vegetarian family enjoys; you won't see us sinking our teeth into hamburgers and fried chicken at barbecues. Even French fries are kind of take it or leave it (I know, crazy, right?) But if there's one American staple that we would never, ever turn down, it's PIE! The buttery crust, the tart and sweet filling and of course, a scoop of creamy vanilla ice cream on the side. As luck would have it, New Jersey is a great place to find delicious versions of our favorite fall pies, with its bountiful farms and one-of-a-kind diners in almost every town. Any way you slice it (pun intended), New Jersey families have some awesome pumpkin and apple pies to choose from.
Delicious Orchards (Colts Neck, NJ)
Delicious Orchards Country Food Market is serious about good pie. They make their pumpkin and apple pies from scratch each and every morning. You can also try out their apple tart pie topped with crumbly brown sugar goodness or order up a batch of their "single-serving" mini pies in assorted flavors. And best of all, pumpkin pies are guaranteed to be in stock all of Thanksgiving week. 732-462-1989

Ritz Diner (Livingston, NJ)
Owners Marion Feldman and George Mazzucco aren't fazed by their recent success on Food Network's Diners, Drive-ins and Dives. They keep cranking out what many people dub "the best apple pie in New Jersey" the same way they have for 28 years. Says Marion: "We make our pies 100% from scratch – our deep dish apple is mile high and long with 1 lb of fruit!" You can stop by their Livingston location for a slice with a hot cup of coffee or preorder a pie (they've got pumpkin too) for upcoming holiday festivities. 973-533-1213

Johnson's Corner Farm (Medford, NJ)
Johnson's Corner Farm was voted "Best Apple Pie" by South Jersey Magazine and it's pretty easy to see why. Their Barn Bakery sells everything from fresh produce and donuts to prepared country-fresh meals but the real draw is the awesome apple pie. Go for a traditional pie or try out their apple crumb/no-sugar added or apple walnut versions. Pumpkin and sweet potato pies are also available throughout the fall and holiday seasons. 609-654-8643

Sun High Orchards (Randolph, NJ)
Enjoy a day of fall fun at Sun High Orchards in Morris County – pick your own ruby-red apples (beginning mid September), take a farm tour and pet the miniature donkey "Kasper." Don't even think about leaving without taking home one (or more) of their beloved apple pies (baked fresh in the morning with fruit from their farm). And the best part? Sun High Orchards makes their own homemade gourmet ice cream too, the perfect pairing for a warm slice of pie. 973-584-4734

Natale's Summit Bakery (Summit, NJ)
This gorgeous bakery in Summit is loved by local residents for their fresh baked whole wheat bread, custom cakes (including their famous "Philly Fluff"), pastries and of course, pies. Go for the traditional apple pie, or try one of their fancier variations such as an apple galette, country apple tart or the apple pear tart. Natale's also makes delicious autumn breads, in cranberry or pumpkin nut. All orders must be place either by phone or in person. 908-277-2074

Mr. Tod's Pie Factory (Englewood, NJ)
This shop's name lets customers know that Mr. T's aims to do one dessert really, really well. And they do! Says owner Tod Wilson: "Our top seller is apple pie. And the secret to a great pie is always in the crust. Ours is done in the European style, with 82% butter fat and that makes it delicious." They also start making their equally as tasty pumpkin and sweet potato pies in mid October. 201-567-5370

Terhune Orchards (Princeton, NJ)
Terhune Orchards, farm & winery is bursting with family fall fun, from pumpkin and apple picking (hayride included) to face painting, scarecrow making and pony rides. As you'd expect from a certified organic farm that's been a favorite of Princeton residents for several decades, their farm store is overflowing with scrumptious pies. The tender crust melts in your mouth and the pumpkin and apple fillings are fresh and just sweet enough. The apple crisp topped with brown sugar and cinnamon is also an autumn favorite. The farm store begins taking orders in November for Thanksgiving and Christmas, so call ahead to reserve your pies. 609-924-2310
Your turn! Tell us your favorite spots in NJ to find awesome apple and pumpkin pie!