NYC Kids Can Frolic with Dogs at This New Upper East Side Spot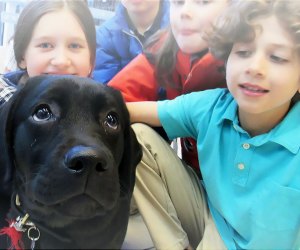 The zoo is a great place for an animal lover, and cat cafes have popped up from Brooklyn to Manhattan... but what about dogs? Enter Frolic, a new spot brimming with dogs that is now open on the Upper East Side!
Frolic is a colorful, sunshine-filled space in Manhattan, easily accessible by the Second Avenue Subway. Owned by adjacent Biscuits & Bath (though independently run), their mission is simple: learn about dogs, and have fun while doing it!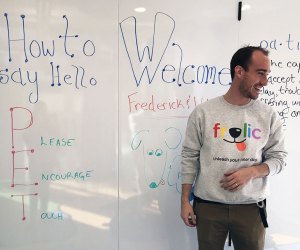 Kids learn about dogs in education sessions as well as getting lots of hands-on time with the resident dogs. Photo by the author
Frolic offers a variety of programs and classes that give children the opportunity to learn by interacting with their roster of awesome dogs. Its programs aim to balance education with entertainment, and to give children a hands-on experience with animals in a risk-free environment. It offers birthday parties, summer camp, and after-school activities. Though suggested ages are 1 to 15, it has worked with infants and even threw a birthday party for a 34-year-old.
RELATED: NYC Cat Cafes: Kids Can Visit, Adopt, and Pet Furry Felines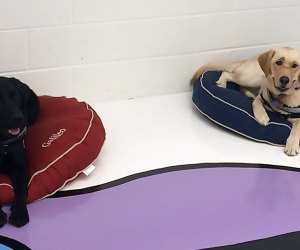 Two of the dogs on the canine team at Frolic. Photo courtesy of Frolic
The canine team at Frolic is made up of labs and golden retrievers that have been adopted from the Guide Dog Foundation in Smithtown, Long Island. The dogs are as sweet and adorable as they are are smart.
We worked with a resident dog named Patience during our visit. She was so docile and sweet, she almost fell asleep while being brushed by my very enthusiastic toddler. After a few minutes getting to know our four-legged friend and talking through safe practices when interacting with dogs, we got to see Patience in action. With the help of a trainer and some treats, Patience flipped on the lights, crawled through a tunnel, and did agility drills. She even waved with her paw and was rewarded with a treat, while my toddler was rewarded with a sticker.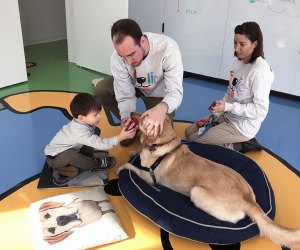 This dog loves to be brushed! Photo by the author
As a parent, it can be challenging to relax when it comes to children and dogs. The trainers set my mind at ease and were present without limiting my child's exploration. I felt completely safe letting my 2-year-old walk Patience around the room, hug her, and kiss her. My toddler even climbed into the tunnel with Patience (apparently a fairly common occurrence!).
Depending on the ages of children, trainers have the flexibility to introduce different activities. For example, older kids can wear blindfolds and be led through an obstacle course by a guide dog. Kids can learn to bathe a dog—a fun, tactile experience for children of all ages. Summer camp and ambassador programs help children learn all about dog ownership and training. Trainers also work one-on-one with children who are afraid of dogs to help them overcome their phobia. It hosts a variety of events, ranging from trivia nights for young adults to an evening of making dog sushi rolls (edible for humans, too!) Check the calendar for upcoming events, or shoot the staff an email to inquire.
RELATED: Upper East Side with Kids: Top 50 Things to Do for NYC Families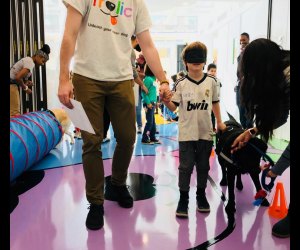 Older kids can be don blindfolds and be led through an obstacle course by a guide dog. Photo courtesy of Frolic
Frolic offers educational programs, but it also knows how to throw a party! The team will custom plan a 90-minute party for your child, culminating in pizza and cake (and wine for the adults if it's requested in advance). They suggest 10 kids, but exceptions can be made for a bigger group. Here's another awesome thing about Frolic parties: in lieu of a classic goody bag, kids take home a framed photo of themselves with a dog.
Even if you aren't an Upper East Sider, Frolic can come to you! Parties, events, and special programs can be hosted right out of your apartment. The team is even taking Patience for an overnight with a family that wants to "test drive" dog ownership and teach their children about the responsibility of caring for a dog before getting one of their own. For the record, I can't imagine a more charming houseguest than Patience.
Everything Frolic does has a hands-on fun component, as well as an educational takeaway. Children will leave with a greater understanding of how to approach a dog on the street safely, empathy for those using guide dogs in everyday life, and undoubtedly a greater respect and love for dogs of all kinds. The only problem: They may leave wanting a dog more than ever. Just remind them that you can always come back for some feel-good, four-legged fun—and that it often takes a lot of work to be rewarded with such a well-behaved canine!
Frolic is located at 1545 First Avenue at 81st Street. Visit by appointment only or sign up for a class.
Top image: Kids learn how to act around dogs at Frolic, but also have time for sweet interactions. Photo courtesy the business