Tickets on Sale Now for New Trolls Experience Near Times Square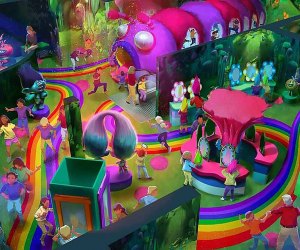 Fans of Poppy, Branch and Guy Diamond, hold onto your glitter-filled hats, because the Trolls are coming to New York City. Opening on Thursday, November 15, DreamWorks Trolls The Experience, an interactive Trolls extravaganza, will open a stone's throw from the only place befitting all its sparkle and shine—Times Square. While you'll have to wait until the fall to shimmy down the rainbow path with DJ Suki, you can grab your tickets now (and have some indoor fun to look forward to when the weather turns cool).
Read on for details on all the glittery goodness.
Inspired by the wildly popular Trolls film, Trolls The Experience is housed in a 12,000-square-foot space on West 57th Street between Broadway and 7th Avenue. Immersive and colorful, the experience puts visitors smack dab in the middle of Poppy's Best Day Ever Celebration. The 60 to 90 minute tour starts with a stop in the salon, where Glitter Gurus will Troll-ify little fans, then moves through the forest with Branch's Musical Mash-Up, on to a recreation of the sparkly Caterbus, through Critter Creek where you can dip your feet in a virtual pool of gems, and end up at the Best Day Ever Celebration complete with music, glitter, confetti, and laser lights. And yes, we asked, there will be Trolls—animated, 3D, and in-person.
Interested? Here's the scoop on tickets, which are on sale now. $25 preview tickets are now available for October 22 through November 14, and after that regular tickets are $40 per person on the Trolls The Experience website. All visitors over 2 years old need a ticket. The ticket price includes Trolls collectibles, makeover accessories, temporary tattoos, 3D glasses, and a keepsake Bergen Town starter scrapbook with a printed photo from the Best Day Ever. For an additional cost, you can purchase premium add-ons for the hair salon, which includes full-face makeup and Troll Hair, or a personalized keepsake scrapbook. Tickets are only valid for the specific time slot and day you choose, and are non-refundable.
Know Before You Go:
The show is at 218 West 57th Street between Broadway and 7th Avenue, a 2 minute walk from the 57th Street subway station and 5 minute walk from the Columbus Circle Station.
​Hours will be Monday through Sunday, 10am-8pm.
No outside food or drink is permitted, but there is a grab-n-go cafe on-site.
You may only bring in clear bags, formula, and umbrellas to the experience, but there is a complimentary coat check available.
Arrive at least 15 minutes prior to your designated time slot.
The experience is accessible for visitors with mobility differences.
For the truly Troll obsessed, the space will be available for private events. No word if that includes an appearance from Branch himself, Justin Timberlake (but we have our sparkle fingers crossed).