The Little Red Fish Review: A Low-Key, Whimsical Puppet Show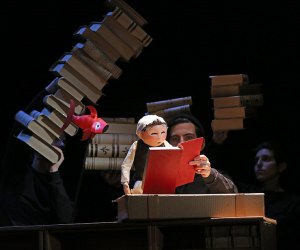 4/12/18
- By
Eti Bonn-Muller
Amid a dimly lit stage, stacks of books float through the air as the imagination of a little boy in search of his missing pet runs wild in The Little Red Fish, a new production from the New York City Children's Theater playing in NYC this April. The theater teamed up with Puppet Kitchen, the same group behind the oversize, colorful puppets in the popular Very Hungry Caterpillar Show, for Little Red Fish. Darting about the stage throughout the 30-minute show, his elusive finned friend elicits gasps from the audience whenever it punctuates the sober set with its burst of vermilion light.
Read on to see why The Little Red Fish is one of our top theater picks for NYC kids this spring.
Based on the eponymous book by author-illustrator Taeeun Yoo, it follows the adventures of a young boy named JeJe who brings a little red fish to the library where his grandfather works. After excitedly exploring the stacks, JeJe dozes off. When he awakes, his aquatic companion has vanished. Believing that the fish dove into a book with a vivid reddish-orange cover, he eagerly trails it through the pages, embarking on a series of surreal adventures set in an otherwise muted dreamscape that faithfully mirrors Yoo's sepia-toned, hand-drawn pictures.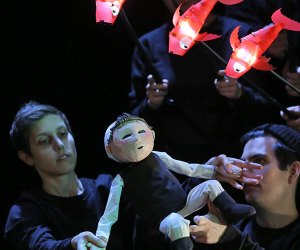 JeJe searches out his pet fish.
It helped to arrive at the theater about 15 minutes early. My kids beelined to a simple craft table in the lobby, where they had fun making little red, Popsicle-stick fish of their own out of construction paper and flattened mini cupcake liners. They also had the opportunity to dangle fish-shaped cutouts behind a paper screen fashioned from a cereal box. Lit from behind, it created the effect of a basic shadow-puppet theater. (One was featured in the opening scene of the show, so later it connected the little ones to understand what they were seeing.) Most important, however, a member of the theater's staff read Yoo's book aloud. Since it is out of print, we couldn't find a copy in advance, and it helped our whole family to better understand the performance, which included very little dialogue.
RELATED: The Best Spring Theater for NYC Kids: 17 Fabulous Shows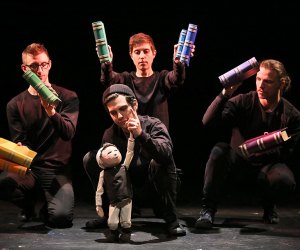 Puppeteers manuever JeJe through a literary adventure.
Geared toward ages 2 and up—although welcoming to all—the basic concept behind the production may take younger audience members a few moments to grasp. While the grandfather is played by a live actor, JeJe is animated by a cherubic-faced, two-foot-tall puppet whose gentle movements, inquisitive nature, and awestruck reactions are expertly depicted by a group of puppeteers dressed in black who are visible, though silent, throughout the show. After a few whispered rounds of, "Mommy, what's happening?" and, "When is the real JeJe coming out?" my 4-year-old was good to go. It clicked for my 6-year-old a bit sooner. The fish, joined at one point by a whole school, along with others he meets on the way are also gracefully led puppets.
At the beginning of the show, audience members were invited to take booster seats, which my children eagerly grabbed. While I was afraid they might be a distraction for my tall-for-their-age kids, they turned out to be essential. We sat near the middle-back of the theater, so when JeJe stood on the floor of the stage in a few scenes, they otherwise couldn't have seen him.
My kids loved being able to watch the show's musician in action. Perched solo above the stage, he filled the intimate theater with trippy music, sometimes serene, sometimes boisterous, along with eclectic sounds. They giggled when JeJe danced with a flock of taupe-pink flamingos—awkwardly honking, elegantly gliding, and unapologetically strutting to the beat—through the clouds and across an ocean in search of the little red fish. They also wished that the show could have been longer ("It was good, but short!") and thought the best part was the "really cute" fish.
Although my girls usually prefer everything in their lives to be in vibrant, rainbow, unicorn-poop hues with sparkles, they warmed to the subdued tones and gentle flow of this whimsical show and reveled in the morning together at the family-friendly theater. They also delighted in the idea of bringing a fish outside to visit their grandparents. "Can we try, too?" Dream on!
The Little Red Fish performs every Saturday and Sunday at 11am and 2pm at The Lion Theatre at Theatre Row in Midtown West through April 29. There's a sensory-friendly performance on Sunday, April 15. Tickets start at $29.25.
Photos by Carol Rosegg for the production